SKU: Seeds-HabaneroMagnumOrange10
Regular price
Sale price
$ 2.99
Unit price
per
Sale
Coming Soon
Description:

If you're looking for another hot pepper to add to your growing list, you cannot miss out on the Habanero Magnum Orange pepper seeds!

The orange habanero pepper plant is very productive producing large amounts of 1-3" shiny, scorching peppers, and will stand out beautifully in your garden or patio. The plants are very tolerant to cool conditions and perform well in cooler climates like the Northeast. This orange habanero pepper has a Scotch Bonnet shape that matures to a gorgeous, bright orange color that will not be hard to find in your garden. It will take 80 days to mature to green, and 100 days to mature to orange.

The Habanero Orange chili contains fruity flavors that make it perfect for hot sauces, chili powder, and even add to your Jamaican jerk sauce! You'll definitely want to add this to your next meal!

Species: Capsicum Chinense
Heat Level: 100,000-350,000 SHUs
Type: Hot
Flavor: Fruity
Origin: Caribbean
Pod Size: 1-3"
Days to Harvest: 80+ Days

Check out our other Hot Pepper Seed varieties, including popular selections like Habanero Seeds, Scotch Bonnet Seeds, Thai Pepper Seeds, and more!

Hungry for more habanero? Try out our Habanero Snacks & Spices!
Specifications:

Heat Level:

Pod size: 1-3"
Origin: Caribbean
Species: Chinense
SHU: 100,000-350,000
Click here for all of our tips and videos to grow your peppers!
Click here for plant care instructions
View full details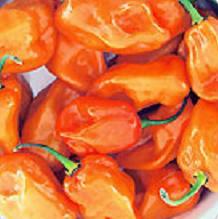 Too much to handle
Seed germination was great. I normally grow for myself but I need to give a lot of these peppers away this year. Not sure what to do with the variety. Suggestion's accepted
Seed ordering
Ran across last year. Ordered for the first time. Fast shipping! I like you can read through their website on various growing tips and recipes for successful pepper gardening!
Holy Shrub
100% germination on these little guys with humidity dome, heat mat (75F) and light. They're like little shrubs right now and STACKED. Very excited to see how they will produce. They took a very hot minute to sprout but definitely worth it so far.