SKU: HotPaperLanternPepperSeeds
Regular price
$ 5.99
Sale price
$ 5.99
Unit price
per
Sale
Coming Soon
Description:

Do you live in a northern climate? Do you love super-hot peppers? If you answered, "yes" to both, then you gotta try the Hot Paper Lantern! Great for growing in northern climates, this pepper hails from Peru and is reminiscent of habanero peppers.

The pepper plants are fairly compact, reaching around 2 ft. tall, but they produce great yields of these bright orange fruits that grow between 2-4" long when ready to be picked. Pods are pendant-shaped with a thin stem, so be careful when picking that the plant isn't damaged. Hot Paper Lantern peppers will ripen from lime green to orange, and finally to their bright orange-red color.

Hot Paper Lantern peppers share that same habanero-type heat, but they tend to be slightly sweeter before the heat really kicks in, mixed with some light smokiness. This pepper also has a very thin skin which makes it great for drying. Use for seasoning, salsas, hot sauce and even roasting. Are you ready to handle the blistering heat from these peppers?

Species: Capsicum Chinense
Heat Level: 150,000–400,000 SHUs
Type: Hot
Flavor: Sweet, Smoky
Origin: Peru
Pod Size: 2-4"
Plant Height: 2 ft.
Days to Harvest: 100+ days

Do you like your peppers hot, hot, hot? Browse through our Hot Pepper Seeds and if you think you're brave enough to crank up the heat, try out our Very Hot Seeds and Super Hot Pepper Seeds for more!
Specifications:

Heat Level:

Plant size: 2 ft.
Pod size: 2-4"
Origin: Peru
Species: Chinense
SHU: 150,000-400,000
Click here for all of our tips and videos to grow your peppers!
Click here for plant care instructions
View full details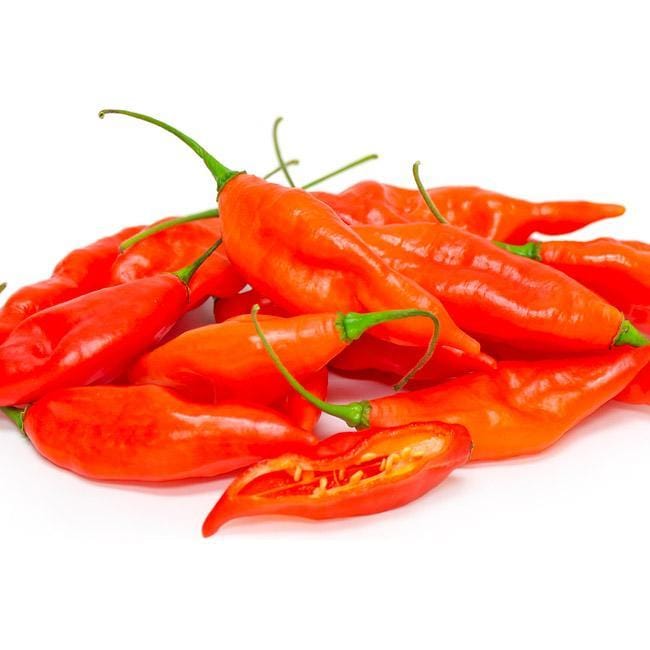 Hardy and prolific plant good for short seasons
I grew these last year in a northern climate with a shorter growing season. The roots grew amazingly long even in the seed tray, and It had many fruits that ended up bright orange/red by harvest. Best pepper performer in my garden by far.
Great little pepper
These are good peppers although I don't think mine taste as hot as 100,000 scovilles...maybe i am building a tolerance...anyway. They are tasty and I plan to get more of them. I'm trying to narrow down my pepper growing to fewer varieties that I use for hot sauce. I have recently used these in a sauce combined with the Bhut Orange Copenhagen and a few spices. My best so far I think.
Not this year
I'm pretty disappointed in pepper joes seeds this season. I've been growing peppers from seeds for many years and never had a problem. I love pepper Joe's seeds, great variety and the customer service is very helpful with questions and tips. So I decided to up my game and buy a pepper Joe's hot house and plant more peppers. I'd say 50 percent did not germinate. Only 2 of 10 hit pepper lanterns grew which is unfortunate because they are a family favorite. We decided to try and germinate them in the pots we use every year instead of the hot house thinking maybe it's something we'd have to get used to. Still, no lanterns. The NJ growing season is short, my window for growing peppers from seed has passed and I had to buy plants from a nursery. This germinating issue also happened with your sugar peach, zavory, and chipotle's. Needles to say I'm not happy. I'd hate to stray from pepper Joe's but my answer to an email when I asked was to wait up to 5 months. By then the season is over. So there's my unfortunate 1 star review. Hopefully you see this and get me back on board.
Hello, hot peppers can be tricky to germinate. Here is the process we follow and see 95% success rate across the board. They are very particular to soil temp requiring 80-85* and can take up to 6 weeks to germinate. I hope this helps! Let us know what other questions you may have!
https://pepperjoe.com/pages/gardening-tips-starting-peppers-from-seed