Regular price
$ 4.99
Sale price
$ 4.99
Unit price
per
Sale
Coming Soon
Description:

Kellogg's Breakfast Tomatoes are a signature heirloom variety popular with many tomato growers and vendors. These large tomatoes

These tomato plants grow up to 6 ft. tall and produce large tomatoes with thin-skin and meaty flesh that all beefsteak-style tomatoes have. These also ripen from green to their bright orange color when they reach maturity. Kellogg's Breakfast Tomato plants prefer full sun and plenty of space to grow in order to produce these fruits that can weigh up to 2 lbs.

These are popular tomatoes to use in fresh and cooked meals for their sweet and tangy flavors. The thin skin of these fruits make them easy to slice through and use in salads, sandwiches, dressings, and more. If you would like the potato leaf version of Kellogg's Breakfast, shop our KBX Tomato Seeds.

This is an indeterminate tomato variety.

Species:

Solanum Lycopersicum
Flavor:

Sweet
Origin: USA
Size: 6"
Weight:

16-24 oz.
Plant Height:

6 ft.
Days to Maturity:

80 Days

Grow more variety in your garden with our Tomato Seeds and Companion Seeds!
Specifications:

Origin: USA
Click here for all of our tips and videos to grow your peppers!
Click here for plant care instructions
View full details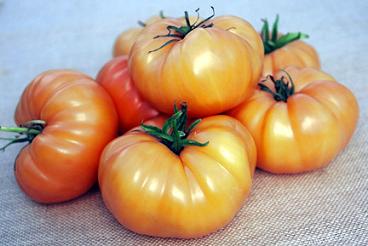 Poor results, lots of work so far with little success.
Let me start by saying I'm an experienced tomato grower. I had great success with germination (>80%), however I've had mixed results with tomato production. About half of the plants are showing signs of disease (stunted, dropping leaves, etc), but are producing a fair amount of healthy fruit. The other half of the plants are very healthy looking plants, nearly 10 feet tall, with no signs of disease, however every tomato has blossom end rot. I've been growing tomatoes for years and I've had a harder time with these than even the most finicky varieties that I've grown in years past. I used an appropriate amount of dolomite and epsom salt, have fertilized with the same fertilizer I use on my other varieties, verified soil ph, and have been treating the plants that have blossom end rot with Cal-Mag with no improvement. Cal-Mag usually cures BER on any other varieties that have had this issue in past years. All plants are growing in the same conditions, so basically no rhyme or reason to the results so far. Meanwhile all of my other varieties growing in the same conditions are healthy and having a great crop so far. I'm curious if it may be the humidity here in Georgia that may be causing issues with this variety. I could probably pull soil samples from each root area, get a nutrient analysis, and make micro adjustments to nutrients but honestly it's not worth the effort when my other varieties do what they're supposed to do without all of the extra work. Either way I will not be growing these again.