Regular price
$ 3.99
Sale price
$ 2.99
Unit price
per
Sale
Coming Soon
Description:

Good things come in small packages and this small, skinny, yellow, yet MIGHTY Thai pepper from Southeast Asia and China is no exception!

Grow these 2 ft. tall compact pepper plants that will produce high yields of these skinny pepper pods. Fruits measure out to be around 2-3" long, with a distorted conical shape, curling every which way out from the plant's foliage. Kristian peppers mature earlier than other similar varieties, ripeninig from green to bright yellow when they reach maturity.

Kristian peppers boast a nice, spicy flavor with heat levels reading around 76,000 SHUs. Use these guys for just about anything you can think of, although it's important to note that the color gets a bit muddy if dried. They pair extremely well with their orange brother, the Kilian Pepper, in fresh foods like salads, salsas, and dressings.


Species: Capsicum Annuum
Heat Level: 76,000 SHUs
Type: Hot
Flavor: Spicy
Origin: Thailand
Pod Size: 2-3"
Plant Height: 2 ft.
Days to Harvest: 75+ days

Pick up more Hot Pepper Seed varieties to keep up with the heat in your garden!
Specifications:

Heat Level:

Plant size: 2 ft.
Pod size: 2-3"
Origin: Thailand
Species: Annuum
SHU: 76,000
Click here for all of our tips and videos to grow your peppers!
Click here for plant care instructions
View full details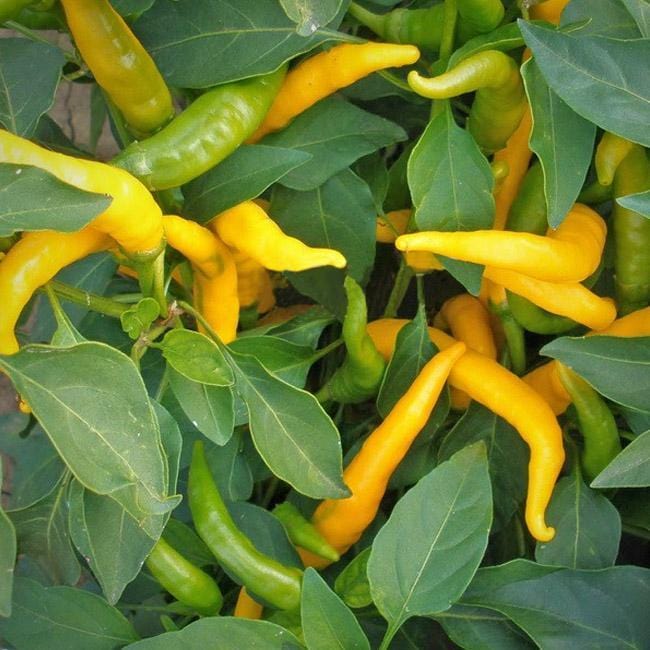 Amazing flavor!
Ordered these peppers in spring and we've gotten a huge harvest!!! Absolutely delicious, with a great kick! 😅
Awesome seeds!
Germinated and grew my first pepper plant ive ever grown very fast but accidently cross pollinated with my I scream scorpion peppers and habaneros....got quite hot haha
Will buy again but separate from scorpions
Great Start
Seeds were sent complimentry and couldn't be more pleased with the results. Excellent germination. 18 seeds sent and all germinated, with only a few weak plants. After hardening and planting they look great and are growing rapidly. 5/30/23