Regular price
$ 4.99
Sale price
$ 3.99
Unit price
per
Sale
Coming Soon
Description:

Lemon Habanero peppers, also known as Yellow Habaneros, come to us all the way from the Caribbean (with roots most likely originating in the Amazon region), and is an excellent addition to the Pepper Joe's collection!

The Lemon Habanero pepper plant stretches up to 4 ft. tall, producing these 2" long pods that have a very waxy skin. Pods have a lantern shape and bumpy texture that make these peppers look gnarly compared to other habanero varieties. You'll enjoy growing them as they ripen from green to yellow lemon when they reach maturity.

Our Lemon Habanero pepper has the typical fruity and citrusy flavors of all habaneros. It is amazing in chicken, fish, and seafood dishes. The lemon-scented chili also makes a great relish or hot sauce, so if you like growing peppers just for the fun of it or to make salsas and hot sauces, this is the pepper for you! Sometimes, we put it in a baggie and take it with us to restaurants.

Species: Capsicum Chinense
Heat Level

: 150,000-325,000 SHUs

Type

: Hot

Flavor: Fruity, Citrusy
Origin

: Caribbean

Pod Size: 2"
Plant Height: 4 ft.
Days to Harvest

: 90+ Days

Grow peppers with some fierce heat with our Hot Pepper Seeds, Very Hot Pepper Seeds, and Super Hot Pepper Seeds today!
Specifications:

Heat Level:

Plant size: 4 ft.
Pod size: 2"
Origin: Caribbean
Species: Chinense
SHU: 150,000-325,000
Click here for all of our tips and videos to grow your peppers!
Click here for plant care instructions
View full details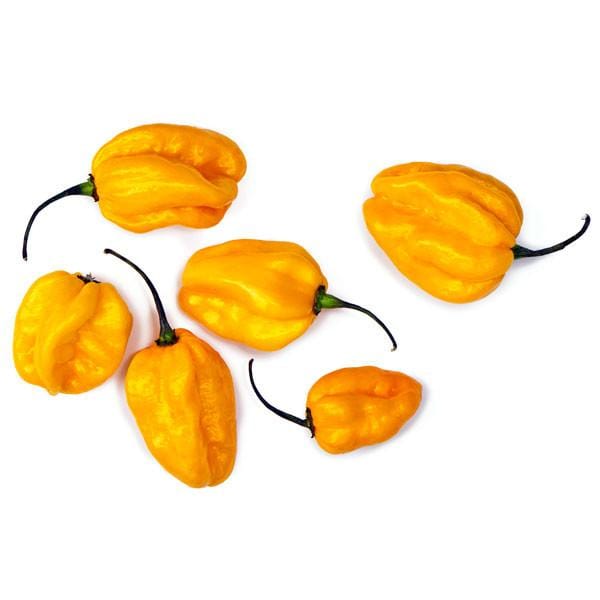 No Go...
It's been about a month & nada...not going to knock PJ's since I've had tremendous success with most all of my seeds. I changed from my usual starting medium & that could be the cause, so no worries. Better luck next time, PJ's is still the best!!
Hot pepper seeds
My lemon habanero has yet to sprout but I'm sure it will anyday now. Several other pepper seeds have sprouted with excellent germination rate and I'm very excited for this year's produce. I'm very pleased with the time it took them to arrive and they are definitely high quality seeds. I'm very pleased with my purchase and if I ever want a certain pepper seed I will be going to pepper Joe's for them.
Excellent Service
Ordered several packs of seeds, including these, back in January 2018. EXCELLENT germination rate! All are growing well. Can't wait to harvest my first HOTS of the season :)
Oh, and don't forget the "bonus" packs of seed received with each order...Great job Pepper Joe!