Regular price
$ 5.99
Sale price
$ 4.99
Unit price
per
Sale
Coming Soon
Description:

This unique and flavorful hot pepper comes to us from Central and South America. The Manzano Yellow Pepper is sweet but with a nice kick! Manzano means apple in Spanish and when you see them you'll understand why.

The chili plant itself resembles an apple tree and produces 1-2" long peppers that, wait for it…look and even kinda feel like apples. The Manzano Pepper Plant is resistant to low temperatures, adapting well to 45-60 degrees Fahrenheit and performs well in partial shade. If protected from frost, the Manzano Plant can grow up to ten to fifteen feet long. This yellow variety of the Manzano Pepper ripens from green to yellow, has furry leaves, and black (yes, black!) seeds.

These beauties are sweet, tangy, and oh-so juicy but with some heat that builds slowly. You can do just about anything with these amazing hot peppers – stuff 'em, make a sauce or paste, or just snack on them raw. Whatever you do, we know you're going to love them! PS – They have an orange cousin who is just as awesome.

Species

: Capsicum

Pubescens

Heat Level

:

12,000-50,000

SHUs

Type

: Medium

Hot

Flavor: Sweet, Tangy, Juicy

Origin

: Peru

Pod Size: 1-2"
Plant Height: 2-6 ft.

Days to Harvest

: 9

0+

Days

Get more of our Medium Hot Pepper Seeds today! Try growing our Medium Hot Pepper Plants instead!
Specifications:

Heat Level:

Plant size: 2-6 ft.
Pod size: 1-2"
Origin: Peru
Species: Pubescens
SHU: 12,000-50,000
Click here for all of our tips and videos to grow your peppers!
Click here for plant care instructions
View full details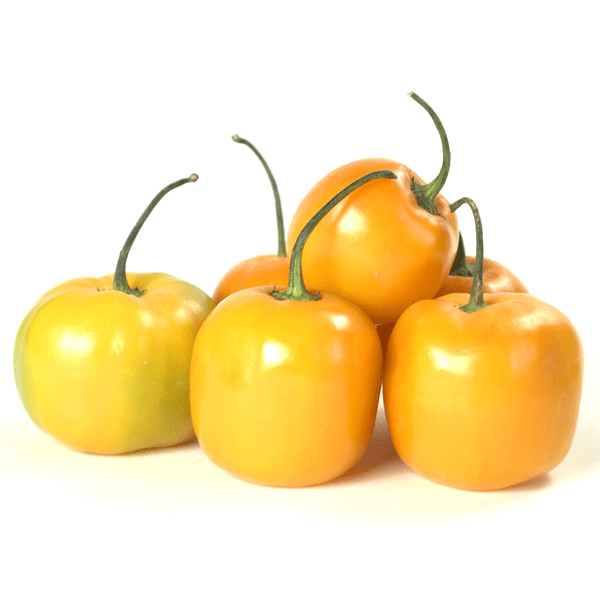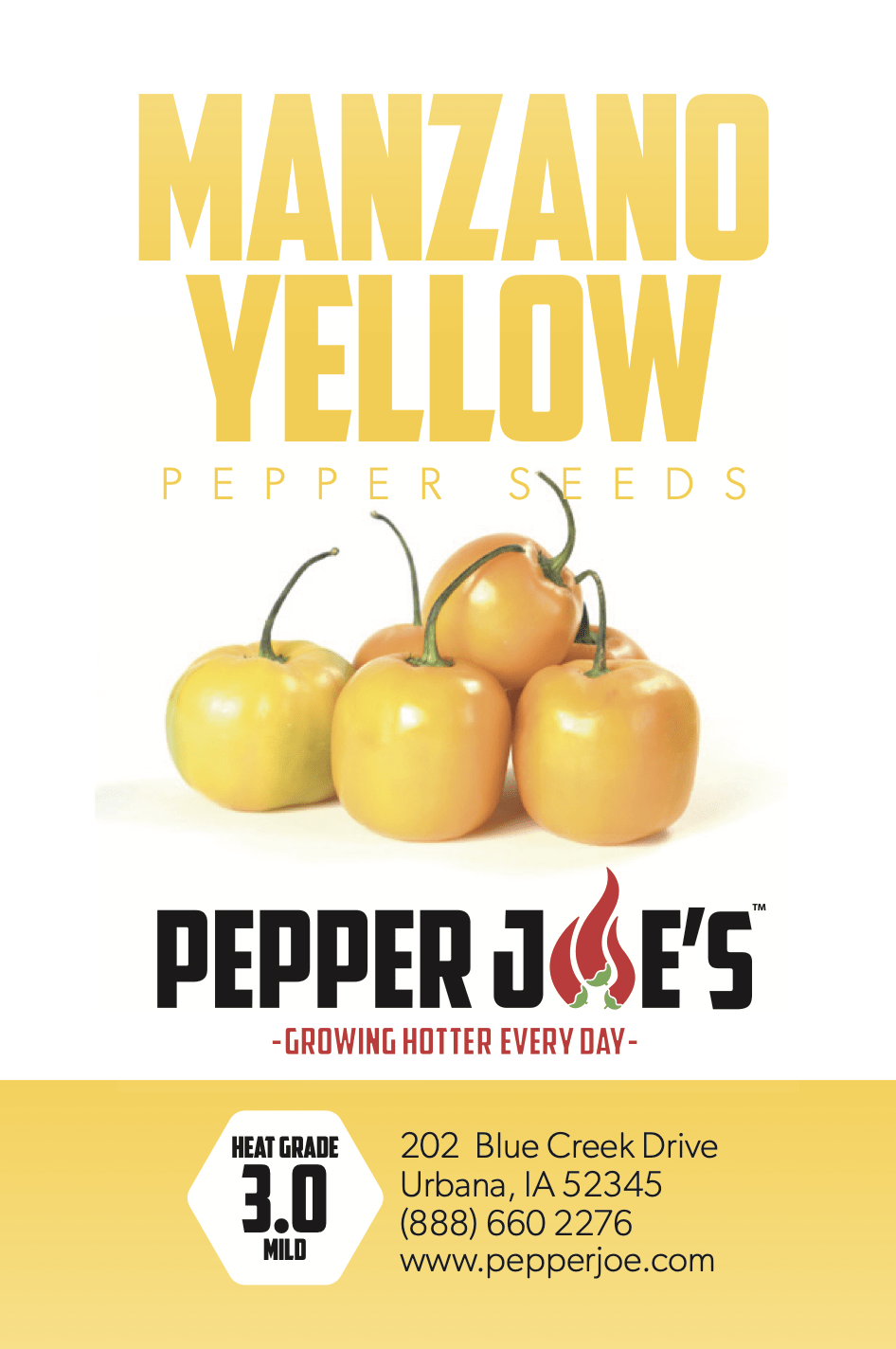 difficult weather but still growing fine.
most of them sprouted and seem to be growing well. they are growing better than most of the varieties I planted. growing the fastest out of the batch they were planted in. I think 5 out of 6 sprouted. Happy with the delivery time and free seed pack!
Waited too late
I think I waited too late in the season to plant these seeds. The weather went from the 90s to snow in the past three weeks. The seeds just sprouted this week. I have heat lamps in them 24/7, but I don't think they are going to make it.
Manzano Yellow
The first batch didn't germinate. It could have been my soil choice or any number of missteps along the way. Pepper Joe's graciously sent me a second packet. I planted 5 and 4 have germinated. From what I have read, they do well with morning sun and afternoon shade. So, I'll plant them in BIG pots and move them as necessary. And like my Charapita, I plan on keeping them alive through the winter. I look forward to trying the fruit and sharing it with friends.
Difficulty-wise, it is harder than Shishito or Poblano and easier than Charapita. If I need to start more from seeds, I'll try the method of soaking the seeds first in a weak chamomile tea for a few hours. Hopefully, that will aid germination.
I do recommend giving them a try. Growing peppers from seed is an adventure.