SKU: Seeds-NuMexSuaveOrange-10
Regular price
Sale price
$ 4.99
Unit price
per
Sale
Coming Soon
Description:

The NuMex Suave Orange pepper is another low-heat Habanero variety emerging from the Chili Pepper Institute at New Mexico State University. While having milder heat, the Suave Orange pepper retains the same fruity flavors and aromas as other Habanero peppers.

Expect these pepper plants to reach 4 ft. tall, with some plants reaching higher when planted directly into the ground. These plants are strong and hold up against its prolific yields of 2.5" long, lantern-shaped peppers. Pods grow upright and appear more wrinkled than other strains. Watch these Suave Orange peppers ripen from a green to a sparkling yellow-orange.

You'll get the same signature Habanero flavor with each pepper – fruity, citrusy, tropical – but with very little heat involved. This enticing combination makes for a very versatile pepper that can be added to many fresh foods or used in cooking. You won't forget the entrancing aroma of these Suave Orange peppers.

Species: Capsicum Chinense
Heat Level: 800 SHUs
Type: Mild
Flavor: Fruity, Citrusy
Origin: USA
Pod Size: 2.5"
Plant Height: 3-4 ft.
Days to Harvest: 90-100 Days

Browse through more of our Habanero Pepper Seed varieties or check out more of our other Pepper Seed Collections today!
Specifications:

Heat Level:

Plant size: 3-4 ft.
Pod size: 2.5"
Origin: USA
Species: Chinense
SHU: 800
Click here for all of our tips and videos to grow your peppers!
Click here for plant care instructions
View full details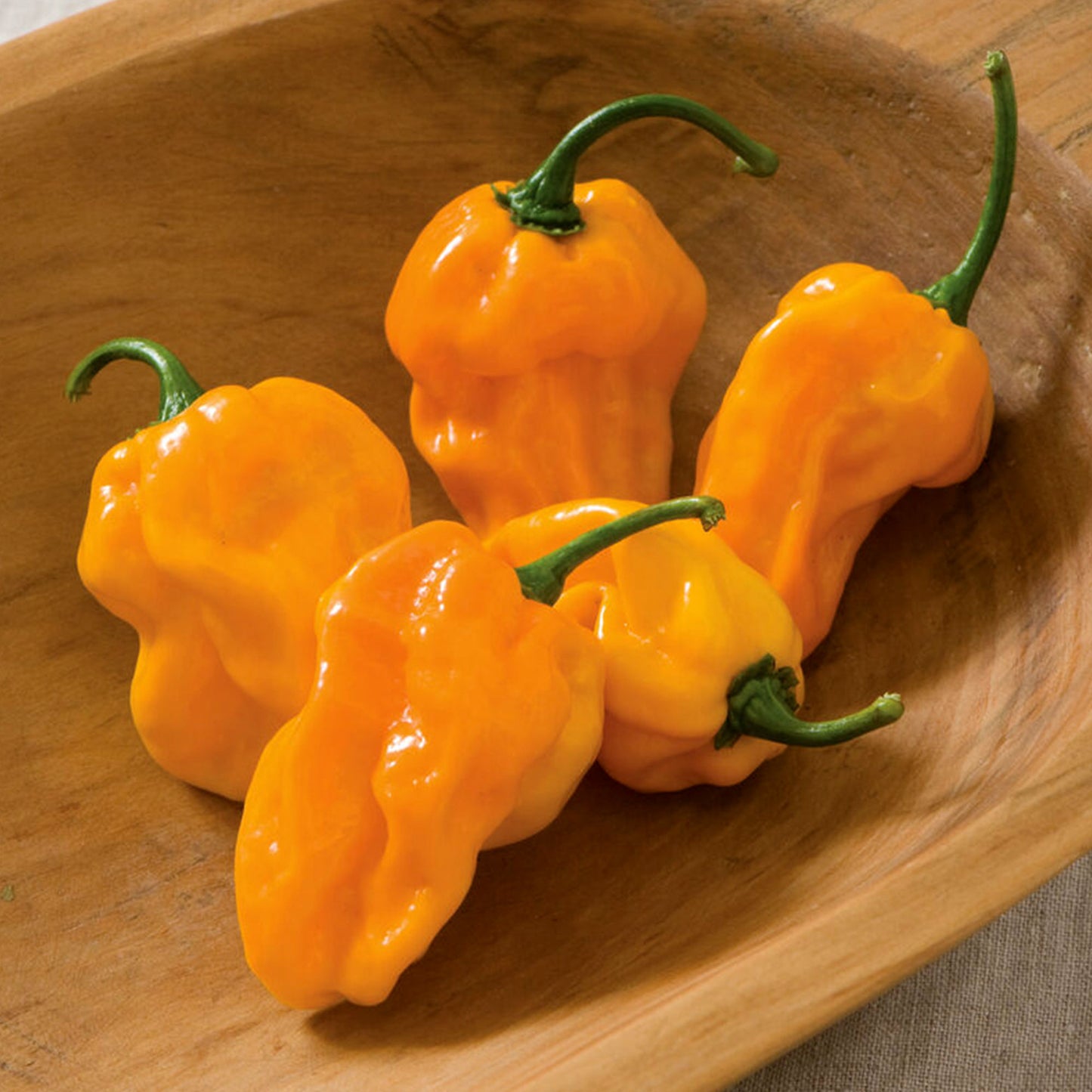 Finally produced late summer
Germination rate was low, about 30%. The peppers that did grow didn't produce until August. But then they were fruiting heavily. The smell of habanero but without the heat messes with your head. I'm overwintering this group and will order more seeds this spring. I want to try a NuMex Suave hot sauce.
Low Germination Rate
I have germinated 8+ pepper varieties with my set up. I have a dome/ starter light and heat pad. For whatever reason these had the lowest germination rate of them all. Still have 3 that came through, excited to see the results