SKU: NumexTwilightSeedPack
Regular price
$ 3.99
Sale price
$ 3.99
Unit price
per
Sale
Coming Soon
Description:

It's time to stop dreaming and get your hands on the colorful, eye-catching, gorgeous NuMex Twilight pepper! This was created at New Mexico State University and is a hybrid of the Thai ornamental pepper, but with less heat and more beauty.

The ornamental NuMex Twilight pepper plant produces beautiful, tiny pods that reach 1" in length. These tiny bulbs have smooth skin and mature like a rainbow, aging from purple to yellow, orange, then finally red. These are one of the prettiest plants that you'll grow when colors are shifting, so why grow flowers when you can grow these peppers instead?

At a heat level of 30,000-50,000 SHUs, these peppers are similar to Cayenne and Tabasco peppers' heat levels. You can grow this variety to decorate your windowsill, balcony, patio, or garden! The Numex Twilight peppers are said to be a saltier, bitter taste, but these aren't really made to be for tasting as the flavors are less than admirable.

Species

: Capsicum Annuum

Heat Level

: 30,000-50,000 SHUs

Type

: Medium Hot

Flavor: Salty, Bitter

Origin

: USA

Pod Size: 1"
Plant Height: 1.5 ft.

Days to Harvest

: 70+ Days

Can't decide which NuMex peppers to grow? Check out our NuMex Pepper Seed Collection for more varieties!
Specifications:

Heat Level:

Plant size: 1.5 ft.
Pod size: 1"
Origin: USA
Species: Annuum
SHU: 30,000-50,000
Click here for all of our tips and videos to grow your peppers!
Click here for plant care instructions
View full details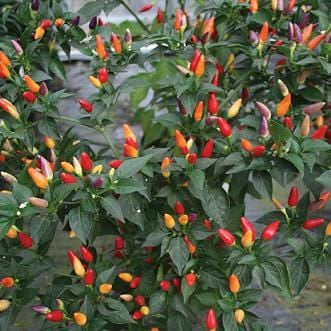 10 Bought. 80% Germination Success.
I am very excited about these since they will make both great colors like flowers, and excellent heat for a bit of spice in my life. 8/10 germinated successfully, definitely going to rely on Joe for the spicy peppers because they are already sprouted in the aerogarden; it's been about 2 weeks. The rest are in the soil. Good luck to me and to everyone else. Also, the package came a couple of days early, a pleasant surprise.
Good germination! Planted on March 3, 10 of the 12 seeds sprouted - all within a couple of weeks - and they are healthy and getting their second set of leaves. I had to start them indoors, as we can't plant outside until mid May. The other seeds I ordered from you are all doing well, also. Thank you!
NuMex Twilight Pepper Seeds