SKU: PatioFireIceSeedPack
Regular price
$ 2.99
Sale price
$ 2.99
Unit price
per
Sale
Coming Soon
Description:

The Patio Fire & Ice Pepper is a gorgeous ornamental pepper variety that is sure to steal the show!

The pepper plant will grow long, upright peppers that will stretch up to 4" long and ripen from yellow, orange, to then red. You'll never get bored watching these peppers bloom, as they will stand straight up in the air, almost resembling flames, growing in clusters between 6-8 pods. The conical-shaped peppers have smooth skin and a surprisingly crunchy texture.

Although they look friendly, they are much hotter than they appear, having a little kick that slightly burns your tongue, so be cautious when you take a bite! With its beautiful array of colors, the Patio Fire & Ice is wonderful to decorate your balcony, patio, and garden! Get your hands on these exciting peppers today!


Species: Capsicum Annuum
Heat Level: 5,000 SHUs
Type: Mild
Flavor: Sweet
Origin: USA
Pod Size: 3-4"
Plant Height: 10"
Days to Harvest: 65+ Days

We carry many different seeds over at our Pepper Seed Collection! Get amazing Sweet Pepper Seeds great for adding to any dish, or try growing our Super Hot Pepper Seeds that'll burn your tongue and make you cry!
Specifications:

Heat Level:

Plant size: 10 in.
Pod size: 3-4"
Origin: USA
Species: Annuum
SHU: 5,000
Click here for all of our tips and videos to grow your peppers!
Click here for plant care instructions
View full details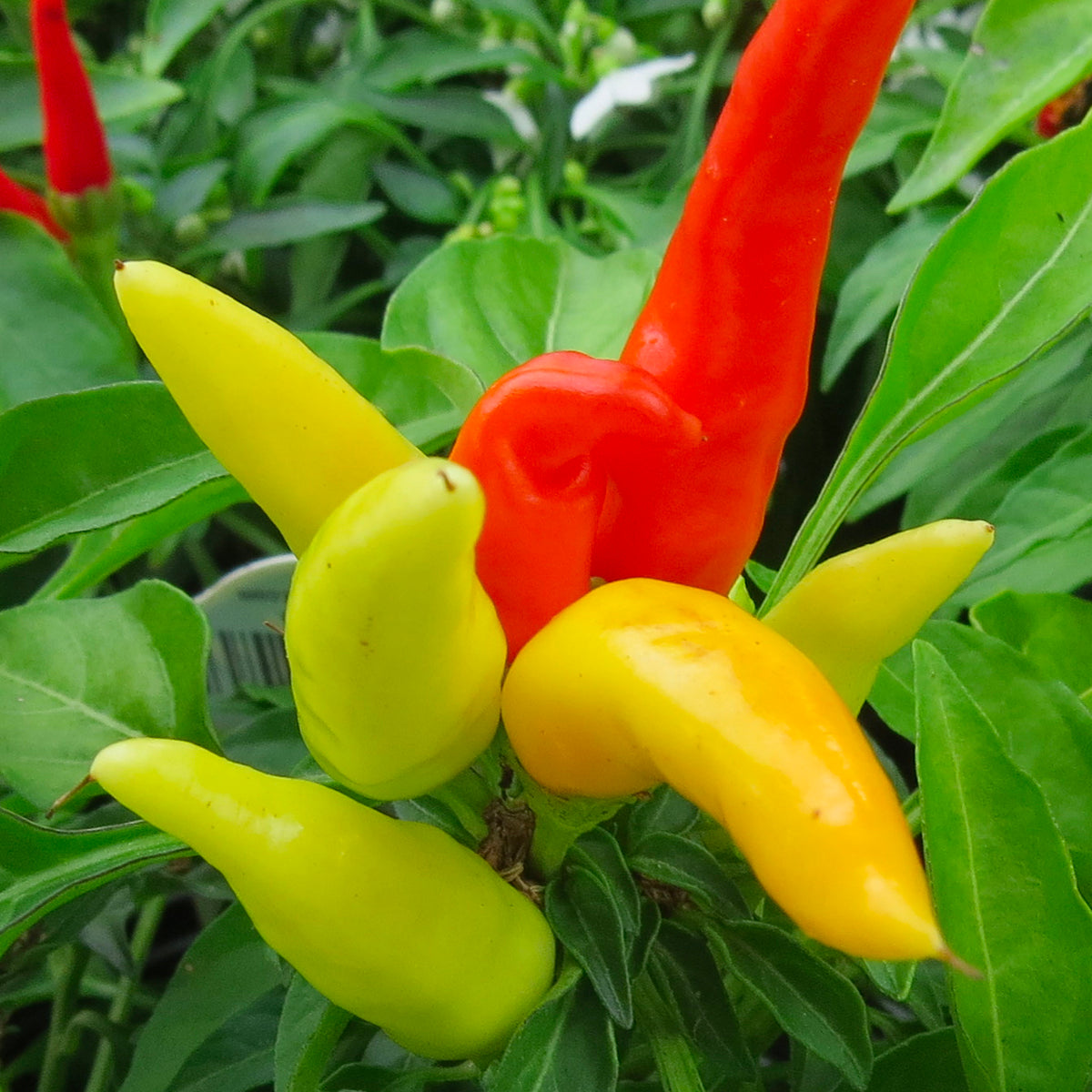 Good germination rate
I had over 90% germination rate across 10 different pepper types, huge success. I almost got to many peppers plants now. Everything is growing pretty well indoors. Can't wait to move these outside and start eating. Great experience so far
Review
Panted a few days ago and have not popped up yet.
Thank you for taking the time to write a review. Pepper seeds can take up to 3-4 weeks to germinate. Please contact our customer service team at customerservice@pepperjoe.com if you are not seeing any growth within a few weeks.
None of my seeds germinated
I did the paper towel method, I've done this method many of times. Idk if I got a bad batch but it sucks cuz I'm already late in the season.