Regular price
$ 4.99
Sale price
$ 4.99
Unit price
per
Sale
Coming Soon
Description:

The iconic Peter Pepper was given its name for its...well...unique shape. This novelty pepper has lived in infamy for quite some time, making people blush when they catch a glance at these pods. In fact, there have been countless other TV and Newspaper folks and Celebrities that have had the same astonished reaction.

Peter Pepper plants will shoot up to 3 ft. tall and produce loads of these 4-6" long average-sized peppers. As the name implies, this "guy" is shaped very realistically - so much so that it was judged as the "most pornographic pepper" by the Organic Gardening Magazine. This heirloom chili is absolutely the novelty of your garden.

Besides being a real conversation piece, let me tell you, this pepper is super tasty. It has a thick fleshy pod that is fairly hot with a unique spicy flavor. The pepper is rumored to be an aphrodisiac in South America. I don't know if that's true, but we all know the many health benefits of eating hot peppers. Loaded with Vitamins A and C, Peter is sure to become a favorite. Everybody needs to try to grow this Pepper...at least once.

Species: Capsicum Annuum
Heat Level

: 10,000-23,000 SHUs

Type

: Medium Hot

Flavor: Spicy
Origin

: USA

Pod Size: 4-6"
Plant Height: 2-3 ft.

Days to Harvest

: 80+ Days

Try growing other Rare & Exotic Pepper Seeds in your garden for more unique peppers!
Specifications:

Heat Level:

Plant size: 2-3 ft.
Pod size: 4-6"
Origin: USA
Species: Annuum
SHU: 10,000-23,000
Click here for all of our tips and videos to grow your peppers!
Click here for plant care instructions
View full details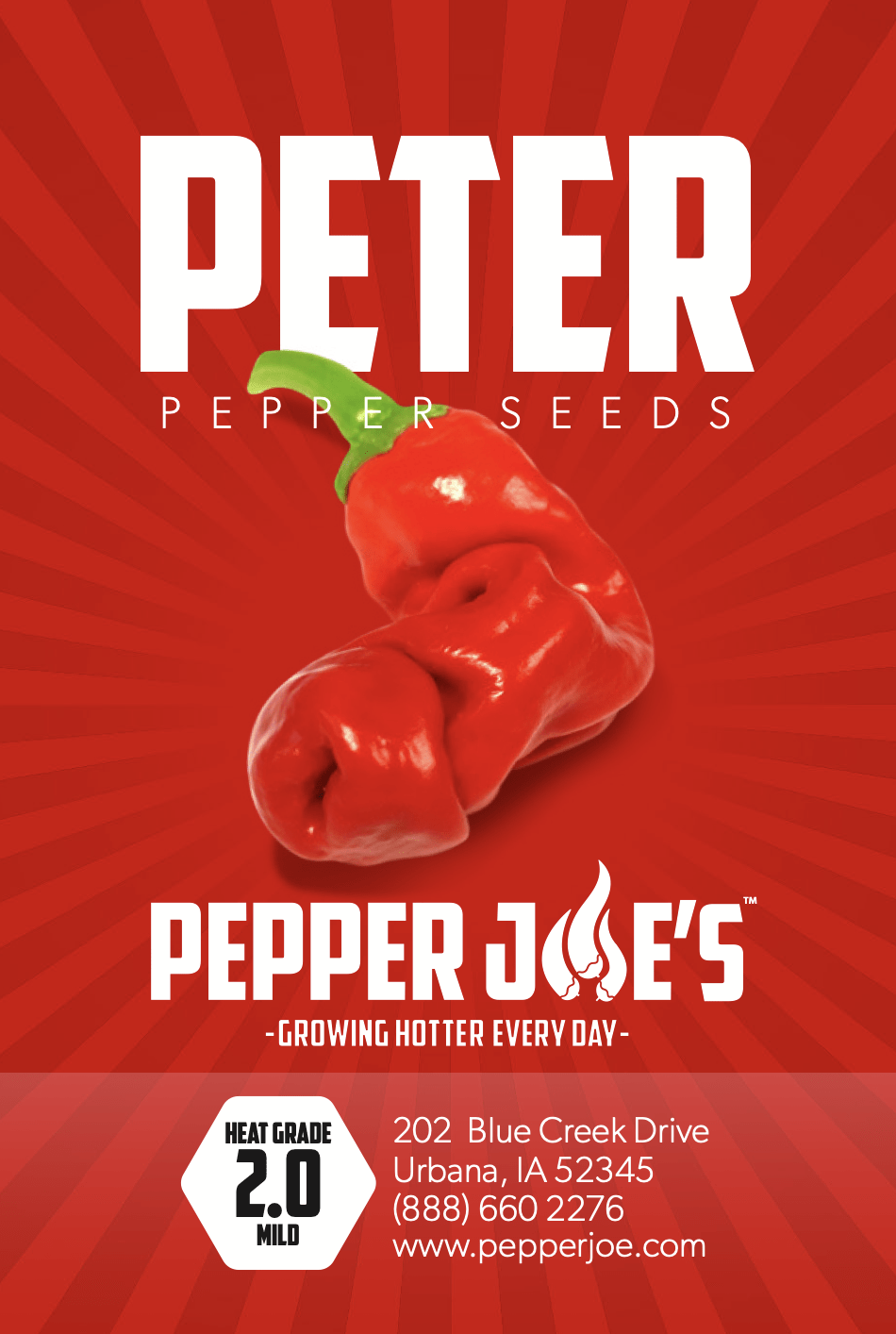 Happy plants
More than 90% of the seeds germinated,and did so within a week on a heat mat..the plants are doing very well and are almost ready to go into garden..I've grown these several years ago and they also did well then..
My Peter is getting big!!
Peter peppers, that is! Best looking peppers that I've started this year! Everything is looking up!!🤣
Peter Peppers
Most of the seeds sprouted.