Regular price
$ 3.99
Sale price
$ 2.99
Unit price
per
Sale
Coming Soon
Description:

Also widely known as the Calabrian pepper, Small Red Cherry, or Devil's Kiss, this is a special Italian heirloom pepper that is used for a variety of culinary uses. The Peperone Picante Calabrese translates to "spicy pepper of Calabria," which serves the name spicy pepper as it has a heat level of 25,000-40,000 SHUs!

These pepper plants grow to 3 ft. tall and produce small, round, bulbous, hot peppers that grow to at least 2" in diameter. They mature to a bright, glossy red color with moderate heat

They develop some of the best spice and smoky, fruity notes when left to mature longer, and are picked when they start to show a slightly wrinkled exterior. This is delicious on anything, and we cannot get enough of it! We recommend that you eat it fresh or dried, use it for stuffing with meats and cheese, and to sauté for topping burgers, pizzas, and steaks. A word of caution: the Piccante Calabrese pepper will lose its heat level, about 60%, once you cook them! This is a popular culinary pepper in Southern Italy, and we can understand why!

Species

: Capsicum Annuum

Heat Level

: 25,000-40,000 SHUs

Type

: Medium Hot

Flavor: Smoky, Fruity

Origin

: Italy

Pod Size: 2"
Plant Height: 2-3 ft.

Days to Harvest

:

70

+ Days

Get more Medium Hot Pepper Seeds and try growing more varieties from our expansive Pepper Seed Collection!
Specifications:

Heat Level:

Plant size: 2-3 ft.
Pod size: 2"
Origin: Italy
Species: Annuum
SHU: 25,000-40,000
Click here for all of our tips and videos to grow your peppers!
Click here for plant care instructions
View full details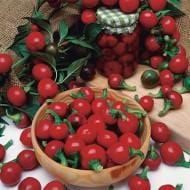 Piccante Calabrese (Calabrian) Pepper Seeds
Planted inside to start - growing well
I planted four seeds inside to start them since I'm impatient & it's not warm enough outside in PA yet. All four seeds sprouted but only one survived (my fault, oops!) The one remaining is growing like a champ!!
The restaurants I serve specially requested Calabrese Peppers for canning. They love them!