SKU: Seeds-PinkTigerxPeachBhut10
Regular price
$ 9.99
Sale price
$ 7.99
Unit price
per
Sale
Coming Soon
Description:

The Pink Tiger x Peach Bhut chili is quickly becoming one of the most popular hot peppers to grow! One look at this colorful beauty will tell you why - their beautiful shades of pink and purple light up any garden they're in!

These plants grow large - up to 4 ft. tall, and even higher when planted directly into the ground - and give high yields of these peppers. Make sure to have plenty of space for these pepper plants to grow! The Pink Tiger x Peach Bhut chili is still unstable, so expect some variation in growing. Peppers should grow around 2-3" long and have a bumpy texture to them. These eye-catching Pink Tiger x Peach Bhut peppers ripen from a greenish-purple to a peach purple pearlescent color that gives your garden a unique pop of color.

The flavors of these unique pepper pods are fruity and somewhat sweet, similar to a Peach Ghost. The heat is fairly tolerable at around 300,000 SHUs. Use these peppers for roasting, grilling, cooking, drying, or (if you can handle the heat) add them fresh to any meal for a nice fruity-hot flavor!

Species: Capsicum Chinense
Heat Level: 300,000+ SHUs

Type: Hot
Flavor: Fruity, Sweet

Origin:

USA

Pod Size: 2-3"

Plant Size: 3-4 ft.
Days to Harvest: asdf Days


Get more Rare & Exotic Pepper Seeds from Pepper Joe's! We have a wide variety of seeds to choose from in our vast Pepper Seed Collection!
Specifications:

Heat Level:

Plant size: 3-4 ft.
Pod size: 2-3"
Origin: USA
Species: Chinense
SHU: 300,000+
Click here for all of our tips and videos to grow your peppers!
Click here for plant care instructions
View full details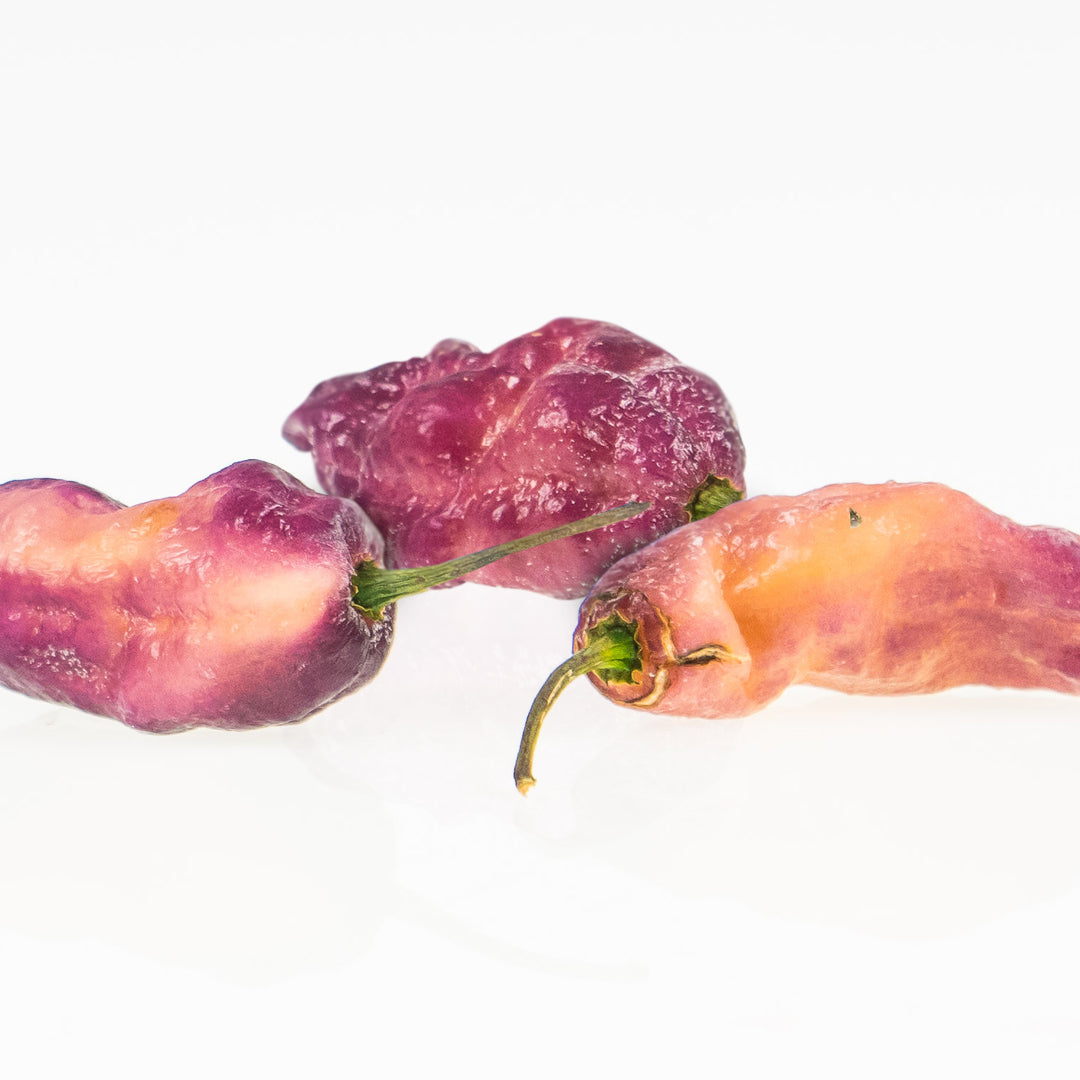 Great but no heat
I actually really like the peppers, but both plants are producing peppers that go from green to yellow with no heat at all! Plant looks like a super hot with dark, curled leaves. Very similar taste and smell to a habanero. These peppers are probably best pickled whole.
Great pepper!
Looks really cool on the plant, great colors, great flavor. The plant is about 4 ft tall, very green, and healthy. I don't buy the 300,000 Scoville. These are hotter than any ghost pepper I've had, but still pretty far off from reaper level
excited
Looked like fun peppers to grow. Planted two seeds and both grew. Transplanted well into temporary containers. Hoping to get them in the ground in the next few weeks when it gets warmer outside.