Regular price
$ 7.99
Sale price
$ 5.99
Unit price
per
Sale
Coming Soon
Description:

Master grower Carlos Jr. was growing a bunch of Carolina Reapers in Brazil when he ended up creating this purple beauty by accident. It's unknown what crossed with the Red Reaper, but whatever it was, we're glad it happened! The Purple Reaper Chili is a fantastic variant with a unique color and the same world-record heat.

Purple Reaper pepper plants grow tall, as high as 4 ft., producing plenty of these fiery devils! The plants tend to perform better with a little bit of shade, so don't plant them directly in full sun. Purple Reapers aren't fully stable yet but expect to see a lot of beautiful colors and signature pepper attributes, such as stingers forming at the ends of the pods. These fruits start purple then turn green/purple and eventually dark red/brown color when they reach maturity.

The flavor of the Purple Reaper is more fruity than a Red Reaper but has less floral flavor. Nevertheless, the heat is said to be slightly less than the Carolina Reaper, but not much! Still enough to be considered one of the hottest peppers in the world. Purple Reaper chili peppers are great for hot sauce and chili powder!

Species: Capsicum Chinense

Heat Level:

1,600,000+ SHUs

Type: Super Hot

Flavor:

Fruity, Floral

Origin: Brazil
Pod Size: 2"
Plant Size: 4 ft.
Days to Harvest: 90-150 Days


Get some of the World's Hottest Pepper Seeds and other Super Hot Pepper Seeds for you to grow in your garden!
Specifications:

Heat Level:

Plant size: 4 ft.
Pod size: 2"
Origin: Brazil
Species: Chinense
SHU: 1,600,000+
Click here for all of our tips and videos to grow your peppers!
Click here for plant care instructions
View full details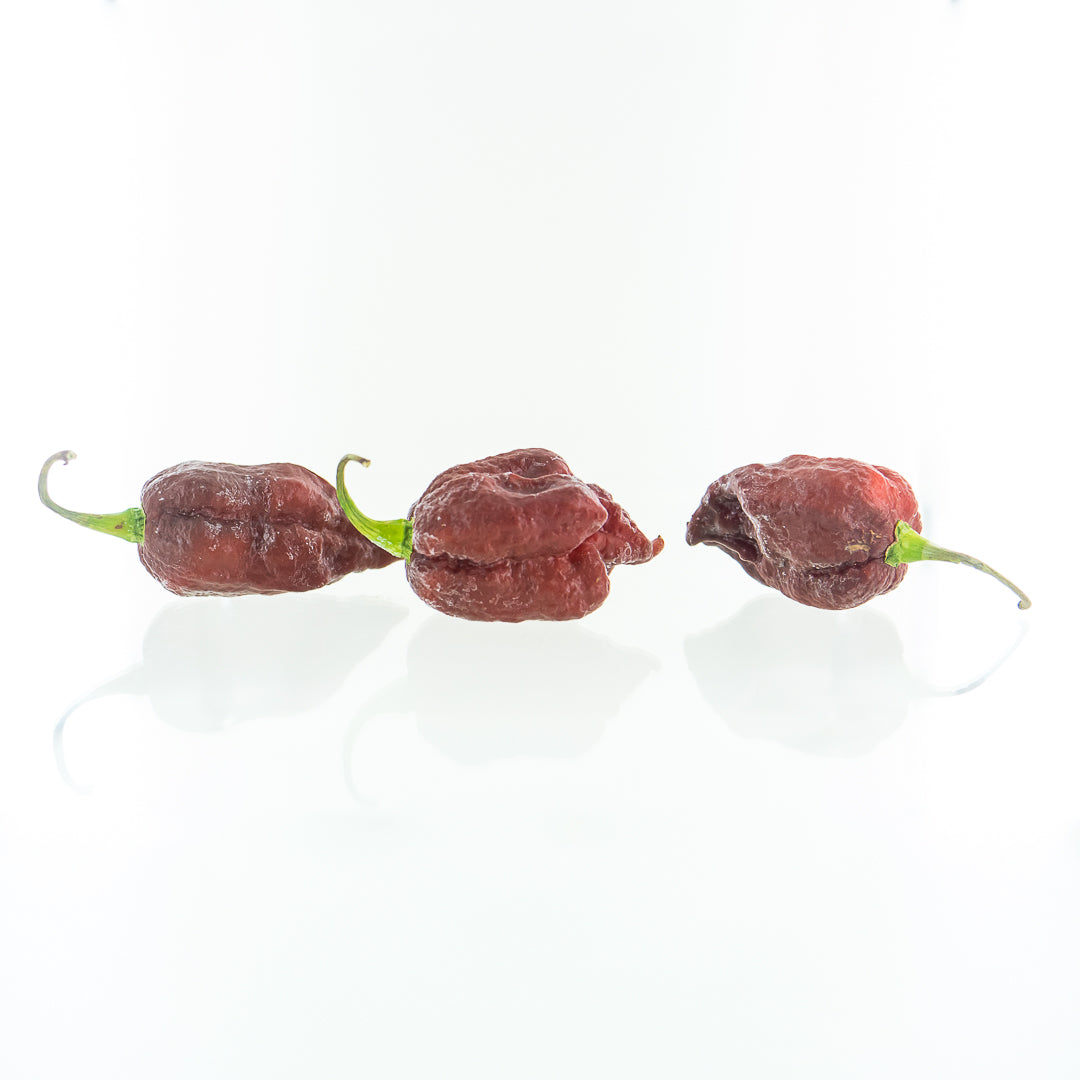 Purple Reapers
Good germination, 80% on this variety.
Tougher to grow, and prone to edema with humidity at 40%.
Give them air and 85 to 90 temps..
So far, so good!
We purchased these seeds as my husband LOVES hot peppers. They are little new plants right now, but seem to be doing well! Hopefully when they are mature, they will produce excellent peppers.
Satisfaction
Got the seeds in a timely manner waitin' for 'em to sprout!!