SKU: RedSavinaSeedling2Pack
Regular price
$ 0.00
Sale price
$ 19.99
Unit price
per
Sale
Sold Out For Season
Description:

Red Savina Habanero Peppers are rich in history! Frank Garcia of GNS Spices in Walnut, California, is the creator of this hot pepper. Legend has it that he was plowing under a field of orange Habaneros after his buyer withdrew his proposed buying price, rather than selling at a low price. While plowing, he spotted one red pepper among the orange habaneros, saved the plant, and the rest is history! It is one of the only vegetables to be officially protected by the U.S. government under the Plant Variety Protection Act. Not only that, it used to be the hottest chili in the world until the Bhut Jolokia became the new winner! This pepper held the World's Hottest Guinness record for 12 years (1994 to 2006).

The Red Savina Habanero Plant produces around 50 peppers of great flavor and consistent heat and provides reliable growing results. The Red Savina pepper is a very flavorful habanero, providing a sweet and fruity heat and a hint of smokiness that distinguishes it from the rest of the Habanero pack. Just make sure to wash your hands afterward if touching them raw.

Seedling Size:

2-6"
Species: Capsicum Chinense
Heat Level: 350,000 - 577,000 SHUs
Type: Hot to Very Hot
Origin: USA

 


These Red Savina Pepper Seedlings were carefully grown from seed in our greenhouse and are guaranteed to arrive alive and healthy. Promptly follow the instructions included in your plant box and enjoy watching these plants grow!

SHIPPING NOTE: Live plant orders will be shipped within 2 weeks after ordering, weather permitting. If you would like your plants to be shipped on a certain day, please indicate that in your order notes upon checkout.


We cannot ship live plants to Texas and New Jersey due to the Department of Agriculture forbidding invasive species to come into their state by mail.

INVENTORY NOTE: We plant in waves, so if a variety you want is out of stock, additional inventory will be available over the coming weeks . Click "notify when available" on any plant product page to be the first to know when back in stock.

Looking for the seeds instead? BUY RED SAVINA HABANERO SEEDS HERE!

Check out our other pepper plant varieties to find the plants you want to grow in your garden!
Specifications:

Heat Level:

Plant size: 2-6 Inches
Origin: USA
Species: Chinense
SHU: 350,000–577,000
Shipping Notice

Please allow up to 2 weeks to process live plant orders before shipping. If you would like any adjustments to your ship date, please indicate your needs in order notes upon checkout.
Click here for all of our tips and videos to grow your peppers!
Click here for plant care instructions
View full details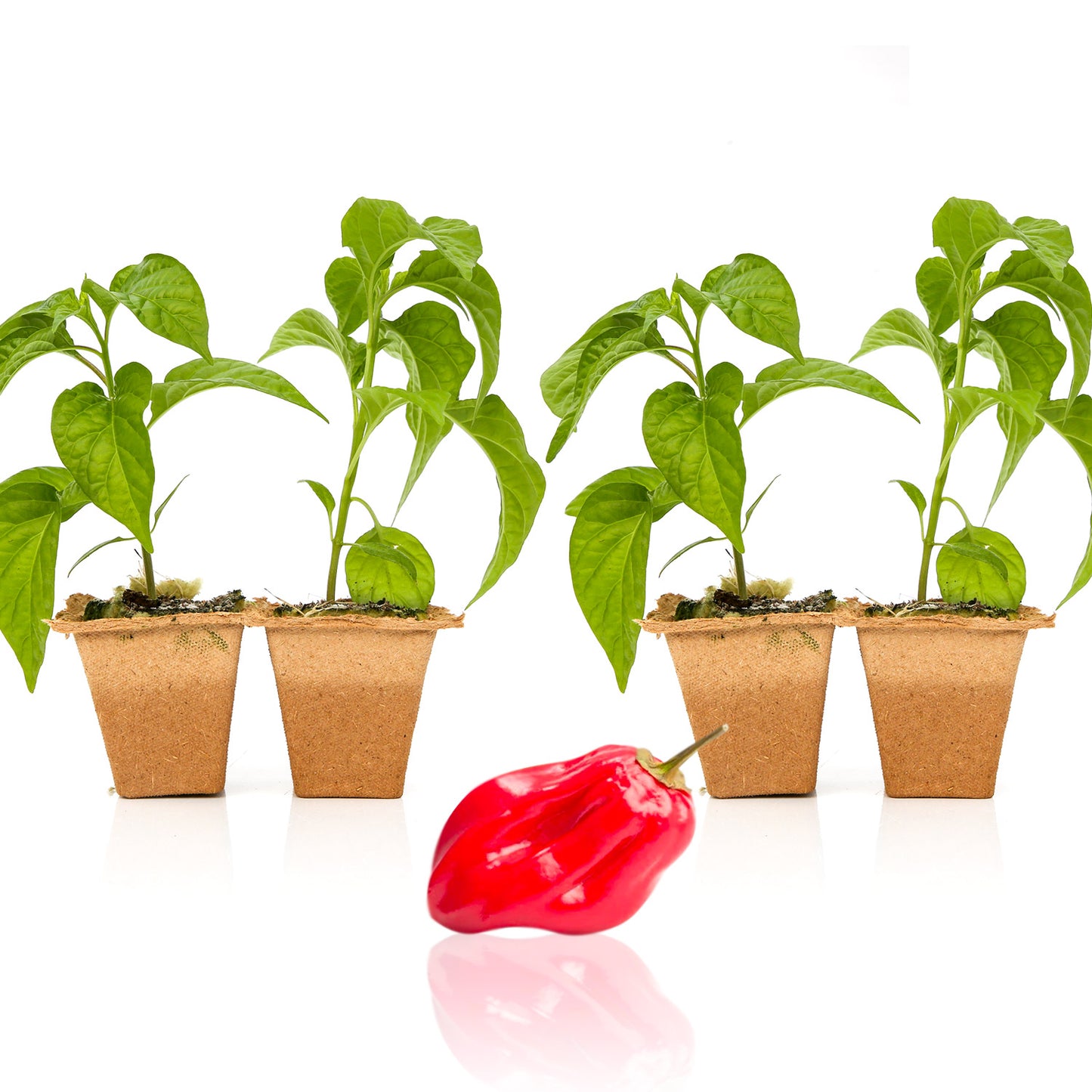 No flowers
Beautiful plant but no flowers
Excellent Quality
Plants arrived in great health! Using these plants in an hydroponics system in my 7th grade classroom. Students are learning about asexual and sexual reproduction in plants.
Flourishing but no peppers yet