SKU: RistraCayenneSeedPack
Regular price
$ 4.99
Sale price
$ 4.99
Unit price
per
Sale
Coming Soon
Description:

The Ristra Cayenne Pepper is truly a monster! These peppers will grow to a foot long, proving to be one of the bigger peppers we currently sell! Not only will they grow to be large peppers, but they will twist and curl as they continue to grow. The Ristra Cayenne pepper plant is easy to tend and grow, and it is quite a heavy producer. Ripening from green to red, the heat can reach up to 30,000 SHUs at its highest heat level when turned red. However, this variety is known to vary greatly in heat, with some being very sweet with almost no heat. These can still be harvested at different stages, and they are great for drying, and to add in salsas, hot sauces, and chilis.

Species: Capsicum Annuum

Heat Level: 100 – 30,000 SHUs

Type: Mild to Medium Hot

Origin: New Mexico, USA

Days to Harvest: 70+ Days

# of Seeds per Packet: 10+ Pepper Seeds

Craving some more Cayenne in your life? Check out our Purple Cayenne Pepper Seeds, Pepper Joe's Cayenne Pepper Seeds, Long Red Narrow Cayenne Pepper Seeds, Ring of Fire Pepper Seeds, and Cayenne Pepper 6-Pack Seeds.

Don't miss out on this savory Sweet Cayenne Uncured Bacon Jerky! It is absolutely delicious to snack as itself, or to add to sandwiches.
Specifications:

Heat Level:

Plant size: 2 ft.
Pod size: 9-12"
Origin: USA
Species: Annuum
SHU: 2,500-30,000
Click here for all of our tips and videos to grow your peppers!
Click here for plant care instructions
View full details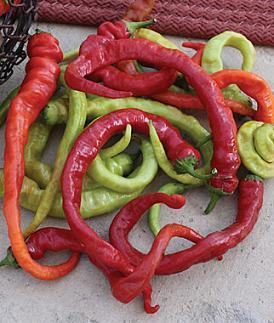 Ristra - Awesome bounty but little heat
I have 3 Ristra plants and the beauty of the plant and growth rate is amazing. Great looking plants and the peppers themselves are quite impressive. I actually consider these peppers more ornamental as they have very little heat and/or flavor warranting recipe use. Beautiful and one of the easier to grow..pretty impressive.
Tasty, but very mild
These plants grow very well and produce a lot of large, high quality peppers very quickly. The peppers have a great flavor, but if you're looking for any heat - look elsewhere. Even fully ripened, the peppers I've harvested off multiple plants are quite mild, almost zero heat.
Thank you for your honest feedback!
Peppers are different than the package
I have ordered hot peppers for several years and generally have been pleased. However, several varieties from this years crop were NOT what I ordered. For example, the Cajun craze were yellow and resembled seven pot lava , and some of the Reapers did not look like Reapers at all.
The Ristra Cayenne that I grew was great and adds a sweet flavor to the other peepers I mix with them.
Thank you for taking the time to provide a review. We are sorry to hear that some of the peppers did not grow true to type. Our customer service team would be happy to look into this. Please send any pictures of your peppers and your order number to us at customerservice@pepperjoe.com.