Regular price
$ 2.99
Sale price
$ 2.99
Unit price
per
Sale
Coming Soon
Description:

Want a pepper that looks like the Habanero or Scotch Bonnet, but with less heat? Look no further than the Rocotillo Pepper! The peppers are popular in the Caribbean, and it's even called Puerto Rico peppers because of how often they're used there. The Rocotillo peppers appear to be varieties of both Capsicum Baccatum and Capsicum Chinense, but their origins differ! The Baccatum variety is from Peru, but it's uncertain where the Chinense variety originated. To make it more confusing, it's said the Baccatum originated in Peru but was discovered in Puerto Rico years later. Although its origin and history are confusing, we do know these peppers are tasty!

Rocotillo pepper plants grow up to 3 ft. long and produce high yields of these tiny, 1" long pepper pods. Their appearance looks like a squished shape, almost like a compressed Bishop's Crown pepper, with glossy skin and bright red color. These peppers ripen from green to orange, and finally to red when they're ready for harvesting.

This is a very mild alternative to the Habanero for those who do not necessarily want a super hot pepper. Although the heat level is very mild, they will taste sweet and tropical. The Rocotillo pepper is a variety you must try growing in your own backyard!

Species

: Capsicum Baccatum

Heat Level

: 1,500-2,000 SHUs

Type

: Mild

Flavor: Sweet, Tropical

Origin

: Peru

Pod Size: 1"
Plant Height: 3 ft.

Days to Harvest

: 70+ Days

Enjoy growing unique and exotic peppers? View our Rare & Exotic Pepper Seed Collection for more!
Specifications:

Heat Level:

Plant size: 3 ft.
Pod size: 1"
Origin: Peru
Species: Baccatum
SHU: 1,500-2,000
Click here for all of our tips and videos to grow your peppers!
Click here for plant care instructions
View full details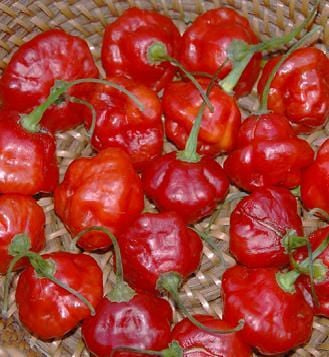 Rocotillo's a Ripper!
We love the Rocotillo pepper. It is like a very fragrant Scotch Bonnet but with much less heat. We love to slice them thinly and add them to salad, ramen or any stir fry.