Regular price
$ 3.99
Sale price
$ 2.99
Unit price
per
Sale
Coming Soon
Description:

Sweet Sunset Peppers are a great crunchy variety that grows easily in your backyard. Winning the 2015 All-American Selection award (basically, the Miss America pageant of sweet peppers), these banana peppers have a great eating quality used for any meal you like!

These pepper plants are super compact and work great for a small home garden, containers, or on the patio. Growing up to 3 ft. tall, these shorties will definitely fool you, as the plant is known for its large pepper yields, often producing 15-20 peppers per plant! Sweet Sunset Peppers grow to around 7" long and ripen from their early green to light yellow when they're ready to harvest. Note: You can also let them mature to orange and bright red if you leave them on the plant a little longer. These are continuously producing plants that look great all season long!

Bring the beauty of the sunset to your backyard with these sweet and crunchy banana peppers. These colorful and tasty peppers are great fresh or canned, or you can cut Sweet Sunset Peppers into rings for salads, sandwiches, and pizza.


Species: Capsicum Annuum
Heat Level: 0 SHUs
Type: Sweet
Flavor: Sweet
Origin: USA
Pod Size: 7"
Plant Height: 2-3 ft.
Days to Harvest: 85+ Days

Grow more sugary sweetness in your garden with our Sweet Pepper Seeds and Sweet Pepper Plants! Grab some essential Growing Supplies to make sure your seeds are in prime condition for growing.
Specifications:

Heat Level:

Plant size: 2-3 ft.
Pod size: 7"
Origin: USA
Species: Annuum
SHU: 0
Click here for all of our tips and videos to grow your peppers!
Click here for plant care instructions
View full details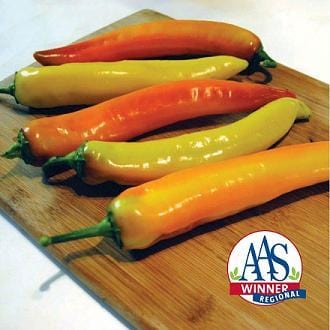 Great pepper. I will grow it again.
While rhe rest of my garden did almost nothing this year, this pepper has done quite well despite having been half eaten by a tomato horn worm. Can't wait to see how it holds up to pickling! That's next week's adventure.
Feed order from pepper Joe's
Seeds a bit pricey about 20 bucks for 30 seeds love the free sample 98% germination now just waiting for Harvest to enjoy