Regular price
$ 7.99
Sale price
$ 7.99
Unit price
per
Sale
Coming Soon
Description:

This pepper may be one of the gnarliest, most grotesque-looking peppers we've grown! The T-Rex Yellow is a cross between the Trinidad Douglah and the Bhutlah Yellow peppers, creating this exotic pepper variety with great flavor and unimaginable heat!

T-Rex Yellow pepper plants are prolific producers with heavy yields of these super hot pepper pods. This new variety is still considered unstable, so expect some variations when growing these peppers. Nevertheless, you can anticipate these yellow peppers growing up to 4" long with a twisted and contorted shape. They almost look like a Scorpion pepper was folded up like an accordion! These fruits mature from green to their beautiful glowing yellow color when they reach maturity.

These gnarly peppers may have a nice fruity taste that was passed down from their parentage, but it's the ruthless heat that's what gets people talking! These pods have thick flesh with lots of stinging capsicum inside, producing heat levels that can reach beyond 1,500,000 SHUs - that's as hot as a Carolina Reaper! It's clear how this pepper gets its name - with heat that high, you'll be roaring just like a T-Rex!

Species: Capsicum Chinense

Heat Level:

1,500,000+ SHUs

Type: Super Hot
Flavor: Fruity
Origin: USA

Pod Size:

3-4"

Days to Harvest:

90+

Days

Shop more of our Super Hot Pepper Seeds and be sure to check out other varieties in our Pepper Seed Collection!
Specifications:

Heat Level:

Pod size: 3-4"
Origin: USA
Species: Chinense
SHU: 1,500,000+
Click here for all of our tips and videos to grow your peppers!
Click here for plant care instructions
View full details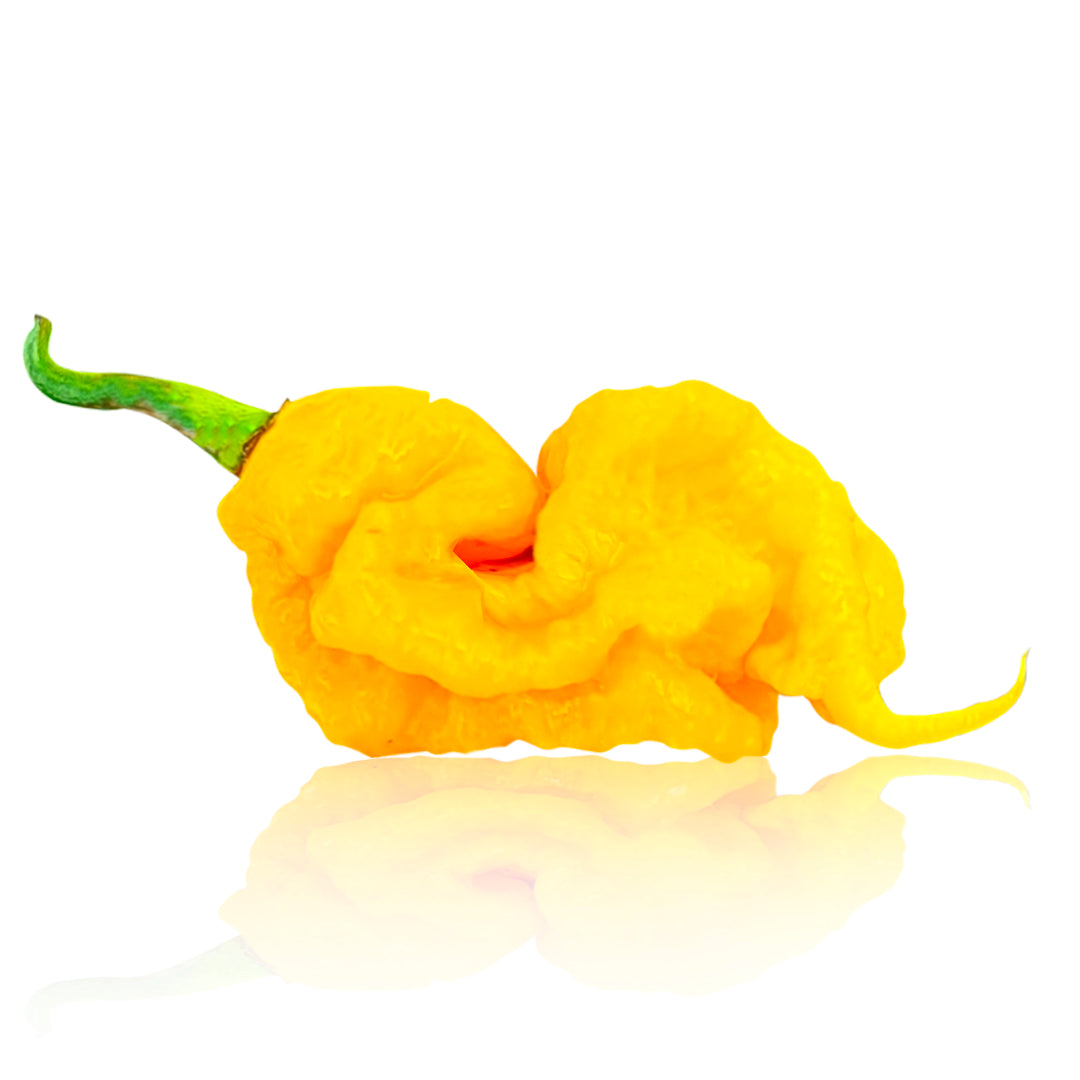 Awesome scorcher
Great addition to our pepper collection!!! Amazing aroma, flavor, heat, and appearance. Germination took awhile same with many of our hot varieties. Thank you pepperjoes!!!
Hot peppers
T-rex did take 4 weeks to germinate. But are growning big and healthy now. Will definitely buy more seeds from pepper joes
looking forward for new hotness!