Regular price
$ 6.99
Sale price
$ 5.99
Unit price
per
Sale
Coming Soon
Description:

This delicious Scorpion variety tastes as good as it sounds! Although somewhat milder than its original strain, the Trinidad Scorpion Chocolate Cappuccino Pepper still packs an incredible amount of heat and flavor that you won't want to miss out on.

These beautiful pepper plants stretch up to 4 ft. tall and grow well in many different environments. Trinidad Scorpion Chocolate Cappuccino pepper plants will produce decent yields of these 2" long pepper pods that ripen from green to a striking red color when they mature. Their in-between brown color is what gives these chocolate peppers their namesake, looking just like the color of a cappuccino coffee! These pods exemplify pretty much every characteristic of Scorpion peppers that you can imagine: small size, wrinkly skin, and a nice tail sprouting from the bottom.


Trinidad Scorpion Chocolate Cappuccino peppers are the cousin to the Trinidad Scorpion, a previous world record holder of the hottest pepper in the world. That being said, this pepper takes on some of the super hot heat from its cousin, with heat levels reaching over 1,000,000 SHUs! These are very versatile peppers with sweet and floral flavors great to use for BBQ sauces, hot sauces, pepper powder, marinades, and more!

Species: Capsicum Chinense
Heat Level

: 1,200,000–2,000,000 SHUs

Type

: Super Hot

Flavor: Sweet, Floral
Origin

: Trinidad & Tobago

Pod Size: 2"
Plant Height: 3-4 ft.
Days to Harvest

: 100+ Days

Set your garden ablaze with our Super Hot Pepper Seeds and Super Hot Pepper Plants!

Want to add a little "uncanniness" to your garden? Browse through our selection of Rare & Exotic Pepper Seeds!
Specifications:

Heat Level:

Plant size: 3-4 ft.
Pod size: 2"
Origin: Trinidad & Tobago
Species: Chinense
SHU: 1,200,000-2,000,000
Click here for all of our tips and videos to grow your peppers!
Click here for plant care instructions
View full details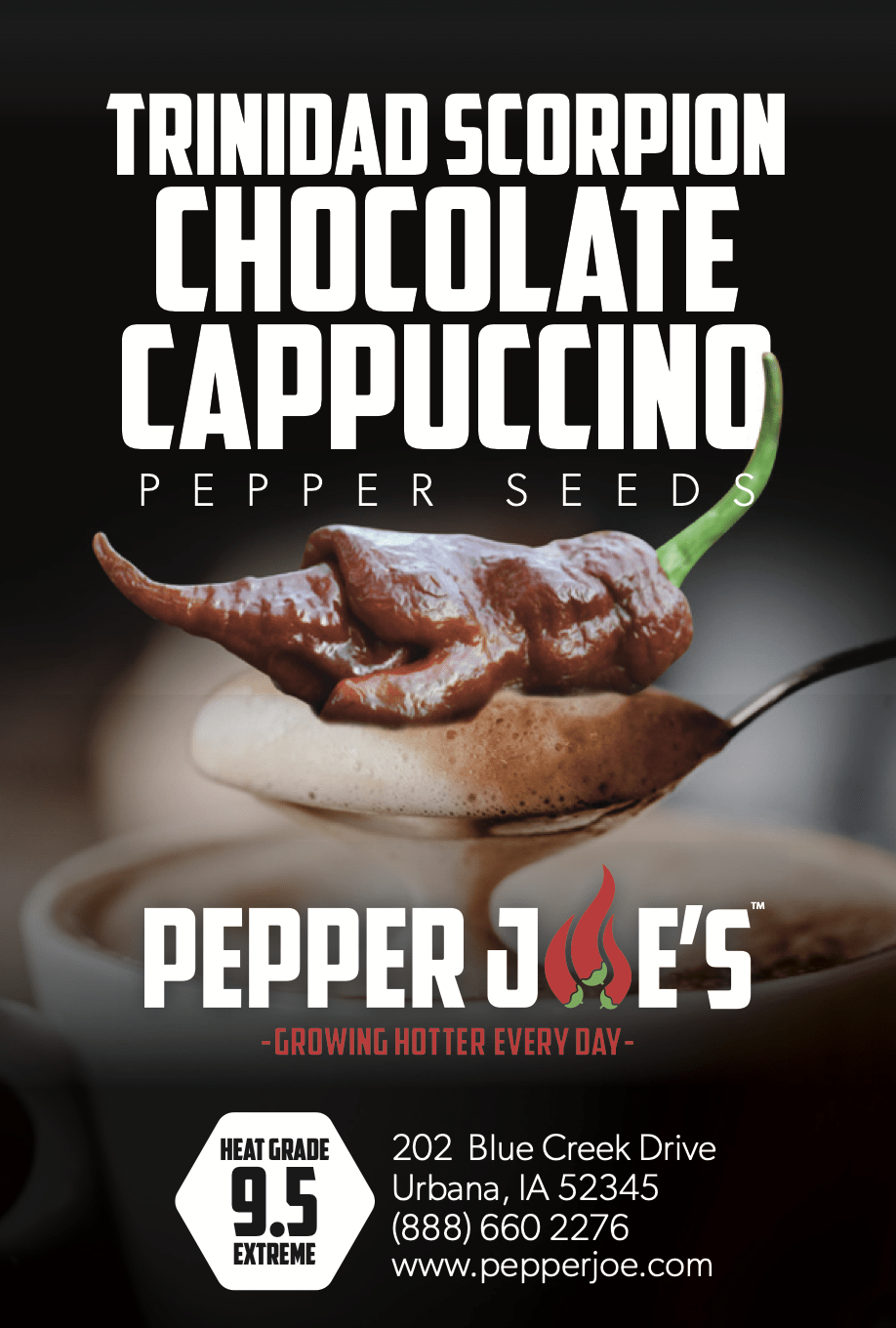 Peppers
All 4 types germinated inside. Growing like weeds outside. Should be a good crop
Exceeded Expectations
I expected to have to give my plants some TLC after shipping but was pleasantly surprised. My plants came quick and were happy and healthy. They looked better than seedlings you see at box stores. I will be shopping here next time I want some hot peppers!
Flamin' Hot
These peppers are PACKED with both flavor AND heat, an excellent variety.