Regular price
$ 3.99
Sale price
$ 2.99
Unit price
per
Sale
Coming Soon
Description:

The Wartryx Pepper is a gnarly-looking super hot pepper with extreme variation. This wicked cross was created by Matthew Arthur, and was believed to have been bred between a Trinidad Scorpion, a 7 Pot Jonah, and (potentially) a Scotch Bonnet, but the third pepper is still a mystery, No matter what, however, you can expect some incredible heat to come from this pod!

These pepper plants will grow up to 3 ft. tall and produce high yields of these super hot peppers. We say the third pepper may be a Scotch Bonnet because these 1.5" long pods have the same mushroom shape with rough, wrinkly, bumpy skin. The pods are as big as a golf ball, are thin-walled, and tender, ripening from green to red when they reach maturity.

The heat on these peppers reaches beyond 1,200,000 SHUs, so we urge you to be careful with these chilis. With a sharp, extreme burn that Wartryx peppers deliver, this sensation will stay on your tongue for a long time. Beyond the heat, you'll notice a citrusy and floral scent, with a bitter taste that makes this great in soups and stews. You can also use Wartryx peppers in hot sauces, salsas, and pepper powder when dried up.

Species: Capsicum Chinense
Heat Level

:

1,200,000+ SHUs
Type

: Super Hot

Flavor: Citrusy, Floral, Bitter
Origin

: USA

Pod Size: 1.5"
Plant Height: 3 ft.
Days to Harvest

: 90+ Days

Enjoy more scorching peppers with our Super Hot Pepper Seeds and Super Hot Pepper Plants!

We also carry some extremely hot Super Hot Snacks & Spices - are you brave enough to try them?
Specifications:

Heat Level:

Plant size: 3 ft.
Pod size: 1.5"
Origin: USA
Species: Chinense
SHU: 1,200,000+
Click here for all of our tips and videos to grow your peppers!
Click here for plant care instructions
View full details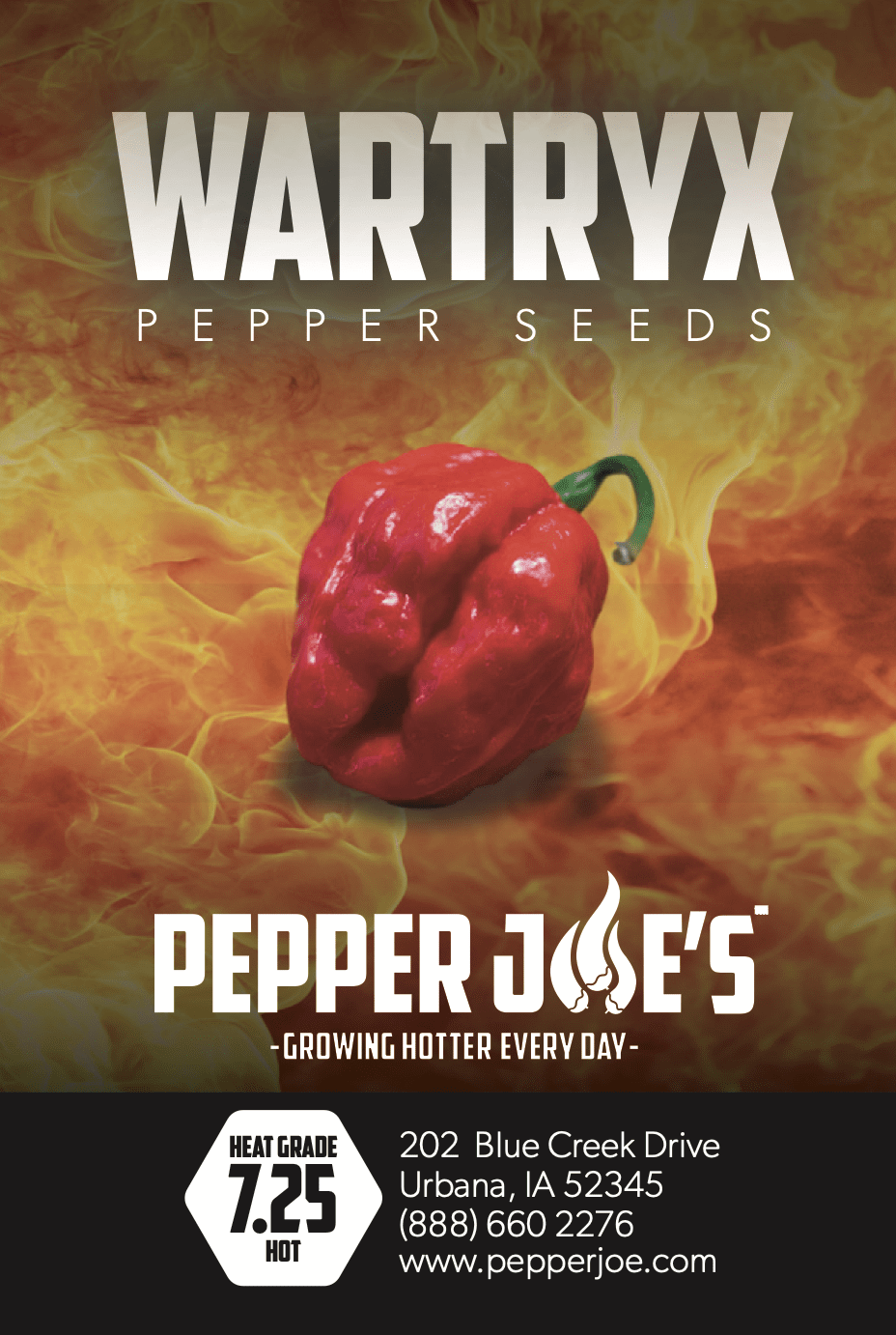 ???. It's too early to plant anything. It will freeze to death now. I have to wait for planting season.
Good germination
Only started the seeds 4 weeks ago. Plant looks very healthy so far.
Great plants!
I grew these from seed two years ago in St. Augustine. I got 100% germination. The plants were super prolific the first year, and they survived the winter, producing as late as November. They started setting fruit as soon as it warmed up, and I've already harvested a ridiculous number of peppers this year. These plants have outperformed everything in my garden!