SKU: BtrButchTReaperScorpion
Regular price
$ 5.99
Sale price
$ 5.99
Unit price
per
Sale
Coming Soon
Description:

This is an amazing variety created by Butch Taylor himself! The two-parent plants are a Trinidad Scorpion Butch T and a Carolina Reaper. One is a previous world record holder, and the other is the current world record holder!

These pepper plants will grow up to 3 ft. tall and produce high yields of these 2" long peppers. BTR pods have an appearance similar to a Moruga Scorpion, but with a much thinner outer wall. They mature from green to dark orange/red color when it reaches maturity. Butch T Reaper peppers take longer to mature, however, they grow well in warm and cool climates.

The flavor is very floral and citrus upfront, with a burn like nothing we have ever tasted before! The heat is screamingly hot and packs a punch that will BEAT YOU UP, but if you love that kind of heat, then we can only say to grow it. On our heat scale, we give them an 11 out of 10, but we haven't had them "officially" tested yet.

Species: Capsicum Chinense
Heat Level

: 1,500,000+ SHUs

Type

: Super Hot

Flavor: Floral, Citrusy
Germination Rate: 70%
Origin

: USA

Pod Size: 2-3"
Plant Height: 3 ft.
Days to Harvest

: 165+ Days

Enjoy other Super Hot Pepper varieties, including the beloved Carolina Reaper Pepper Seeds as well as our stinging-hot Scorpion Seeds!

Can't get enough of that Reaper burn? Try out our Carolina Reaper Snacks & Spices!
Specifications:

Heat Level:

Plant size: 3 ft.
Pod size: 2-3"
Origin: USA
Species: Chinense
SHU: 1,500,000+
Click here for all of our tips and videos to grow your peppers!
Click here for plant care instructions
View full details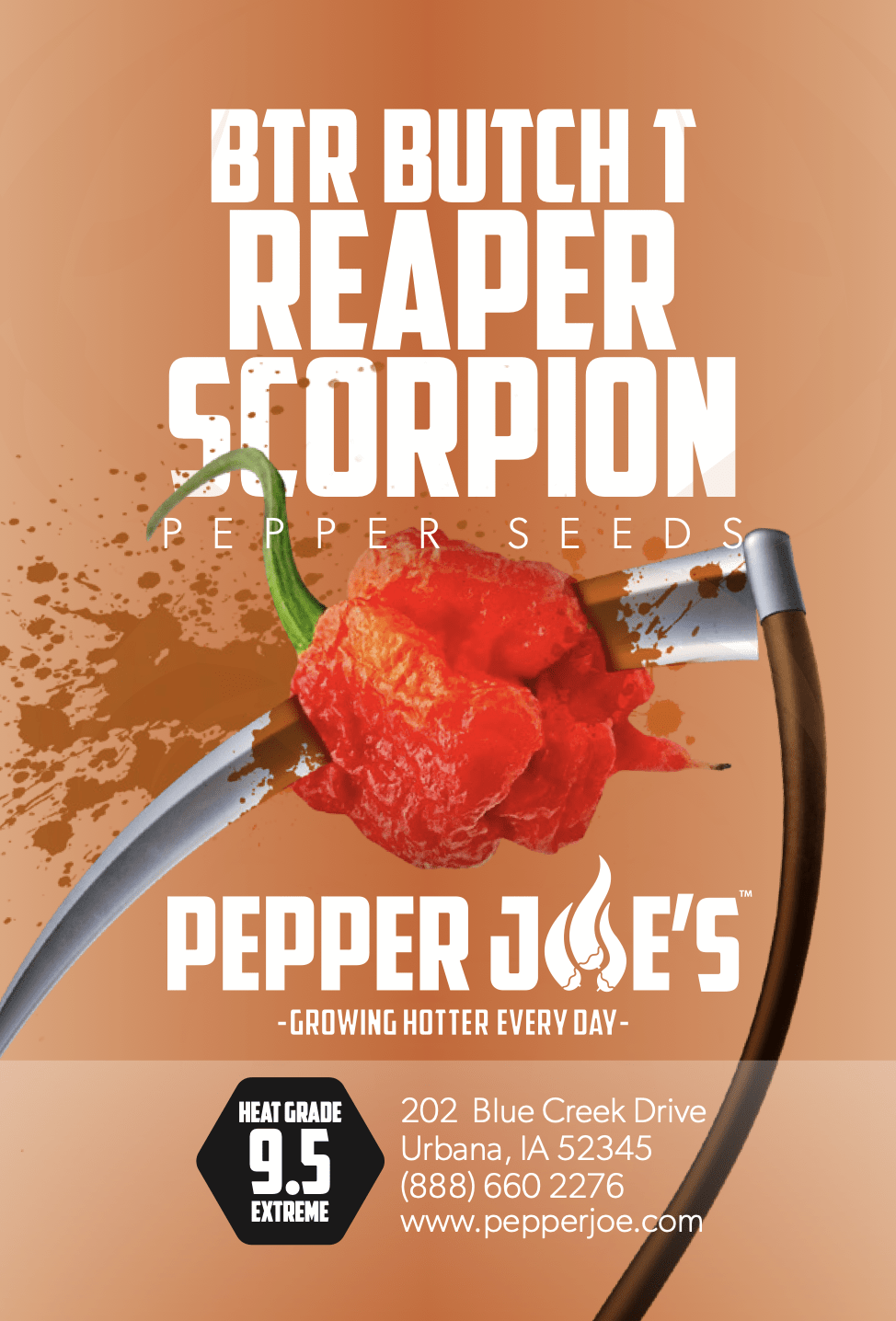 Grew awesome
Everyone seed I got germinated perfectly
Hot Hot Hot
Will be ordering more these plants are beautiful.
Update - still strong!
Have a beautiful plant that is really taking off! Picked my first ripe one today! Excited to try it!