SKU: MorugaTrinidadScorpion
Regular price
Sale price
$ 7.99
Unit price
per
Sale
Coming Soon
Description:

Once a previous world record holder as the hottest pepper in the world, the Moruga Trinidad Scorpion chili was developed at the New Mexico State University Chili Pepper Institute and is dangerously hot! This pepper held the prestigious honor in 2012, but was quickly stripped of its title by the current world's hottest pepper, the Carolina Reaper. Nevertheless, this pepper hasn't faltered in terms of heat and flavor!

The Moruga Trinidad Scorpion pepper plants grow to 3 ft. tall and produce many of these 2" long firecracker chiles! Shaped like little bulbs, these peppers have shiny skin, but a bumpy texture to them. The pods ripen from green to deep red when it reaches maturity - a.k.a, when it's the hottest!

The Moruga Trinidad Scorpion chili is described by one grower as having a fruity/cotton candy-type aroma, with some detecting a hint of cinnamon from the fresh pepper pods. We urge you not to eat these peppers raw - while being tested, a senior research specialist went through four pairs of latex gloves when handling it, saying "the capsaicin kept penetrating the latex and getting on our hands...this has never happened before." Yikes. The Moruga is a great value because you can use one or two a week to heat up all of your meals. It also makes delicious Hot Sauces and can be used as a garden pest repellent....or to strip your garage floor.

Species: Capsicum Chinense
Heat Level

: 1,550,000–2,000,000 SHUs

Type

: Super Hot

Flavor: Fruity, Sweet
Origin

: Trinidad & Tobago

Pod Size: 2"
Plant Height: 3 ft.
Days to Harvest

: 150+ Days

Check out our Moruga Pepper Seeds and other Super Hot Pepper Seeds to really crank the heat up in your garden!
Specifications:

Heat Level:

Plant size: 3 ft.
Pod size: 2"
Origin: Trinidad & Tobago
Species: Chinense
SHU: 1,550,000-2,000,000
Click here for all of our tips and videos to grow your peppers!
Click here for plant care instructions
View full details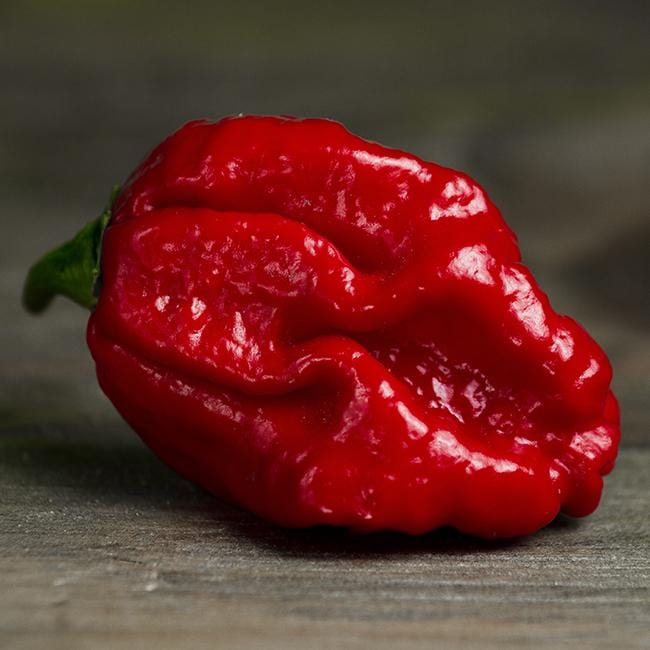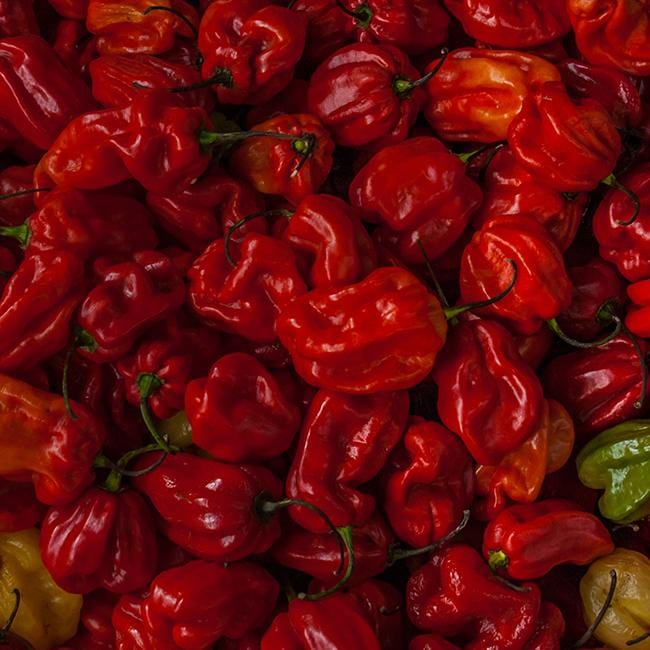 Can't wait to plant them and find out for myself how hot they really are
Very nice! Good Heat
I grow my peppers and make my own "Hot Sauces " been making them for 30+ years! I have had a huge success both with seeds & seedlings from Pepper Joes the thanks goes to them!
A-Maz-Ing!!!
I am a first time customer of Pepper Joe's buying live plants. I am shocked and pleased by the amount of care taken when they packaged these plants. If PJ'S was a larger scale nursery I'd buy everything from them. The plants were well hydrated, tucked safely and comfortably in their own box. They are healthy, a nice size and ready to transplant. Great job PJ's!!