Regular price
$ 4.99
Sale price
$ 3.99
Unit price
per
Sale
Coming Soon
Description:

The Buena Mulata is a beautiful ornamental heirloom hot pepper that closely resembles a classic cayenne, except for its early purple color.

Buena Mulata pods can grow to be 6-7 inches long and plants can be grown in containers or garden beds. Watching them mature from purple to pinkish-yellow to brown and finally deep red is a truly fun and unique experience. The longer you let the fruit ripen, the sweeter and meatier it gets.

Purple Mulatas are most sought after for their looks but the flavor is quite good for an ornamental. They have heat similar to cayennes but more sweetness, which makes for an interesting twist on crushed pepper flakes or fresh salsa.

Species: Capsicum Annuum
Heat Level:

30,000-50,000 SHUs
Type: Medium Hot

Flavor:

Sweet

Origin: USA

Pod Size:

6-7"

Plant Height:

2-3 ft.

Days to Harvest:

75-80 Days

Look through our full selection of Pepper Seeds, including some moderate heat favorites like Cayenne Peppers and Jalapeno Peppers!
Specifications:

Heat Level:

Plant size: 2-3 ft.
Pod size: 6-7"
Origin: USA
Species: Annuum
SHU: 30,000-50,000
Click here for all of our tips and videos to grow your peppers!
Click here for plant care instructions
View full details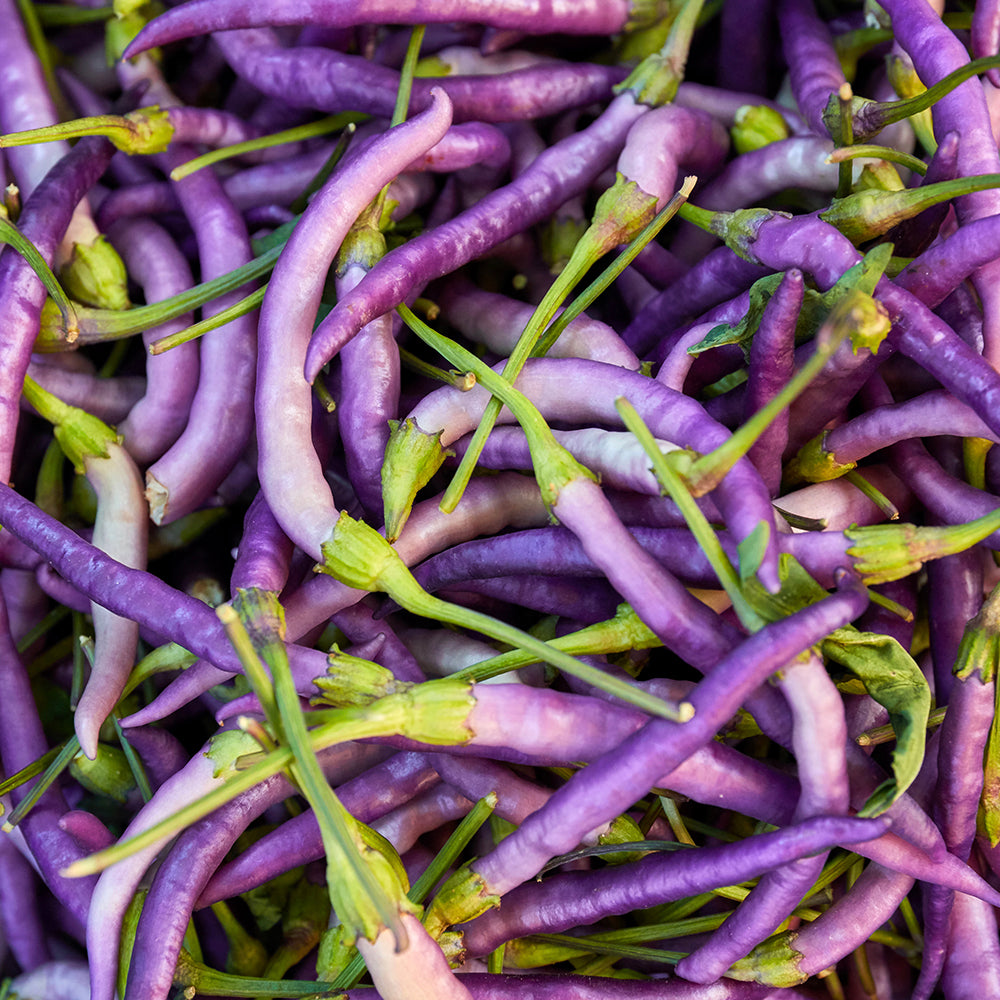 Makes wonderful powder!!
I grew these for the first time this year. High germination rate and high yield. I love the way they start purple, then lighten up and turn orange or red when ripe. I've been impressed so far. I believe I will be adding this to my yearly rotation. I cut them in half and put them in the dehydrator for 12 hours at 125F. Then into the spice blender. It has a wonderful smoky and sweet aroma and taste. Love to sprinkle it on about anything. I could never go back to store bought cayenne powder now. This will be a staple in my spice drawer going forward. Highly recommended.
Disappointment to date
I have ordered live plants the last 5 yrs & each time they weren't what they were supposed to be. SORRY nut it's true. SO, I had a rep call me 2 yrs ago to discuss the issue. The lady assured me that it was the seed tech that had been slacking & he was gone now so PROBLEM SOLVED....I order othe items & dont want to leave Pepper Joe's BUT that I can't keep paying for what I did not order but she reassured me the problem was solved. Well, IT WASN'T. It was better but not fully better. About half werenwhat they were supposed to be which still lacking a lot. I do not mean to crack on Pepper Joe's but it is what it is. NOW, THIS REVIEW MAY NEVER MAKE IT TO BEING VIEWED sooooo we dahall see.
Sincerely, Carl Ramsey
Thank you so much for taking the time to provide us with feedback and we are sorry to hear about your experience. Our customer service team would be happy to look into this. Please contact us by calling 1.888.660.2276 or by emailing customerservice@pepperjoe.com.
Gorgeous looking peppers
These are doing great I wish I could post pictures ! Very mild pepper when purple but has very good flavor, plant is loaded with flowers and peppers can't wait tell they Ripen! Germinating pepper seeds can take a long time you have to have patience, I use heat mats, dome , and a decent light, once started they love hot days in the sun with moist roots through the night Thanks !!