Regular price
$ 3.99
Sale price
$ 3.99
Unit price
per
Sale
Coming Soon
Description:

If you're seeking a sweet pepper with some packed heat, you must try the Cajun Belle Pepper! As it hints in the name, it has the sweetness of bell peppers, but with a heat that provides a jalapeno-like punch.

The Cajun Belle pepper is a bold, sweet mini-bell with some heat, and grows 2-3" long with multiple lobes. The pepper plant is a beauty in the garden as it provides gorgeous colors. It ripens from green, and orange, to a rich red hue color, and can be harvested at any stage. While you can harvest whenever you'd like, we recommend topping it when it's in its fully ripened red stage because it'll have more flavors and heat! You'll be satisfied growing this pepper plant because it's prolific, heat-tolerant, disease-resistant, heavy-bearing, and low-maintenance.

The flavors of the Cajun Belle pepper are truly unique and create an interesting eating experience. The pepper is much like a typical sweet, fresh pepper, and the heat is layered atop this sweetness. So basically, part delicious bell pepper, part jalapeno. You can use this pepper for many culinary uses just like how you would use a bell pepper! You can make salsa and stuffed peppers, add on salads and sandwiches, or grill and roast them. It's also delicious to use with BBQ, as a tasty side dish, and to complement red meat. Start growing these seeds and relish in the deliciousness of the Cajun Belle Pepper fast!

Species: Capsicum Annuum
Heat Level: 500-4,000 SHUs
Type: Mild
Flavor: Sweet
Origin: United States
Pod Size: 2-3"
Plant Height: 2 ft.
Days to Harvest: 60+ Days

Keep growing additional sweetness with our Mild Pepper Seeds and Mild Pepper Plants!

Waiting to harvest your jalapenos? Tide yourself over with our deliciously mild Jalapeno Snacks & Spices!
Specifications:

Heat Level:

Plant size: 2 ft.
Pod size: 2-3"
Origin: USA
Species: Annuum
SHU: 500-4,000
Click here for all of our tips and videos to grow your peppers!
Click here for plant care instructions
View full details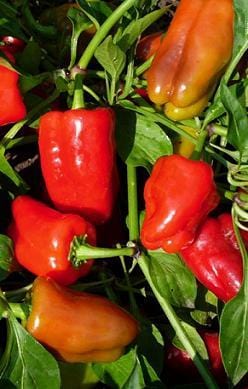 Start as seedlings
Put 3 seeds into the dirt and 3 seeds into a seedling pot.
Seedlings are all that sprouted. I normally put all seeds into our nutrient rich soil and have no issues with sprouting. Still very pleased with the variety Pepper Joes has available and the fact that every seed I put in a seedling pot has sprouted. Thank you!
Adding this to my 'favorites' list...
LOVE this one. Extremely prolific grower, and FAST. Started indoors in an Aerogarden, transplanting to a container, then BOOM. An explosion of tasty little bell peppers that pack some punch. Will definitely grow these again!