SKU: DriedPods-SmokedGhostPepperHalfOZ
Regular price
$ 6.99
Sale price
$ 5.99
Unit price
per
Sale
Coming Soon
Description:

Your favorite Ghost pepper is now SMOKED AND DRIED! Now you can enjoy one of the hottest peppers in the world in their ultimate, smoked flavors. These chilies are meant to add intense heat to your cooking and melt your face off, but with smoked ghost pepper pods – you'll experience gorgeous smoky flavors that'll liven up your favorite foods.

The Ghost, also known as the Bhut Jolokia, originated from India where this was known as the world's hottest pepper in 2007 and hit the 1 million SHUs mark. The peppers are packed full of fruity flavors and with a heat level of 900,000 – 1,000,000 SHUs, you're definitely not going to miss out on heat and flavors. Incorporate these haunting dried peppers into your cooking, ground them into powders or flakes, take them with you on your adventurous trips, or become a daredevil and just eat straight from the pod! This is also perfect to have in hand if you were not able to grow Ghost peppers during the growing season.

Our pods are harvested during their freshest and ripest and are then dehydrated. They are dried whole and flavored by smoke which gives them their great smoky taste. Show how much you love heat to your friends and family by spicing up everything with the Ghost Pepper Smoked Pods!

Heat: Super Hot

Size: ½ oz

 

DISCLAIMER: Keep out of reach of children and animals. Do not use if you have respiratory issues. A small amount will heat up any dish. Use sparingly if your tolerance for heat is low.

Can't live without spicy food? Check out all the spicy food products we carry like beef jerky, hot sauces, spicy cheese, spicy snack sticks, and more!

Looking to grow your own Ghost peppers? Check out our Ghost pepper seeds and Ghost pepper plants.
Specifications:

Heat Level:
Click here for all of our tips and videos to grow your peppers!
Click here for plant care instructions
View full details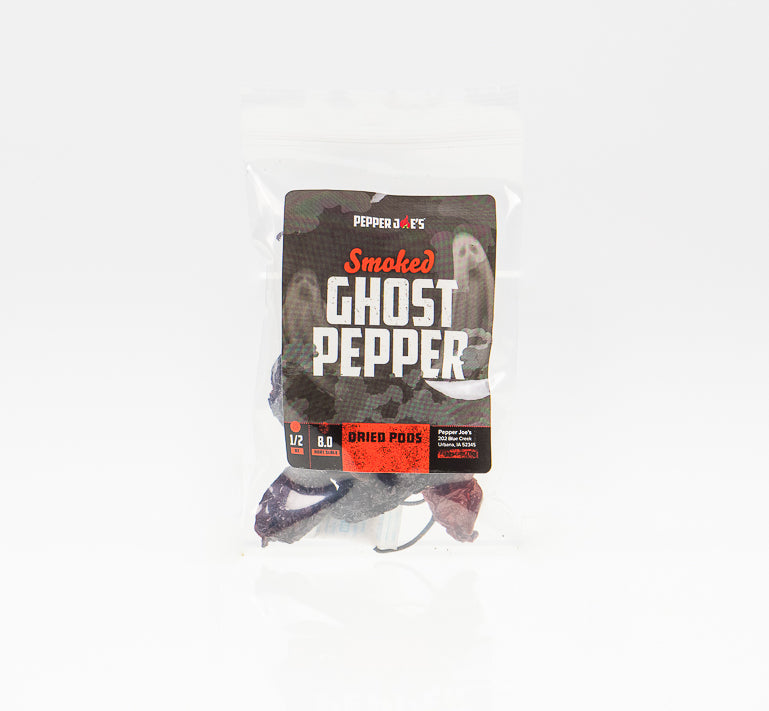 Smoke and heat
What a great combo! Now 3 - 8 smoked ghost peppers is a must for every hot sauce I make! Just a couple to the hot sauce and the flavor is out of this world! Keep up the great work!
Made a tincture and it is very spicy!!