A spicy salsa made from one of the hottest peppers in the world
Regular price
$ 9.99
Sale price
$ 8.99
Unit price
per
Sale
Coming Soon
Description:

Description

Seeking a thrilling showdown of tongue-burning salsa that might make you sweat a little? It isn't a party without the fiery Ghost Salsa! With the famous Ghost pepper classified as one of the top 10 hottest peppers in the world included in this jar of fire, it will deliver a powerful hit of pure insane heat. This hot pepper salsa has a deliciously smoky and salty heat that will build and build until it has you sucking for air, making you sweat from your eyebrows, and wanting a swig of something cool...

Yet somehow, you'll be coming back for more.

Although this super spicy salsa will literally leave you melting your mouth, we promised not to leave out appetizing flavors. With flavorful peppers like Jalapenos, Poblanos, Serranos, and Habaneros and hints of tomatoes, onions, and garlic, this delicious gourmet salsa will be the star of the show at your party! Try this in your favorite Tex-Mex recipes, burritos, or to have as the classic chips and dip.

Heat Level: Hot

Size: 12 oz

Want to try a variety of salsas? Check out our Sweet Peach Salsa, Habanero Pepper Salsa, Carolina Reaper Salsa, and Trinidad Scorpion Pepper Salsa.

Can't live without spicy food? Check out all the spicy food products we carry like beef jerky, hot sauces, spicy cheese, spicy snack sticks, and more!

Looking to grow your own Ghost peppers? Check out our Ghost pepper seeds and Ghost pepper plants.

Other Ghost Pepper Products:

Ghost Pepper Hot Sauce, Ghost Pepper Dried Pods, Smoked Ghost Pepper Powder, Ghost Pepper BBQ Sauce, Ghost Pepper Ketchup, Smoked Ghost Pepper Flakes, Ghost Pepper Cheese Curds, Ghost Pepper Monterey Jack Cheese

Nutritional Information

| | |
| --- | --- |
| Amount | Value |
| Serving Size | 2 Tablespoons (30g) |
| Servings | 12 Servings Per Container |
| Calories | 16 |
| Total Fat / Total Fat % | 0g / 0% |
| Saturated Fat / % | 0g / 0% |
| Trans Fat | 0g |
| Cholesterol / Cholesterol % | 0mg / 0% |
| Sodium / Sodium % | 95mg / 4% |
| Total Carbs / Total Carbs % | 2g / 1% |
| Fiber / Fiber % | 1g / 4% |
| Total Sugars | 1g |
| Protein | 1g |
| Vitamin A | 10% |
| Calcium | 0% |
| Iron | 2% |
| Vitamin C | 25% |

Ingredients

List of ingredients

Tomato
Onion
(Red, green, and yellow) Bell pepper
Yellow hots
Vinegar
Green chili
Jalapeno
Poblano
Serrano
Habanero
Green onion
Ghost pepper
Salt
Garlic
Citric acid
Specifications:

Heat Level:
Click here for all of our tips and videos to grow your peppers!
Click here for plant care instructions
View full details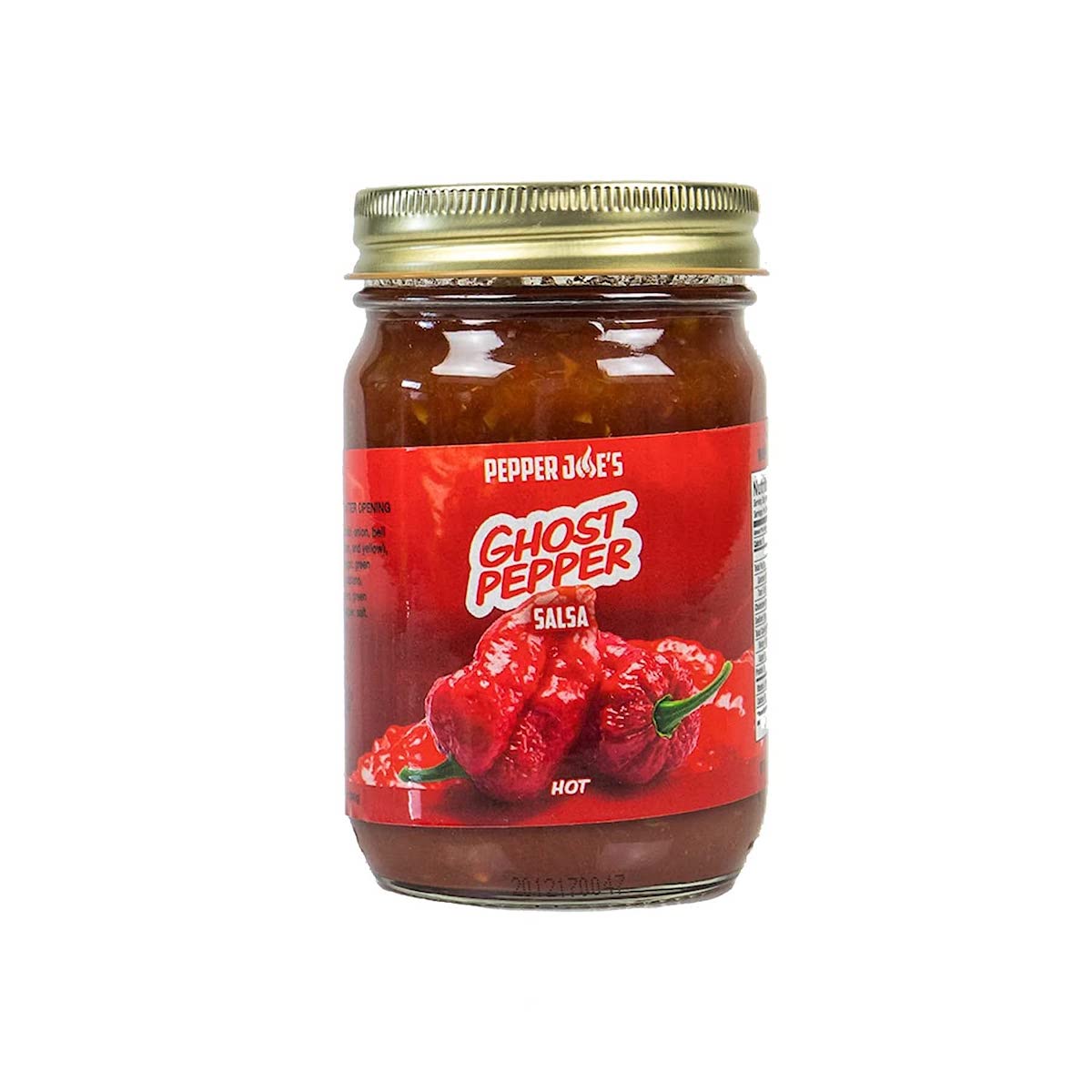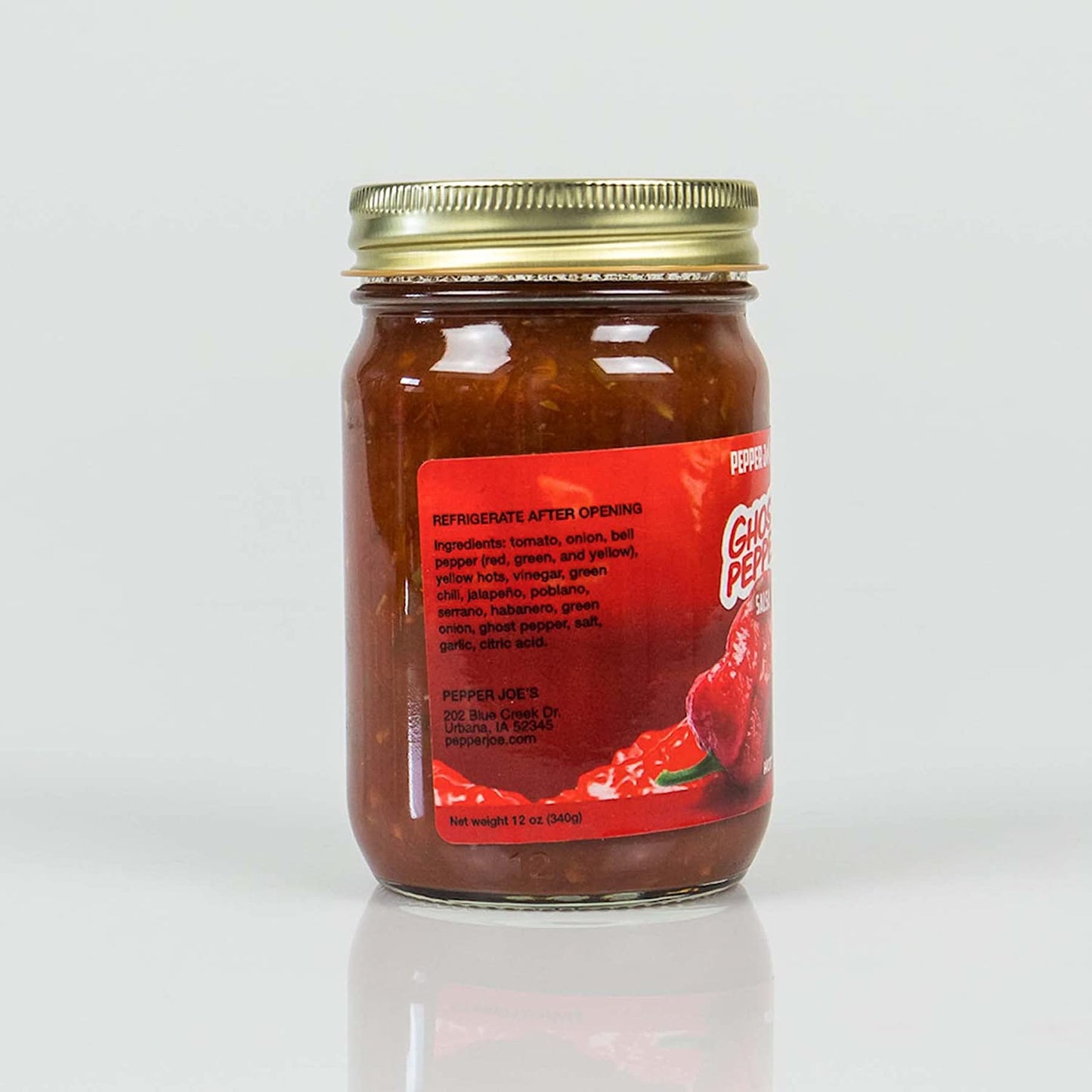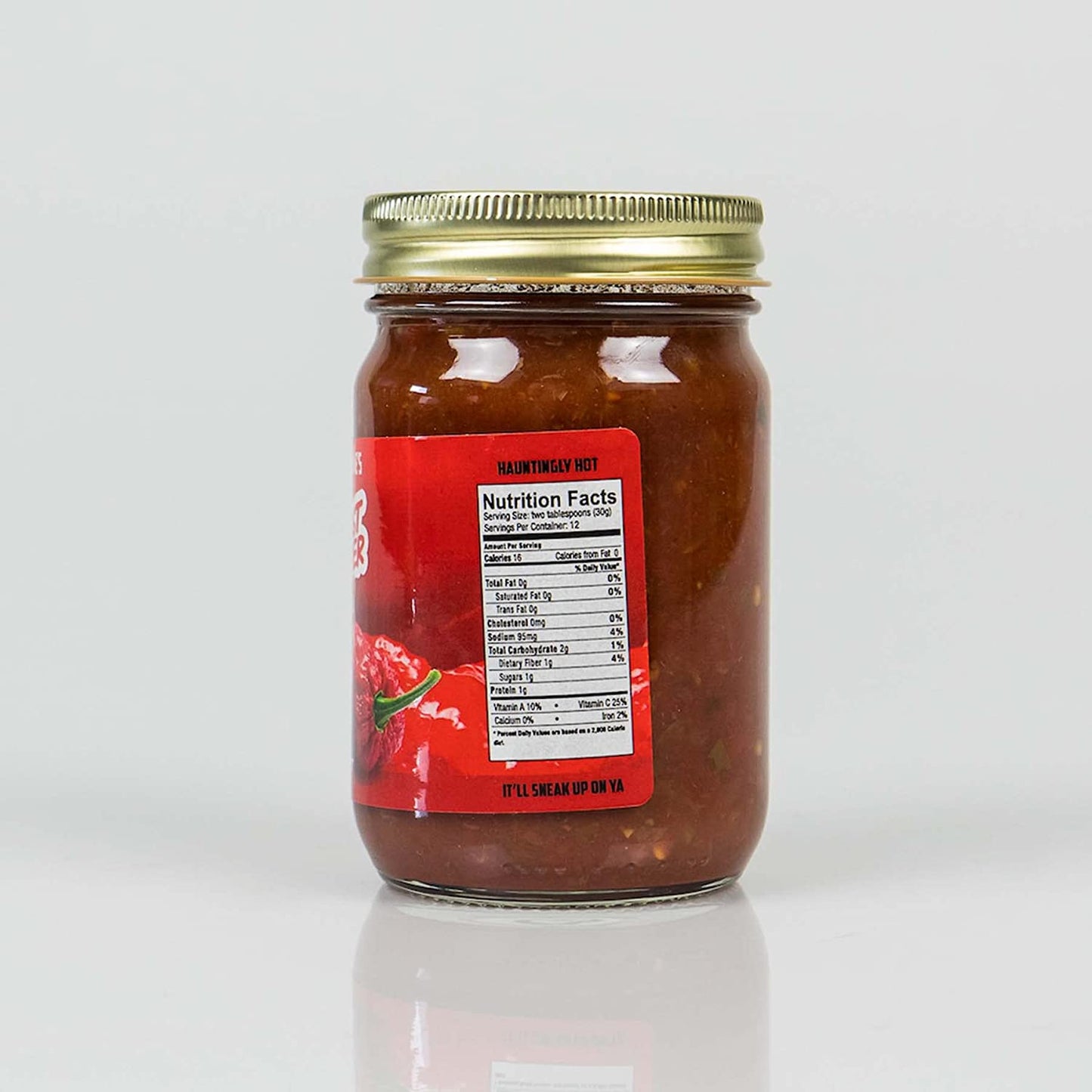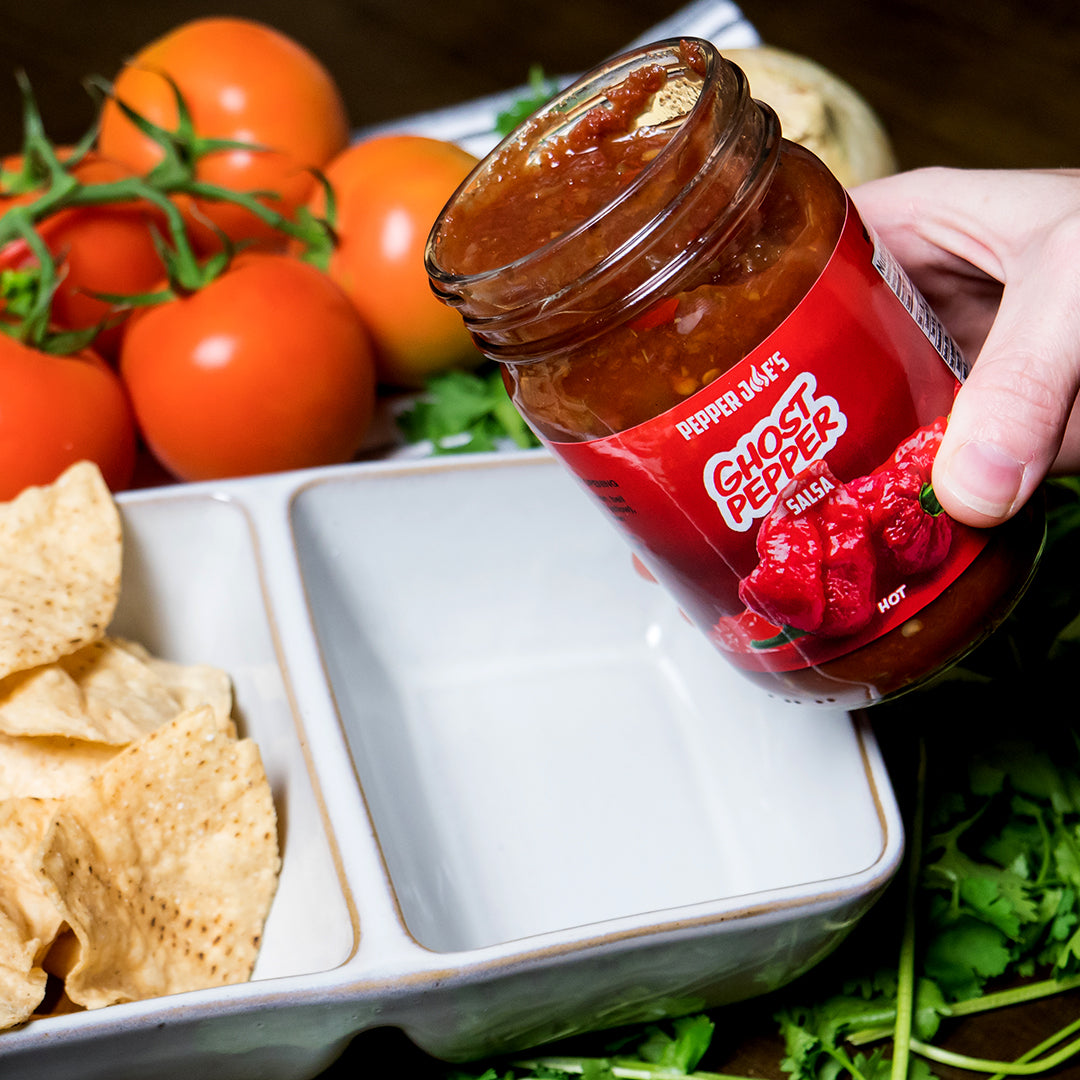 Add a Kick to your Salsa
The salsa has a nice burn and goes good with multigrain chips. Pepper Joes makes nice stuff.
Very Hot
Really enjoyed the salsa and ghost pepper hot sauce, one of our favorites, it is very hot!!