Regular price
$ 4.99
Sale price
$ 3.99
Unit price
per
Sale
Coming Soon
Description:

The Caribbean Red Habanero pepper is almost TWICE as hot as the regular habanero pepper, with a pungent fruity flavor that's guaranteed to fill your taste buds – well, the remaining ones that didn't singe off by the intense heat!

These bushy plants grow up to 4 ft. tall and produce bountiful yields of these 2" long peppers. With so many pods on these branches, you may want to stake it for added support. Pods start green and turn to their signature red color with wrinkled skin and shape like a small lantern. Caribbean Red Habaneros can be picked when they're green, but for a sweeter flavor, you'll want to wait until they mature to red.

We recommend wearing latex gloves and other protection when handling these peppers. With a heat level of 400,000 SHUs, these peppers are loaded with capsaicin which can cause irritation and pain when exposed to your eyes and even to your skin. When you get past this incredible heat, you'll notice the citrusy and fruity flavors, with some saying they taste smoky undertones as well. Caribbean Red Habanero peppers are the perfect spicy addition to cooked foods and salsas but are even better when dried and ground into pepper flakes and chili pepper powder.

Species: Capsicum Annuum
Heat Level: 350,000-450,000 SHUs
Type: Very Hot
Flavor: Citrusy, Smoky, Fruity
Origin: Mexico
Pod Size: 2"
Plant Height: 3 ft.
Days to Harvest: 70-100 Days

Are you the "some" that like it hot? Explore our hotter pepper seed varieties: Hot Pepper Seeds, Very Hot Pepper Seeds, Super Hot Pepper Seeds

Get inspired by some of our Hot Pepper Recipes!
Specifications:

Heat Level:

Plant size: 3 ft.
Pod size: 2"
Origin: Mexico
Species: Chinense
SHU: 350,000-450,000
Click here for all of our tips and videos to grow your peppers!
Click here for plant care instructions
View full details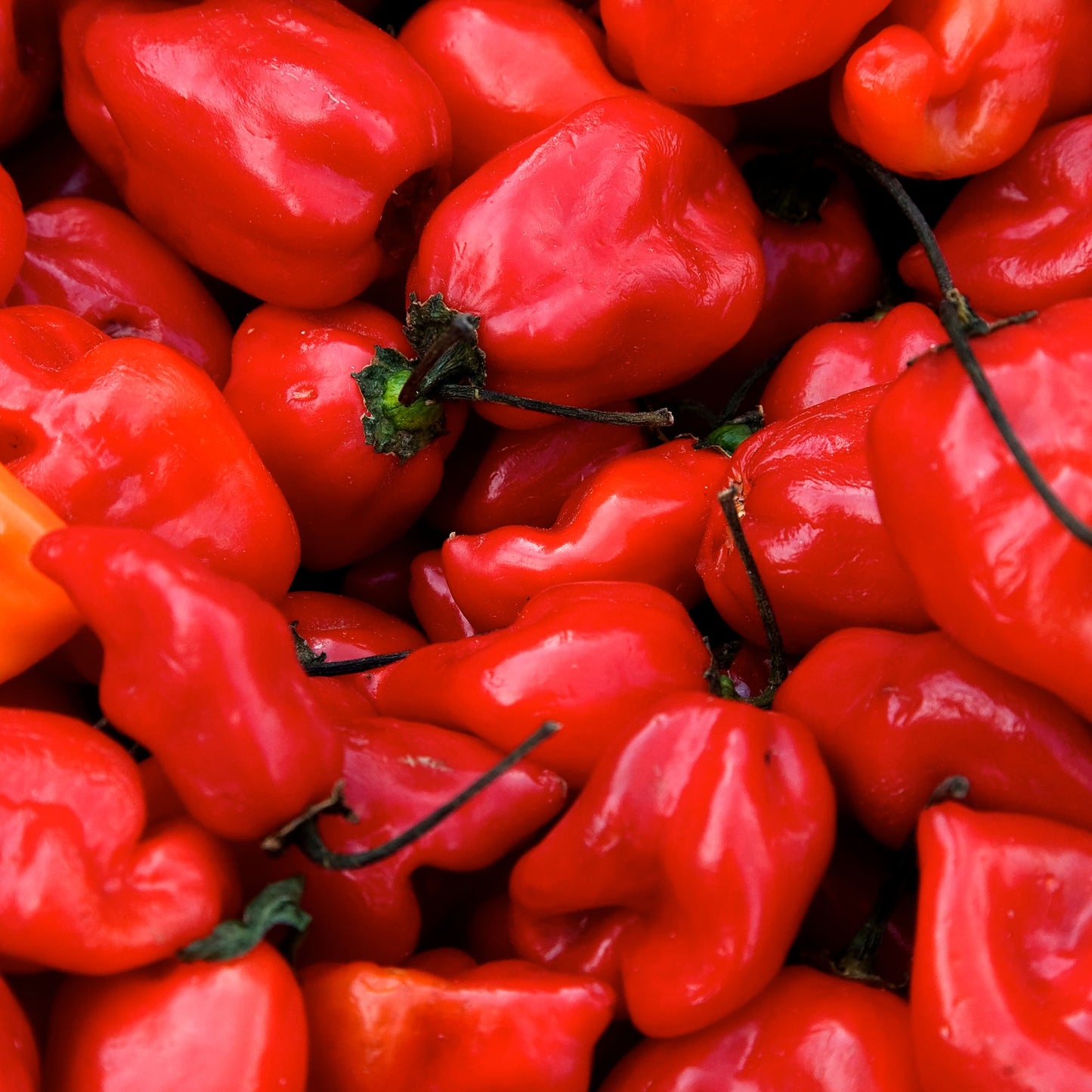 Excellent quality seeds
Good germination rate, happy with my purchase
Habanero Caribbean Red Organic Pepper Seeds
So far so good
Planted about a month ago. 3 seeds 3 plants. About to plant in garden. We will see how they produce…