SKU: Seeds-KAOSxPurpleReaper-10
Regular price
Sale price
$ 6.99
Unit price
per
Sale
Coming Soon
Description:

There's no holding back with the new and fiery KAOS x Purple Reaper pepper! With heat levels reaching as high as 1,800,000 SHUs, this incendiary cross between the KAOS pepper and the Purple Reaper will have you melting to the floor!

KAOS x Purple Reaper peppers are real eye-catchers, resembling similar shapes to that of the Carolina Reaper; however, some of the stingers can get really long. These pods reach to about 2-3" in length (depending on the stinger size) and start off with a nice green hue before changing to a splotchy purplish color, and finally ripening to red. Watch these pepper plants grow up to 4 ft. and produce very high yields of these small, super hot peppers!

We recommend using protective gear when using and handling this pepper, as the capsaicin levels are high enough to burn your skin, eyes, and nose. Just like other Reaper peppers, they have nice fruity and floral flavors once you get past the insane heat. KAOS x Purple Reaper peppers are incredible for drying and grounding into a nice super hot chili powder that you can use (sparingly!) on any food. If you're daring enough, you can eat these peppers fresh, but as a warning, these super hot peppers aren't for the faint of heart!

Note: This variety is still unstable. Your grow results could vary, including shape and color of pods.

Species: Capsicum Chinense
Heat Level: 1,500,000 SHUs; can reach up to 1,800,000 SHUs
Type: Super Hot
Flavor: Floral, Fruity
Origin: Unknown
Pod Size: 2-3"
Plant Height: 3-4 ft.
Days to Harvest: asdf Days

Want more of the World's Hottest Pepper? Browse through our Carolina Reaper Pepper Seed varieties!

Check out our other Super Hot Pepper Seeds! We have an extensive Pepper Seed Collection for you to browse through.
Specifications:

Heat Level:

Plant size: 3-4 ft.
Pod size: 2-3"
Origin: USA
Species: Chinense
SHU: 1,500,000-1,800,000
Click here for all of our tips and videos to grow your peppers!
Click here for plant care instructions
View full details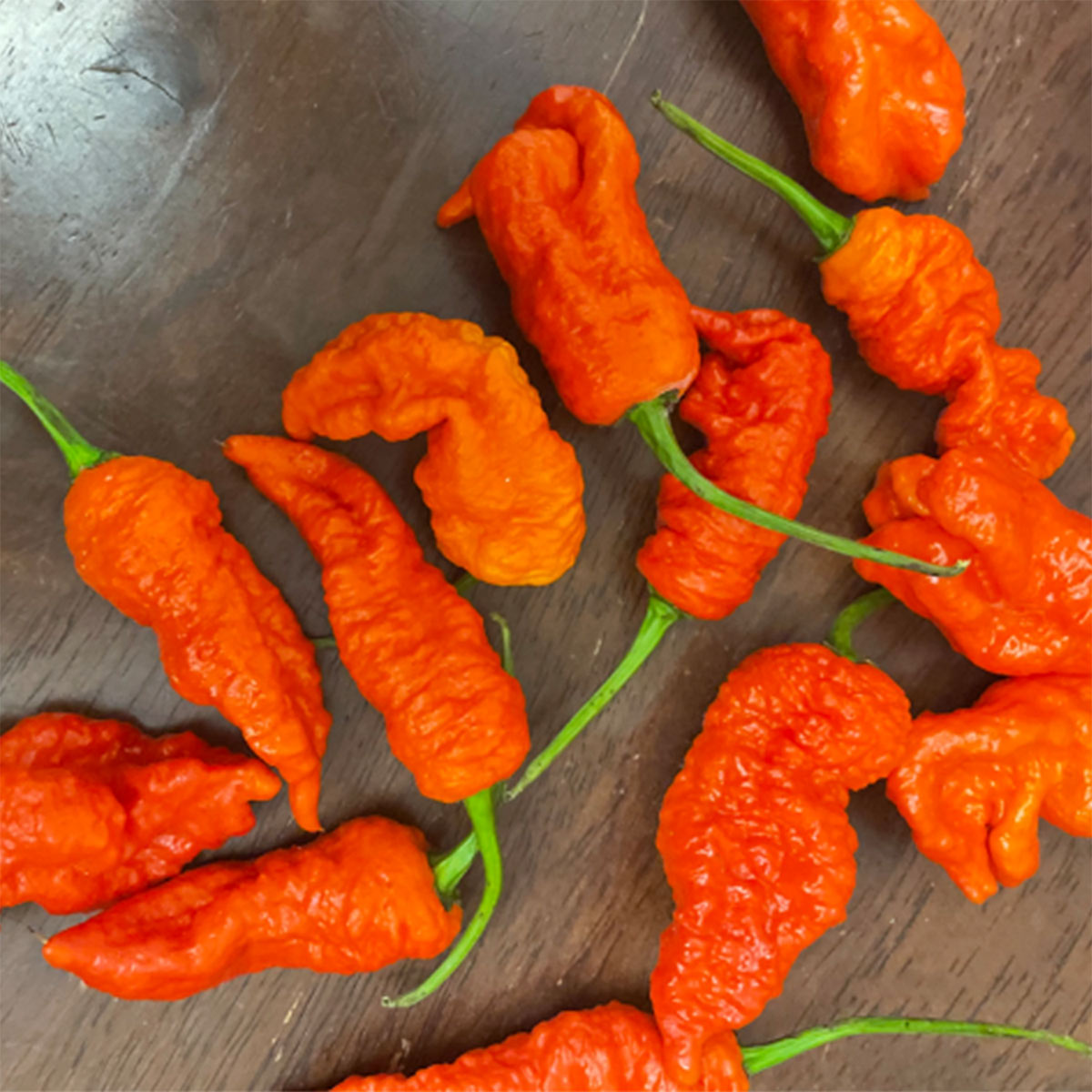 seedlings
I ordered a variety of peppers, and these are coming along nicely and have a cool color, like the tiger/ghost cross. I know germination rates can be lower for hots, but these are well above 90%, all the seeds looked fresh. Excellent value.
Low germination rate
I planted 10 of these seeds and only 1 germinated
Thank you for taking the time to provide us a with a review on these seeds. We are sorry to hear about the germination issue. Our customer service team would be happy to take a look at this and provide resolution. Please contact us by emailing customerservice@pepperjoe.com.