Regular price
$ 6.99
Sale price
$ 6.99
Unit price
per
Sale
Coming Soon
Description:

This super hot variety is WICKED! Crossed between a Ghost Pepper (Bhut Jolokia) and Chocolate Trinidad Scorpion Pepper, this is one of the scariest peppers out there with swift, crushing heat that sinks your taste buds to the bottom of your throat. This is very fitting of its name, the Kraken Scorpion Pepper!

These are tall pepper plants that can stretch beyond 4 ft. tall in your garden, with much higher lengths when planted directly in the soil. These are beautiful chocolate peppers that have similar shapes as Ghost peppers, but sprout little stingers like Scorpion peppers have! Ripening to a smoky reddish-brown color, these peppers look like they're thirsty for some water...because that's exactly what you're going to need when you bite into these pods.

Kraken Scorpion peppers have nice smoky and earthy flavors with the delayed burn that most Ghost peppers have, but with a larger punch. Once it hits, you'll feel like you're sinking into yourself it's so hot! Grind these peppers up and use them for chili powder and pepper flakes for a nice (but subtle!) addition to soups, stews, and other cooked meals. Try these pods for yourself...if your dare!

Species: Capsicum Chinense
Heat Level

:

1,200,000+ SHUs
Type

: Super Hot

Flavor: Smoky, Earthy
Origin

: USA

Pod Size: 3-4"
Plant Height: 4+ ft.
Days to Harvest

: 90+ Days

Crank up the heat and add more Super Hot Peppers to your cooking! We carry a lot of varieties for you to choose from in our expansive Pepper Seed Collection.
Specifications:

Heat Level:

Plant size: 4+ ft.
Pod size: 3-4"
Origin: USA
Species: Chinense
SHU: 1,200,000+
Click here for all of our tips and videos to grow your peppers!
Click here for plant care instructions
View full details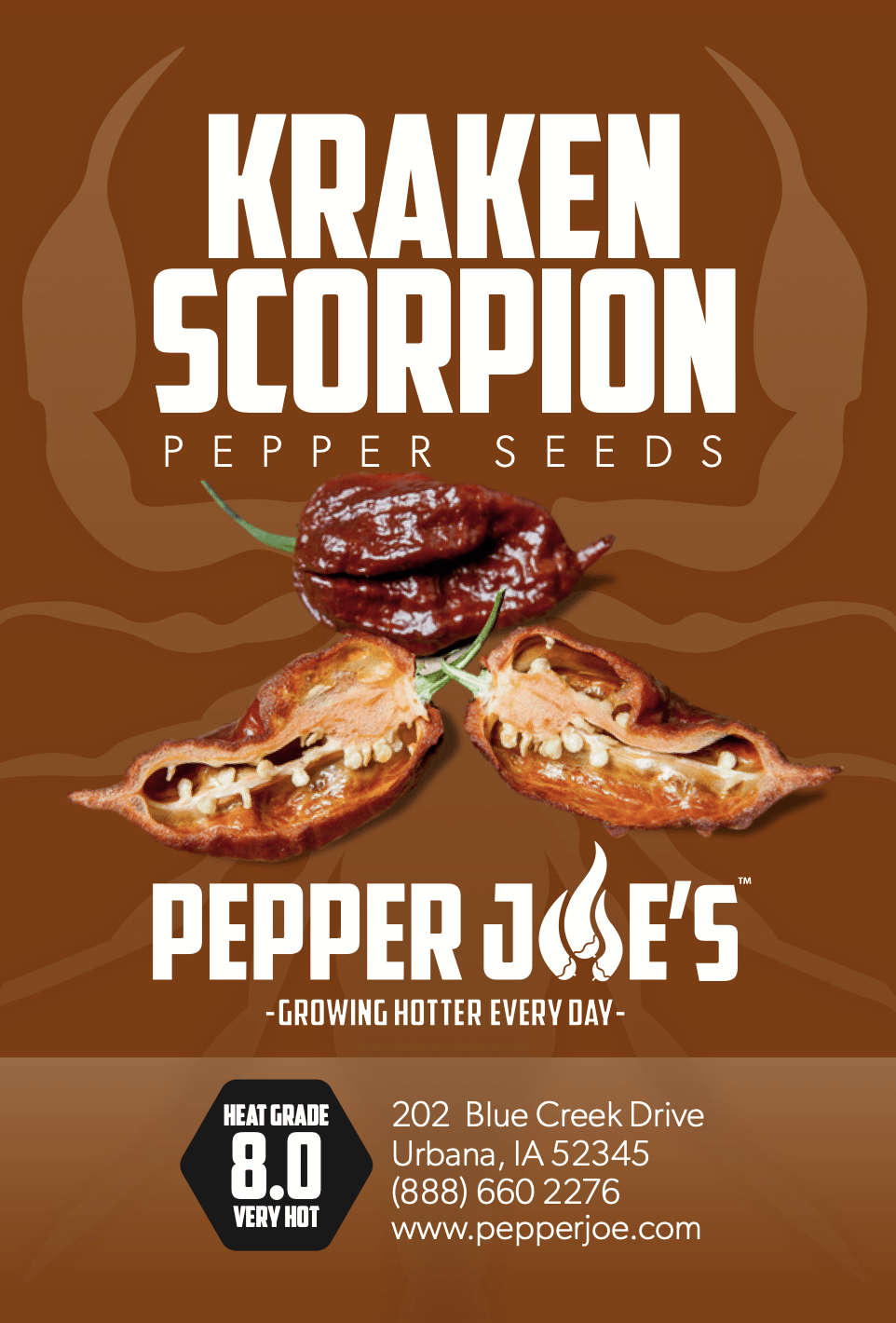 Kraken Scorpion Pepper Seeds
I'm still waiting for the plants to come up and to grow into something. Check back with me in two months.
Kraken peppers
I planted a small amount of seed and had great germination even though I made a few mistakes starting them. Slow growers compared to other hot pepper at least in my grow conditions. Definitely will try again next season.