Regular price
$ 4.99
Sale price
$ 3.99
Unit price
per
Sale
Coming Soon
Description:

The Orange Cayenne pepper is a relative to the OG Cayenne but with a more vibrant color and slightly more heat! This pepper has a great flavor with the right amount of spice guaranteed to liven up any recipe!

These long and slender pods grow on 4 ft. tall plants that can grow well in the ground or in containers. Orange Cayenne peppers are conical 6" peppers that grow straight or curved and taper off to a pointed tip. They have thin flesh with smooth and glossy skin. Peppers will ripen from a dark green color to vibrant orange.

Enjoy the fruity and citrusy flavors of Orange Cayenne peppers in both fresh and cooked foods. The heat, like other Cayennes, is immediately intense but dissipates rather quickly. Chop these peppers up into salads, salsas, and soups, or cook them with chicken or pork for a nice textured taste. Dry these peppers and sprinkle them over meats, stews, and rice dishes for that extra heat.

Species: Capsicum Annuum
Heat Level: 30,000-50,000 SHUs
Type: Medium Hot
Flavor: Fruity, Citrusy
Origin: United Kingdom
Pod Size: 6"
Plant Height: 4 ft.
Days to Harvest: 90-120 Days

Interested in more peppers? Browse through our Cayenne Pepper Seed varieties and other Medium Hot Pepper Seeds today!
Specifications:

Heat Level:

Plant size: 4 ft.
Pod size: 6"
Origin: United Kingdom
Species: Annuum
SHU: 30,000-50,000
Click here for all of our tips and videos to grow your peppers!
Click here for plant care instructions
View full details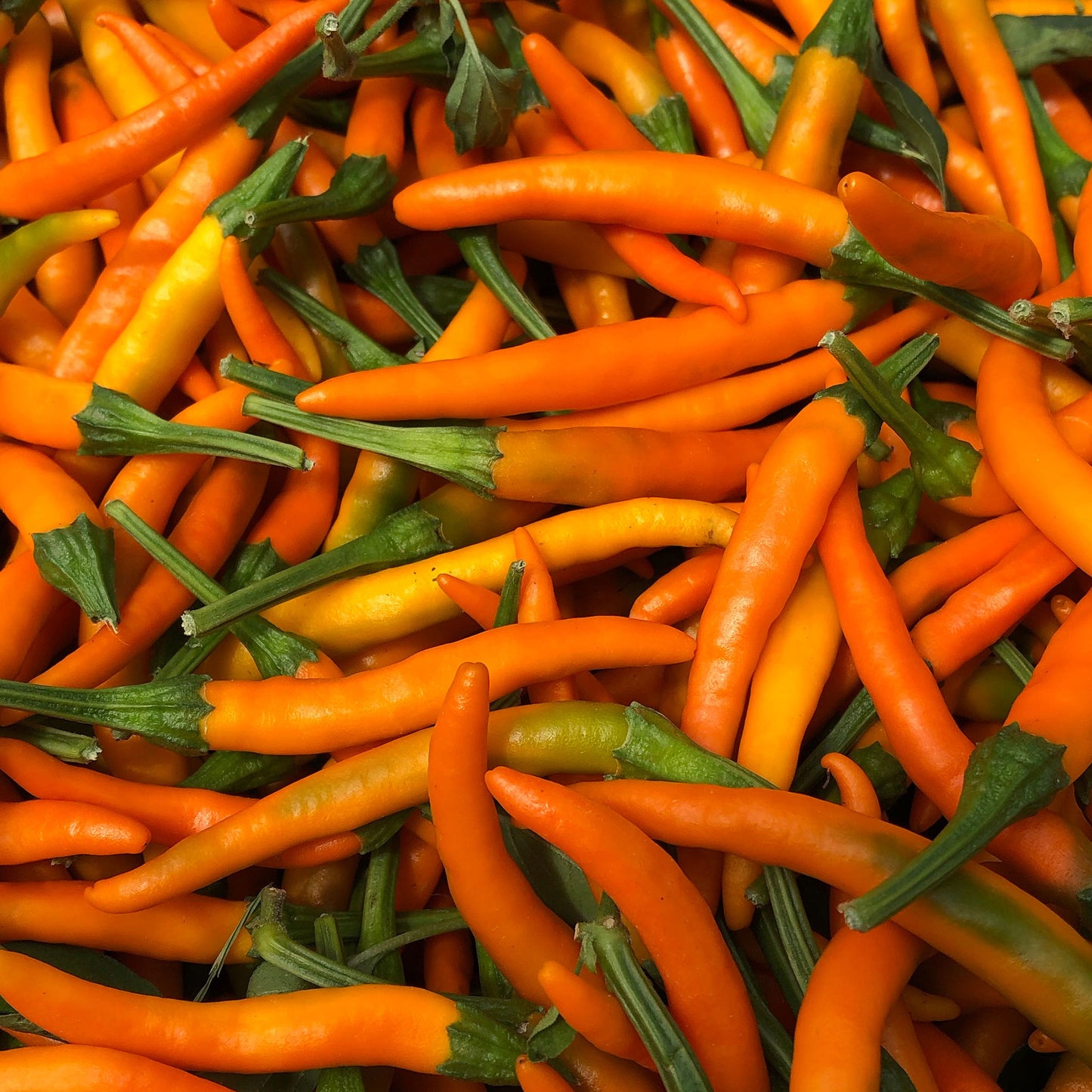 Germinated and going strong
All Orange Cayenne seeds sprouted, growth is strong, compact young 4 inch plants so far in full sun.
Slow and low germination
I started the seeds and it took 18 days to germinate. That's crazy. Anyway, they are small but growing. Just need patience with them.