Regular price
$ 4.99
Sale price
$ 3.99
Unit price
per
Sale
Coming Soon
Description:

The Pasilla pepper, known as "little raisin" in Spanish, is referred to the dried format of the Chilaca Pepper which is a popular Mexican fresh pepper. Pasilla peppers shouldn't be confused with the Ancho pepper, where the Ancho pepper is the dried format of the Poblano pepper.

These pepper plants grow up to 3 ft. tall and produce great yields of long, slim peppers that have a deep shade of dark green, almost black. Pods reach up to 8" long, with a select few growing up to 14" long! These black peppers have a shiny smooth surface to them and taper off to a point.

Pasilla peppers feature a smoky, earthy flavor with surprising hints of raisins and smoky cocoa. They are very popular in Mexican cuisines, and are used to make mole sauces, salsas, and seasonings, and can be used in a variety of meat dishes. These peppers have a bit of heat but are not very hot, as these range from 250-4,000 SHUs. For reference, the Jalapeno pepper is 5,000 SHUs. Grab some of these amazing mild pepper seeds today!

Species

: Capsicum Annuum

Heat Level

: 250-4,000 SHUs

Type

: Mild

Flavor: Smoky, Earthy

Origin

: Mexico

Pod Size: 8-14"
Plant Height: 3 ft.

Days to Harvest

:

70

+ Days

Try growing our other Mild Pepper Seeds and Mild Pepper Plants in your garden this growing season!

Specifications:

Heat Level:

Plant size: 3 ft.
Pod size: 8-14"
Origin: Mexico
Species: Annuum
SHU: 250-4,000
Click here for all of our tips and videos to grow your peppers!
Click here for plant care instructions
View full details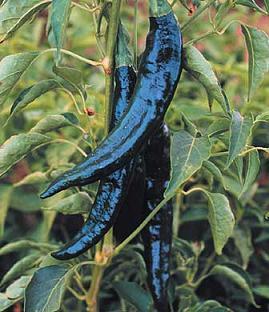 Great germination
All the seeds including las pasillas always have a great success rate. We grow our chiles under lights indoors initially as the season is short here. Los chiles germinated in less time than average with at least 90% of seeds germinating. The plants are now 6 inches tall and thriving. Thank you Pepper Joe's! I have loved your seeds for years and will continue to come back for more!
No blooms yet
I can't really say much about these seed. It has been a strange year. My garden is so far behind. Most plants just are not growing. That being said, the Pasilla plants are looking good but not very big yest & no blooms. I will b glad to let you know more at the end of the season.