SKU: SnackBundle-Reaper-CRS-CRC
Regular price
Sale price
$ 23.99
Unit price
per
Sale
Coming Soon
Description:

Sorry, this product does not qualify for free shipping. All cheese is shipped inside a thermal mailing envelope with an ice pack. We can't ship cheese curds outside the contiguous United States.

What do you get when you combine the throat-burning sensation of our Carolina Reaper Summer Sausage with the cool and creamy spiciness of our Reaper Cheddar Cheese?

One AMAZING spicy snack bundle, that's for sure!

Our new Reaper Meat and Cheese Bundle takes both of our favorite Reaper pepper products and puts them together for one unforgettably spicy snack. Our Reaper Summer Sausage is made carefully to create the perfect blend of Midwestern meat with the bold flavors of our Carolina Reaper pepper flakes. Pair this fiery meat with our Reaper Cheddar Cheese, made with world-famous Wisconsin cheese and Reaper pepper flakes. Don't expect to give your taste buds a break! The unrelenting heat stays with every bite you take, but the amazing flavors will have you coming back for more.

Enjoy these two together on a cracker, serve it up on a sandwich, or add this to a platter of other spicy pepper cheeses and spicy summer sausages. Bring our Reaper Meat and Cheese Bundle to your next cookout, gathering, or enjoy it all to yourself! Surprise your most daring pepper-lover friends with the snack bundle of the season - they won't regret it!

Got Reaper Madness? Check out more of our Reaper products!

Browse through our spicy gift baskets for great gift ideas.
Specifications:

Heat Level:
Click here for all of our tips and videos to grow your peppers!
Click here for plant care instructions
View full details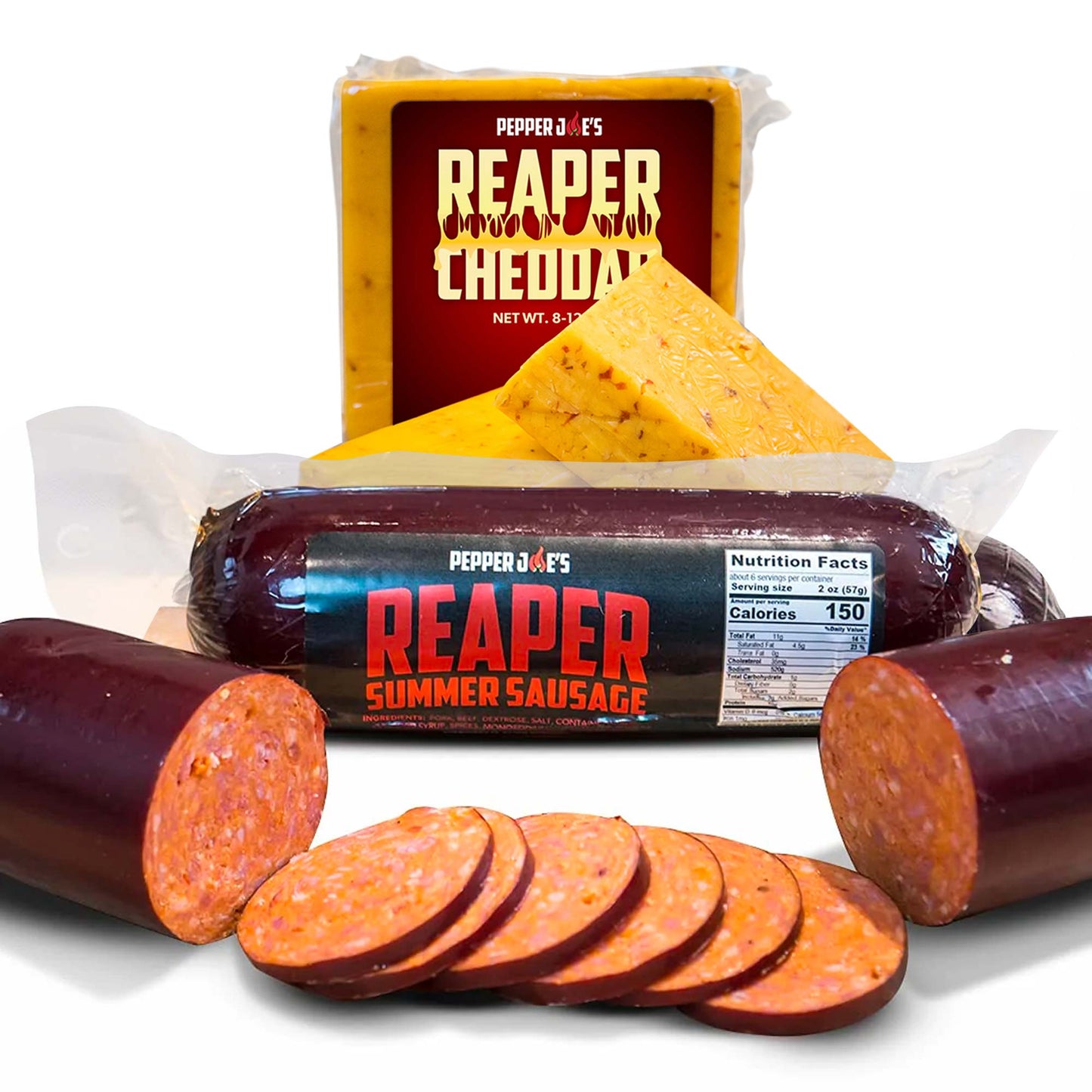 Best ever
Well done, Joe !!!! You never disappoint. This partiicular meat and cheese bundle was outstanding and more than I expected !
The summer sausage was the hottest I have ever had in my life and I want more !!!!!!!!!!!!!!!!!!!!!!!!!!!!!
Highly recommend to all you heat freaks out there !!!
Bad cheese.
I ordered the Reaper meat and cheese bundle and the candied cayenne bacon jerky. The bacon jerky was overwhelming sweet to the point that it felt like eating a spoonful of brown sugar. The cheese came to me warm and seemingly fermented, against my better judgment, I stuck the cheese in the fridge and ate some about a day later hoping that it was just warm, however I was severely mistaken and was met with a horrible stomach ache that rivaled some of my worst pain that I have felt. The sausage was a 10/10, can't beat the sausage.
Thank you for taking the time to provide us with a review. We are sorry to hear about your experience but would be happy to work with you on a resolution for this. Please contact us by calling 1.888.660.2276 or by emailing customerservice@pepperjoe.com.