Regular price
$ 4.99
Sale price
$ 3.99
Unit price
per
Sale
Coming Soon
Description:

The Spicy Mustard Habanero Pepper tastes as good as it sounds! This rare and exotic pepper is mustard yellow, and what a blast it is to grow this beautiful gem!

Spicy Mustard Habanero pepper plants grow fairly prolific for a Habanero, growing up to 3 ft. tall. They will look stunning in your garden with their beautiful colors. The wrinkled pods will grow to 1.5" long and ripen from light green, purple, mustard-orange, and then finally an orange color.

Although it's on the lower end of the heat level, the Spicy Habanero Mustard hot pepper is rated a '10' on the Pepper Joe Heat Scale because of its straight-up burn when you take a bite. The flavors will taste tangy, fruity, and sweet, similar to a Habanero. This spicy Habanero Mustard chili makes excellent Habanero sauce, salsas, and relishes. This is a very special variety you don't want to miss out on!

Species: Capsicum Chinense
Heat Level

: 150,000–325,000 SHUs

Type

: Hot

Flavor: Tangy, Fruity, Sweet
Origin

: USA

Pod Size: 1.5"
Plant Height: 3 ft.
Days to Harvest

: 100+ Days

Try other Habanero Pepper Seeds and Scotch Bonnet Seeds for your next growing season! We carry many other Hot Pepper Seed varieties for you to choose from!


Want more habanero flavors? We carry a great selection of Habanero Snacks & Spices for you to try!
Specifications:

Heat Level:

Plant size: 3 ft.
Pod size: 1.5"
Origin: USA
Species: Chinense
SHU: 150,000-325,000
Click here for all of our tips and videos to grow your peppers!
Click here for plant care instructions
View full details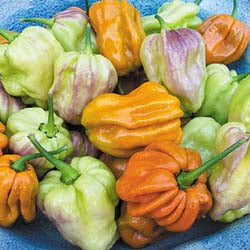 As attractive as they are delicious
Looking forward to growing these out again this season after a two-year hiatus. Very nice "spicy" flavor before the heat even kicks in. I use these in a few of my own "signature" sauces, but I use these with a handful of white jalapenos in a sauce of its own. Mixed with mayo & a lil' honey, it's a "secret sauce" that adds a mystique to several standard picnic dishes. These in particular bumped Scotch Bonets down a notch on my personal list of favorites. Beautiful color, too.
so far, so good
seedlings are about 4 inches tall now, and about to be moved into a 12 inch pot. doing very well
Haven't planted yet but they look good