Regular price
$ 19.99
Sale price
$ 15.99
Unit price
per
Sale
Coming Soon
Description:

Love Sriracha sauce? What if we told you that you can use Sriracha Powder as a powerful seasoning ingredient? We kicked it up a notch by creating a bundle of superhot Sriracha pepper powders that you can obsessively sprinkle on your favorite food for intense heat and flavors! Each multi-purpose Sriracha powder has flavorful ingredients like garlic, vinegar, salt, and sugar combined with freshly harvested superhot peppers that were crushed into perfect fiery dust. The powders are uniquely addictive and widely versatile to use for cooking, make custom hot sauces, or create an amazing seasoning blend. Each powder has different heat levels to test your heat tolerance.

You may wonder why we added our fresh superhot peppers to our Sriracha powder blend. We combined superhot peppers and sriracha powder together because they provide a tangy, sweeter flavor that's uniquely scrumptious before the sweltering heat leaves your tongue on fire! This is perfect for the anticipated road trip, family BBQs, or to use a dash of any of our five Sriracha powders for a fiery delight. Treat your friend or family relative who is a fan of burning heat or treat yourself to our Sriarcha Powder Bundle and have a blast with cooking!

The collection includes:

Can't live without spicy food? Check out all the

spicy food products we carry like beef jerky, hot sauces, spicy cheese, spicy snack sticks, and more!
Specifications:

Heat Level:
Click here for all of our tips and videos to grow your peppers!
Click here for plant care instructions
View full details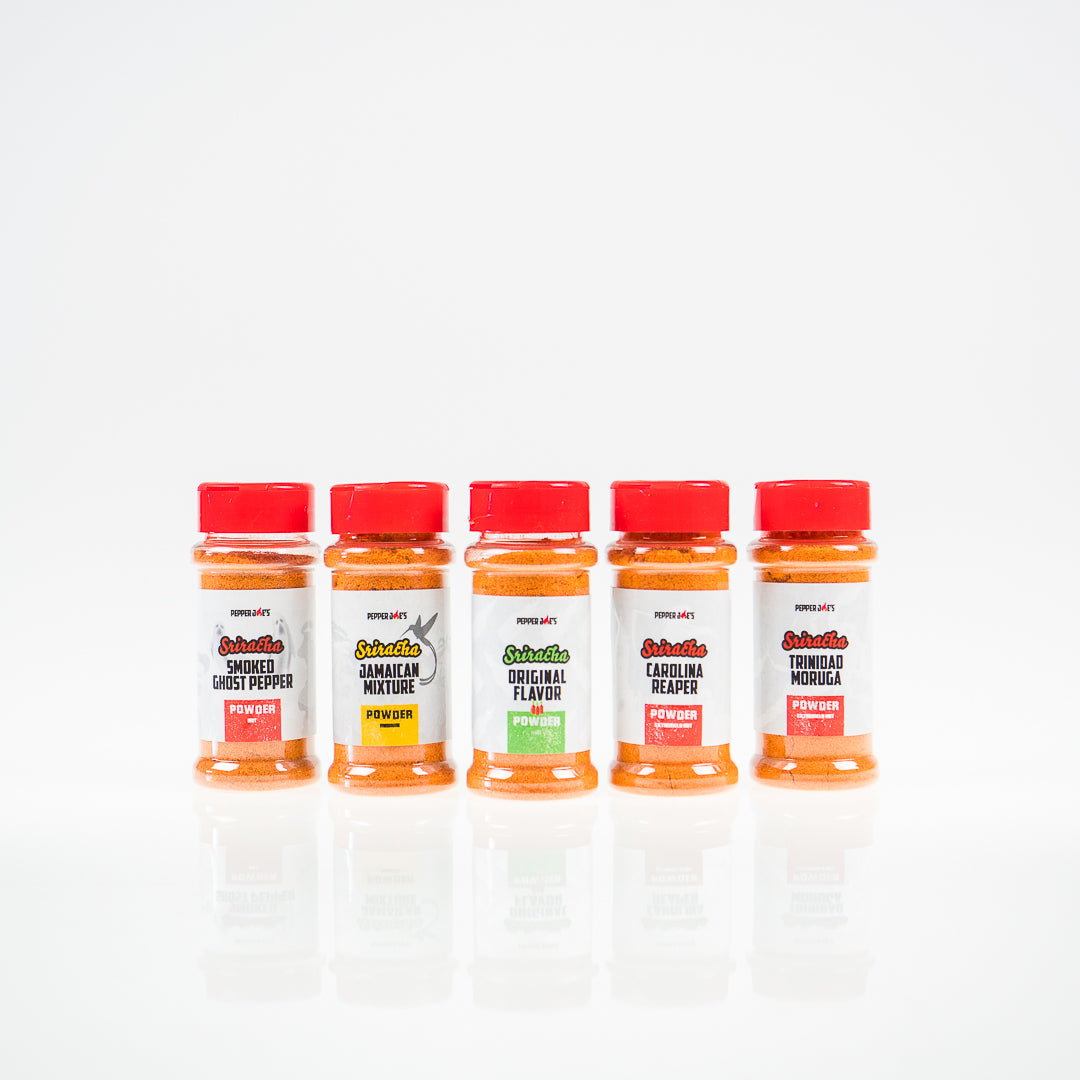 Sriracha Seasoning Bundle