Regular price
$ 3.99
Sale price
$ 2.99
Unit price
per
Sale
Coming Soon
Description:

The Trinidad Scorpion Yellow is one of the extremely rare, hottest peppers out there that provides an intense sting of heat once you take the first bite! This is a variant of the Trinidad Scorpion, a previous hottest pepper in the world record holder back in 2012, before getting dethroned by the current holder, the Carolina Reaper. If you love great flavor and scorching heat, the Yellow Scorpion pepper is for you!

Plant these seeds and watch them grow into 4 ft. tall big pepper plants that produce bright yellow pepper pods. Slightly bigger than the Red Trinidad Scorpion pepper, and kinfolk to the Butch "T" Trinidad Scorpion, this is a very productive variety, so you will be rewarded with many pods! These have a slightly wrinkly texture and they ripen from green to golden yellow throughout their maturity.

While this variant will be slightly less hot than other Scorpion varieties, the yellow variety is still a nuclear hot pepper, so caution with care! The flavors are sweet and fruity, which are lovely to use in hot sauces, chilis, marinades, salsas, and pasta dishes. This is an impressive pepper variety to grow in the comfort of your garden. Get your Trinidad Scorpion Yellow Pepper Seeds today!

Species: Capsicum Chinense
Heat Level: 850,000+ SHUs
Type: Super Hot
Flavor: Sweet, Fruity
Origin: Trinidad & Tobago
Pod Size: 3-4"
Plant Height: 3-4 ft.
Days to Harvest: 160+ Days

Grow your own throat-burning peppers with our Super Hot Pepper Seeds and Super Hot Pepper Plants!

We also carry Rare & Exotic Pepper Seeds if you're looking for a one-of-a-kind variety to plant in your garden!
Specifications:

Heat Level:

Plant size: 3-4 ft.
Pod size: 3-4"
Origin: Trinidad & Tobago
Species: Chinense
SHU: 850,000+
Click here for all of our tips and videos to grow your peppers!
Click here for plant care instructions
View full details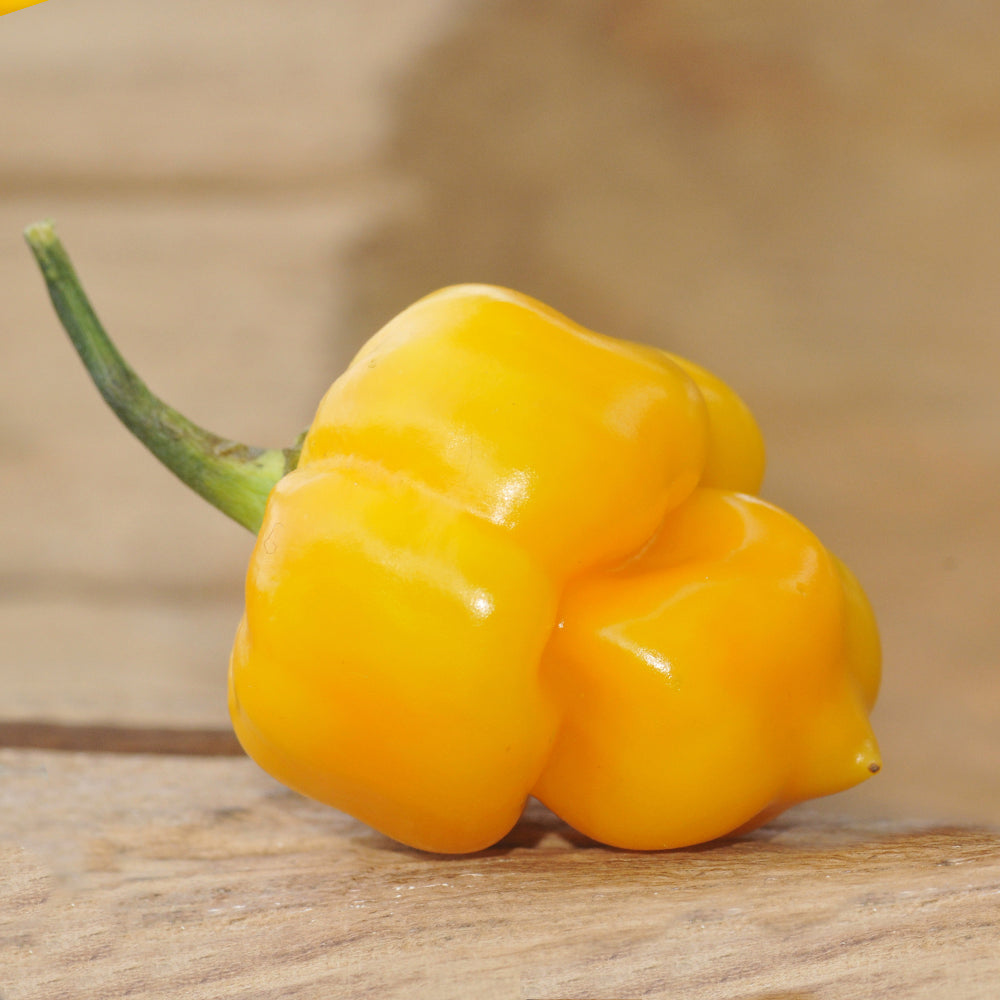 Kinda hard to review when it's winter
Ghost & choco-habz
my Trinidad seeds sprouted; the ghost pepper & chico-habañero ones did not!
i planted eight of each