SKU: Seeds-TrinidadScorpion10
Regular price
Sale price
$ 5.99
Unit price
per
Sale
Coming Soon
Description:

Feast your eyes on one of the hottest peppers in the world! The Trinidad Scorpion pepper once held the distinguished honor as the world's hottest pepper, before it was dethroned by the current record holder, the Carolina Reaper. Nevertheless, Scorpion peppers provide some volcano-level heat that's not to be messed with!

These pepper plants grow up to be 3 ft. tall and produce many yields of these super hot pepper pods. This variety is kinfolk to the Butch T Trinidad Scorpion, with many similarities between the two except Trinidad Scorpion peppers do not have the little tail sticking out of the bottom. This creates more pepper flesh for capsaicin, or the chemical responsible for the heat in peppers, to develop. Trinidad Scorpion peppers mature from green to yellow, to orange, then finally to bright red color. The Scorpion Chilli grew very well for us in all test gardens, so you will enjoy growing this in your garden. The Trinidad Scorpion hot pepper grows well in Texas, Arizona, Florida, and all hot areas.

The heat on this pepper is so strong, it feels like your tongue is being stung by a scorpion! Heat levels can reach as high as 2,000,000 SHUs, so we urge you to be careful handling these peppers no matter how you use them. If your taste buds aren't completely singed off, you might be able to taste the delectable fruity flavors that come with Scorpion peppers. If you enjoy growing super hot peppers and don't mind the heat, then the Trinidad Scorpion chili is perfect!

Species: Capsicum Chinense
Heat Level

: 1,200,000–2,009,000 SHUs

Type

: Super Hot

Flavor: Fruity
Origin

: Trinidad & Tobago

Pod Size: 2"
Plant Height: 3 ft.
Days to Harvest

: 80+ Days

Looking to grow some of the hottest peppers in the world? Browse through our World's Hottest Pepper Seed Collection! Don't forget to take a look at some of our other fiery varieties in our Super Hot Pepper Seed Collection, as well!
Specifications:

Heat Level:

Plant size: 3 ft.
Pod size: 2"
Origin: Trinidad & Tobago
Species: Chinense
SHU: 1,200,000-2,009,000
Click here for all of our tips and videos to grow your peppers!
Click here for plant care instructions
View full details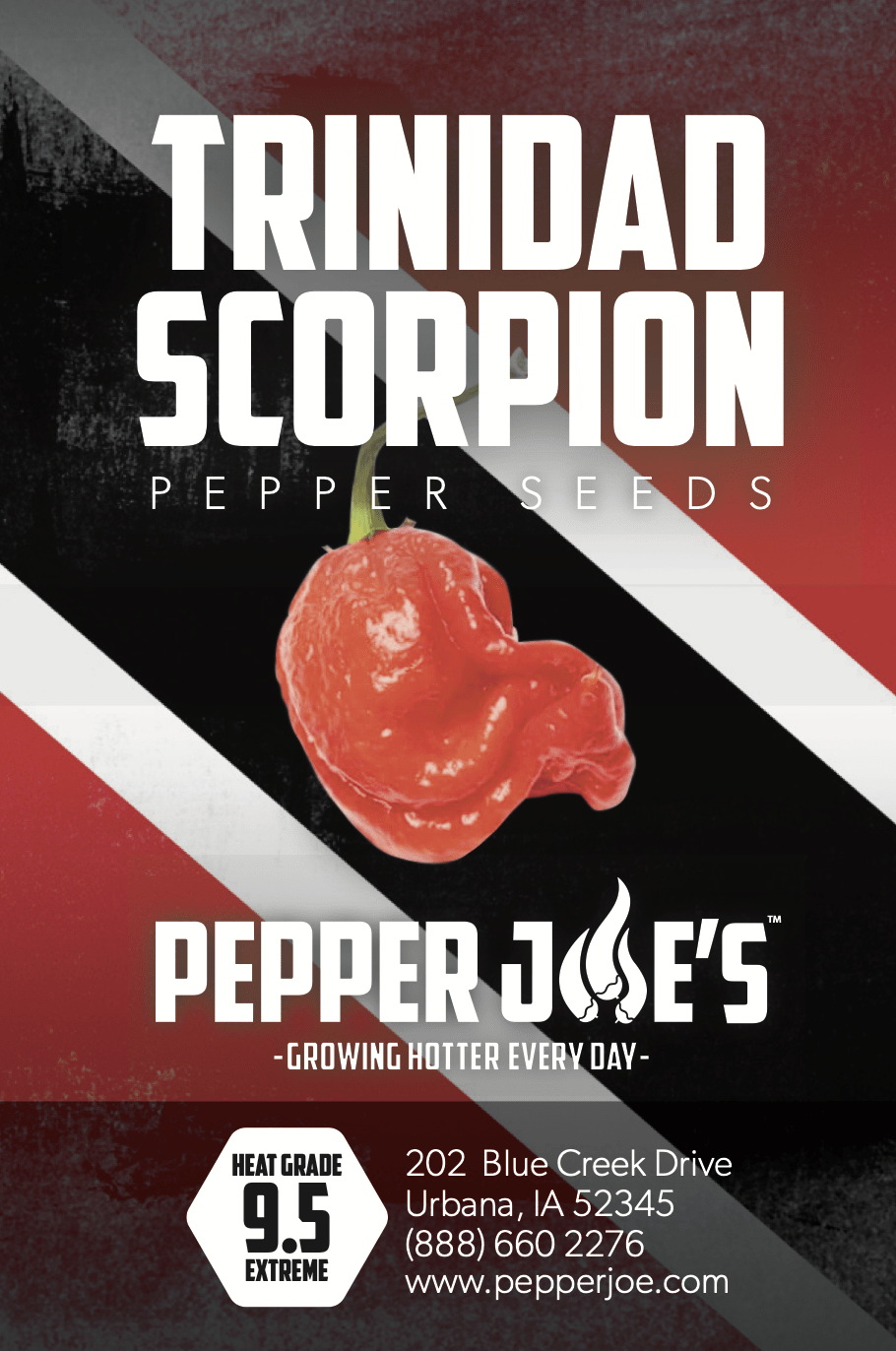 Trinidad Scorpion Pepper Seeds
100% have germinated!!!! The rest is on me.. thank you for the follow up…
My favorite by far!
I grew these last year and loved watching them grow. They are definitely my favorite by far, and the seeds I bought this year have all sprouted. The deer who visit my yard do not agree with me. I use my scorpions as a barrier between the deer and my other veggies lol. Thank you pepper joes for the free seeds and giving me a reason to be excited again this year!