SKU: YellowButchTTrinidadScorpionPepper
Regular price
$ 6.99
Sale price
$ 6.99
Unit price
per
Sale
Coming Soon
Description:

Bring on the heat with the yellow variation of the classic Butch "T" Scorpion pepper! This variety contains all of the delicious flavors and blistering heat that we all have come to love! We're still unsure who grew this yellow variant, but we do know that this is a great variety to switch out other peppers in your cooking!

The Yellow Butch "T" Trinidad Scorpion pepper plants grow to about 3-4 ft. tall and produce an amazing batch of gorgeous super hot peppers! Growing to 4" long and having a similar wicked shape to the original strain, these peppers will ripen from green to yellow when they're ready to harvest. This bright Scorpion variety will help give your garden a boost of life!

You can expect some wicked heat with this one, as heat levels reach up to 1,400,000 SHUs! Like most other world's hottest peppers, you'll also taste incredibly fruity flavors when you incorporate these into your food. The best uses are dried, where you can make a nice Caribbean-style chili powder to throw over your different meals. You can also use these to make super-hot salsas and hot sauces!

Species: Capsicum Chinense
Heat Level:

Estimated 900,000-1,400,000 SHUs

Type:

Super Hot
Flavor: Fruity
Origin:

Trinidad & Tobago

Pod Size: 4"

Plant Height: 3-4 ft.
Days to Harvest:

90-120 Days
Specifications:

Heat Level:

Plant size: 3-4 ft.
Pod size: 4"
Origin: Trinidad & Tobago
Species: Chinense
SHU: 900,000-1,400,000
Click here for all of our tips and videos to grow your peppers!
Click here for plant care instructions
View full details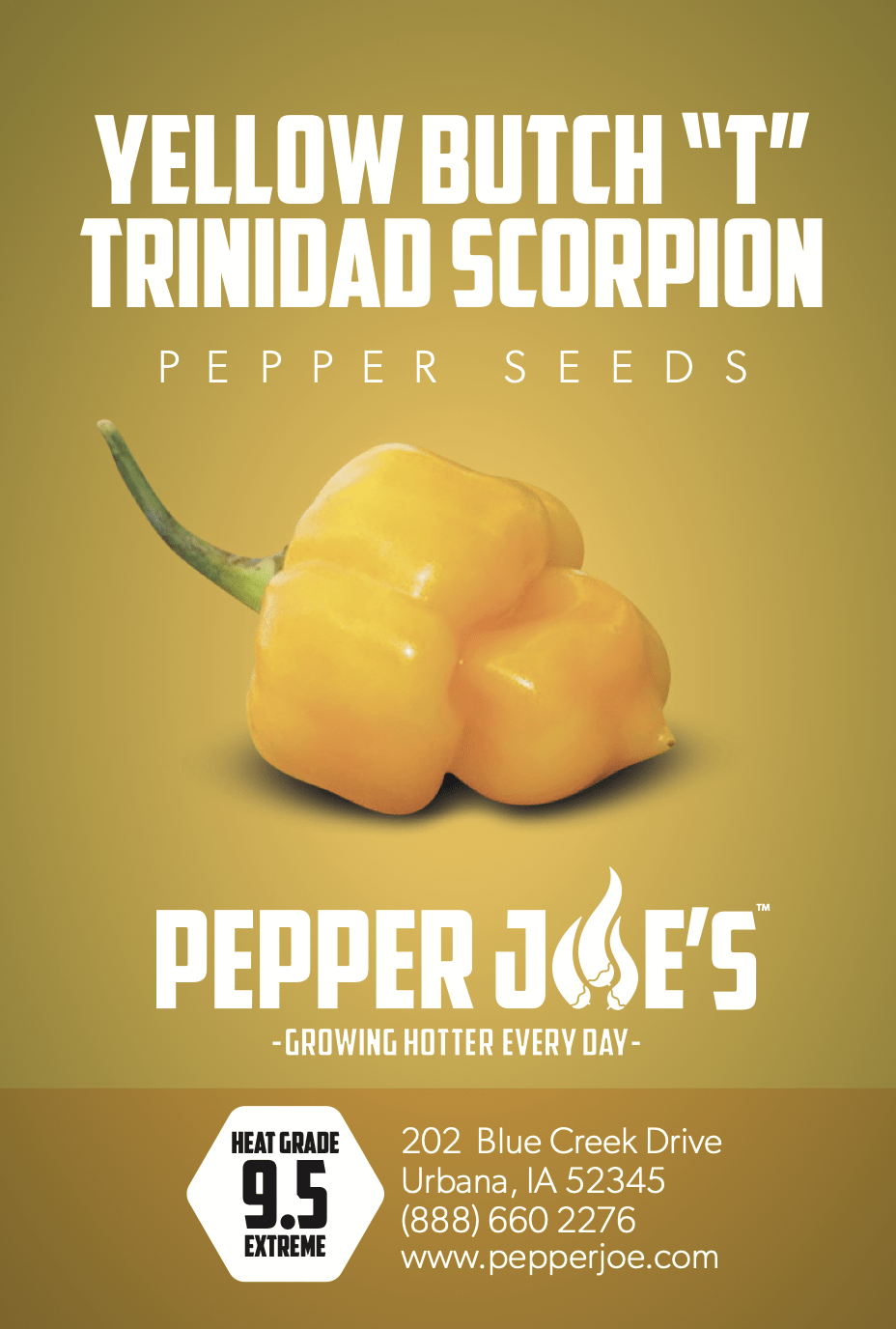 Yellow Butch "T" Trinidad Scorpion Pepper Seeds
So far great.
My seeds are sprouted and growing. Now my never-ending battle with the bunnies and raccoons will decide if they make it. If they do sauce time!
Prolific and Hot
These plants were late to do everything. Slow to germinate, slow to grow, and slow to take off once transplanted into the ground. But once my plant got going, it really took off. The plant remained fairly low, maybe three feet high, but it grew quite wide, about six feet. Very prolific. At their peak, I would go out every two or three days and pick another forty peppers — from one plant. I have a gallon of them in the freezer, I've made a bottle of hot sauce, a bottle of dried and ground powder, and now I don't know what else to do with them. You can't miss the yellow peppers, which range from a bright and vibrant yellow to a deep, golden patina. Mine didn't grow the double tail as pictured, but were more elongated. Apart from the heat, which is abundant, they have a warm, almost acidic flavor.