Regular price
$ 3.99
Sale price
$ 2.99
Unit price
per
Sale
Coming Soon
Description:

The distinctive taste of traditional habanero peppers is often missed due to needing their hot pepper heat - but not anymore! Get all of the flavors and scents of habanero peppers without any of the hot pepper pain with Zavory peppers!

These compact pepper plants will reach 2 to 2-1/2 ft. tall and produce peppers that are larger, longer, and smoother than traditional Habanero peppers. Often compared to the Aji Dulce Pepper, these pepper pods have shiny skin and ripen from green to a bright red when they're ready to be picked!

Zavory peppers have a very fruity aroma when you harvest them, and a wonderfully sweet and citrusy flavor when you take a bite. Enjoy very little heat with these peppers as heat levels top out around 100 SHUs (to compare to the 100,000-350,000 SHUS that habaneros have, this is incredibly mild). Zavory Peppers are great when used raw and make an exciting addition to salads, soups, and salsa. These peppers are also great for stuffing and baking.

Species: Capsicum Chinense
Heat Level: 100 SHUs
Type: Mild
Flavor: Sweet, Fruity
Origin: USA
Pod Size: 2-2.5"
Plant Height: 1-2.5 ft.
Days to Harvest: 90+ Days

Add some sweetness to your garden with our Sweet Pepper Seeds and Sweet Pepper Plants! With the right Growing Supplies, you'll grow peppers with amazing taste!

Enjoy our Mild Snacks & Spices for delicious pepper flavors with little heat!
Specifications:

Heat Level:

Plant size: 1.5-2.5 ft.
Pod size: 2-2.5"
Origin: USA
Species: Chinense
SHU: 100
Click here for all of our tips and videos to grow your peppers!
Click here for plant care instructions
View full details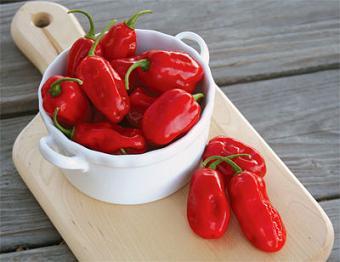 These seeds all germinated, but the flavor of the pepper was a little underwhelming. High producing plant late in the season.
Bad seed and service.
none of the seeds sprout.
No bueno
Not this year
I'm pretty disappointed in pepper joes seeds this season. I've been growing peppers from seeds for many years and never had a problem. I love pepper Joe's seeds, great variety and the customer service is very helpful with questions and tips. So I decided to up my game and buy a pepper Joe's hot house and plant more peppers. I'd say 50 percent did not germinate. Only 2 of 10 hit pepper lanterns grew which is unfortunate because they are a family favorite. We decided to try and germinate them in the pots we use every year instead of the hot house thinking maybe it's something we'd have to get used to. Still, no lanterns. The NJ growing season is short, my window for growing peppers from seed has passed and I had to buy plants from a nursery. This germinating issue also happened with your sugar peach, zavory, and chipotle's. Needles to say I'm not happy. I'd hate to stray from pepper Joe's but my answer to an email when I asked was to wait up to 5 months. By then the season is over. So there's my unfortunate 1 star review. Hopefully you see this and get me back on board.