SKU: BNDL-TrinidadButchTSpices
Regular price
$ 18.99
Sale price
$ 14.99
Unit price
per
Sale
Coming Soon
Description:

Known as one of the hottest peppers in the world with a heat level of 1,463,700 SHUs, the Trinidad Scorpion Butch T Spices Bundles has everything you need to crank up the heat and set your tongue on fire. This fiery bundle includes flakes, pepper powders, and dried pods that will incorporate beautifully into your cooking with their fruity flavors and explosive heat. We did all the hard work of harvesting fresh peppers at their ripest to create spices and dried pods in traditional processes, so you can instantly use them and enjoy the heat and flavors they bring.

The Trinidad Scorpion Butch T Spices Bundle has perfect ingredients to have on hand for every occasion – you can take them with you on your adventurous trips, creatively incorporate these peppers into your cooking, ground them into a seasoning spice, or make a crazy hot sauce. With a heat level of 1,400,000+ SHUs, these peppers are just waiting to burn your mouth and melt your face off. Chile heads who live for the heat favor the Trinidad Scorpion Butch T for their impressive heat and fruity flavors, so if you're a heat fanatic or looking to build your heat tolerance, don't miss out on this spicy bundle!

This collection includes:

Can't live without spicy food? Check out all the spicy food products we carry like beef jerky, hot sauces, spicy cheese, spicy snack sticks, and more!
Specifications:

Heat Level:
Click here for all of our tips and videos to grow your peppers!
Click here for plant care instructions
View full details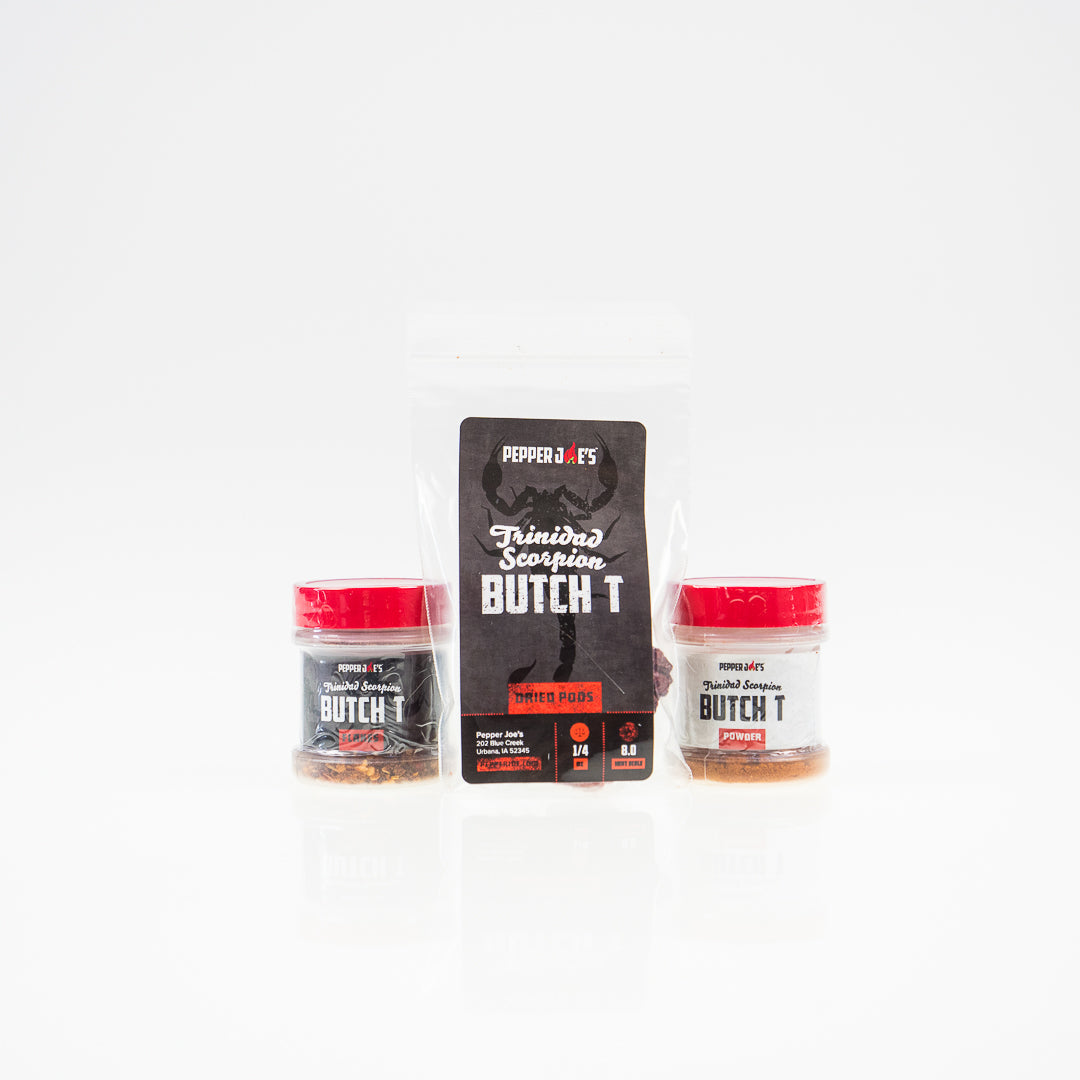 Fantastic!
These are really good. Lots of heat, paired with great flavor. Good on and with just about everything I've tried them with. Would highly recommend