Behold, the ultimate extra-spicy and savory snack gift to rip and tear into.
Regular price
$ 17.99
Sale price
$ 14.99
Unit price
per
Sale
Coming Soon
Description:

Behold, the ultimate extra-spicy and savory snack gift to rip and tear into - the Carolina Reaper Beef Jerky Gift Set! If you're a fan of super-hot peppers and looking for a set that satisfies your heat AND beef jerky cravings, these flavor-packed jerkies will unapologetically torture and tantalize your tongue. Our Carolina Reaper Beef Jerky and Bacon Jerky are made with premium, high-quality meat that will melt in your mouth…before it literally melts in your mouth.

These scrumptious, torturous snacks are seasoned with our freshly ground Carolina Reaper Flakes, along with some carefully picked spices to create the best tasting Premium Carolina Reaper jerkies in the world. Keep these jerkies in your pantry, or take them with you on your camping adventures, road trips, or get-togethers with your friends and family!

This collection includes:

Other Flavors: Be sure to check out our other beef jerky flavors including Jalapeno Beef Jerky, Mango Habanero Beef Jerky, and Sweet Cayenne Pepper Uncured Bacon Jerky.

Looking to grow your own Carolina Reaper peppers? Check out our Carolina Reaper Seeds and Live Carolina Reaper Plants.
Specifications:

Heat Level:
Click here for all of our tips and videos to grow your peppers!
Click here for plant care instructions
View full details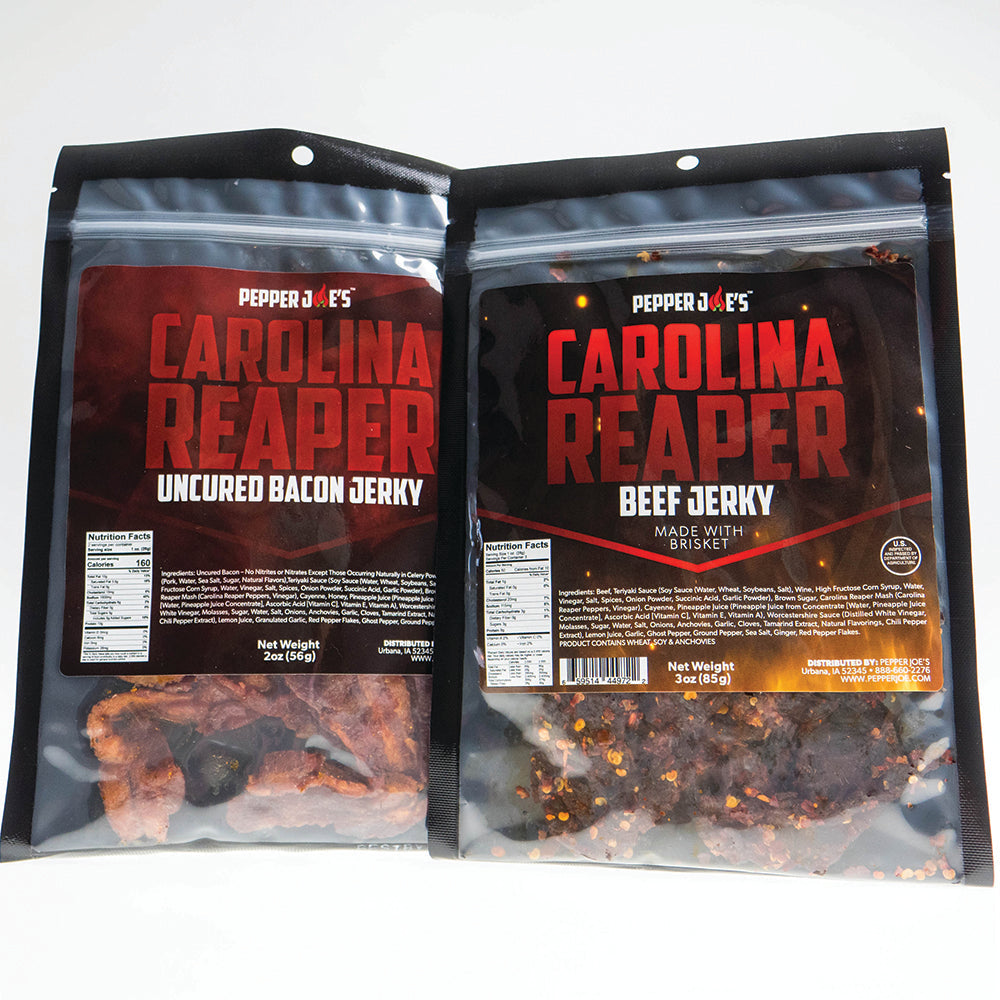 I can't get enough.
This is the best tasting combo of spicy jerky I have ever had I could eat it all day long.
Great flavor and very tender
Carolina Reaper Beef and Bacon Jerky - Bundle