SKU: CarolinaReaperBaconJerky-INV
Do you love the Carolina Reaper hot pepper? Do you love beef jerky!? Do you love bacon!?!?
Regular price
$ 9.99
Sale price
$ 9.99
Unit price
per
Sale
Coming Soon
Description:

Do you love the Carolina Reaper hot pepper? Do you love beef jerky!? Do you love bacon!?!? Our brand new Carolina Reaper Bacon Jerky is perhaps one of the hottest items available in our store. Buckle up and make sure you have a drink nearby because this hot pepper bacon jerky is going to take you for a ride. It gives you a few seconds of sweet before unleashing its delicious but CRAZY HOT pepper fury. This mouth-scorching recipe is not for the faint of heart, but trust us when we say, you're gonna love it.

Like our Carolina Reaper Beef Jerky, this bacon jerky variety is seasoned with our freshly ground Carolina Reaper Flakes. Together with some other carefully selected spices, this recipe delivers a tasty mouthful of HOT premium bacon jerky that you'll not soon forget.

Heat Level: Extreme

Size: 2 ounces

Sorry, we can't ship jerky outside the contiguous United States.

Ingredients: Uncured Bacon - No Nitrites or Nitrates Except Those Occurring in Celery Powder and Sea Salt (Pork, Water, Sea Salt, Sugar, Flavorings), Teriyaki Sauce (Soy Sauce (Water, Wheat, Soybeans, Salt) Wine, High Fructose Corn Syrup, Water, Vinegar, Salt, Spices, Onion Powder, Succinic Acid, Garlic Powder) Brown Sugar, Carolina Reaper Mash (Carolina Reaper Peppers, Vinegar), Cayenne Honey, Pineapple Juice (Pineapple Juice from Concentrate [Water, Pineapple Juice Concentrate], Ascorbic Acid [Vitamin C], Vitamin E, Vitamin A) Worcestershire Sauce (Distilled White Vinegar, Molasses, Sugar, Water, Salt, Onions, Anchovies, Garlic, Cloves, Tamarind Extract, Chili Pepper Extract), Lemon Juice, Granulated Garlic, Red Pepper Flakes, Ghost Peppers, Ground Pepper, Sea Salt, Ginger.

Contains Wheat, Soy, & Anchovies

Other Flavors: Be sure to check out our other beef jerky flavors including Jalapeno Beef Jerky, Mango Habanero Beef Jerky, and Sweet Cayenne Pepper Uncured Bacon Jerky.

Looking to grow your own Carolina Reaper peppers? Check out our Carolina Reaper Seeds and Live Carolina Reaper Plants.



Specifications:

Heat Level:
Click here for all of our tips and videos to grow your peppers!
Click here for plant care instructions
View full details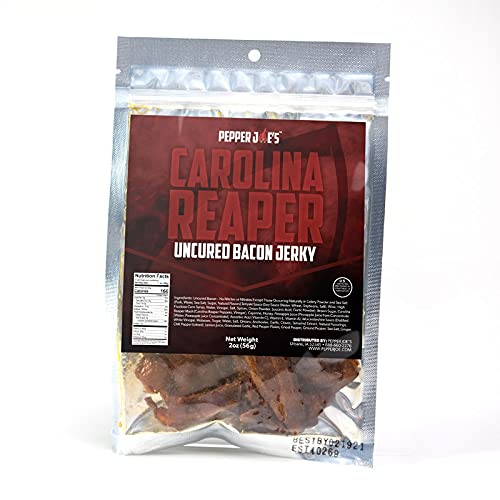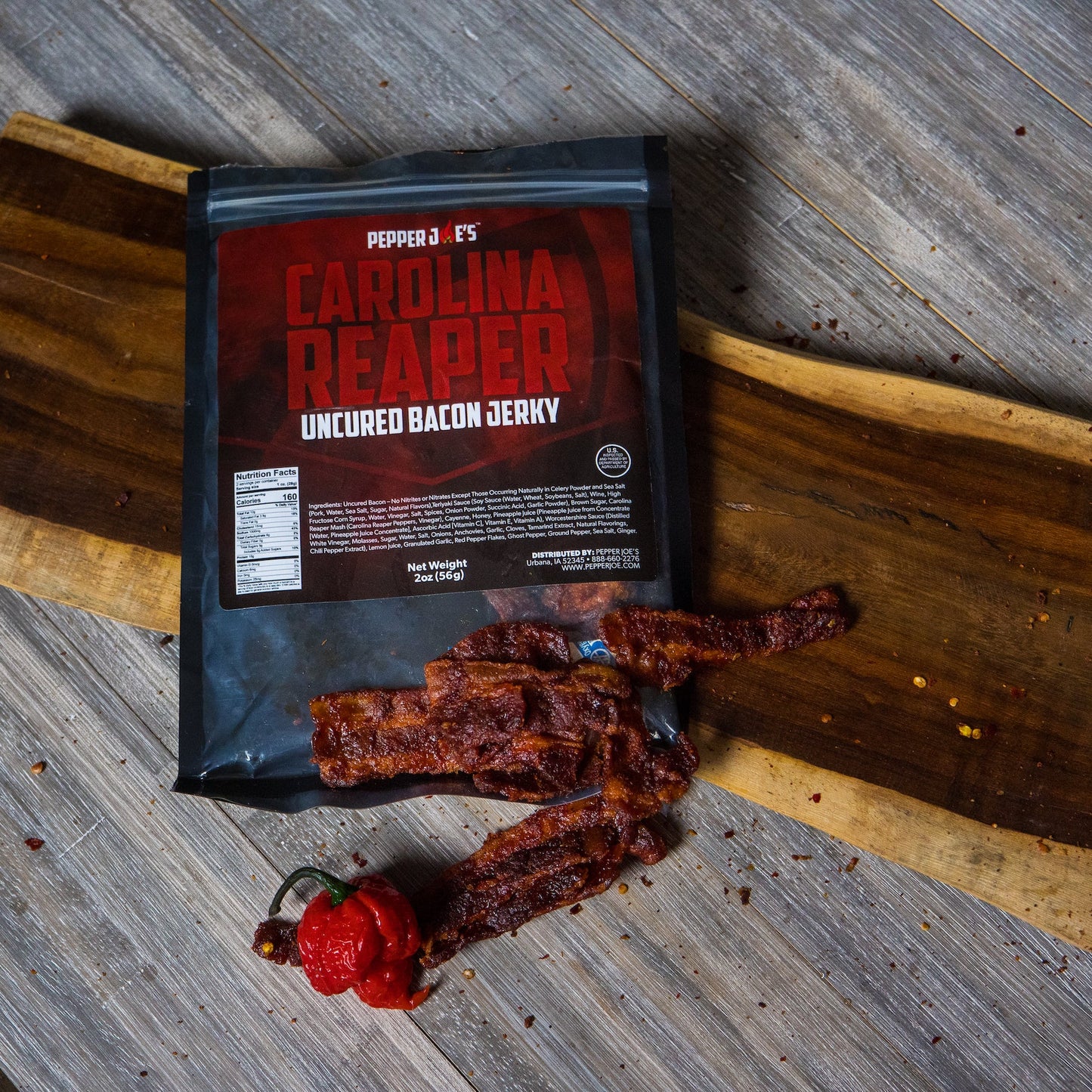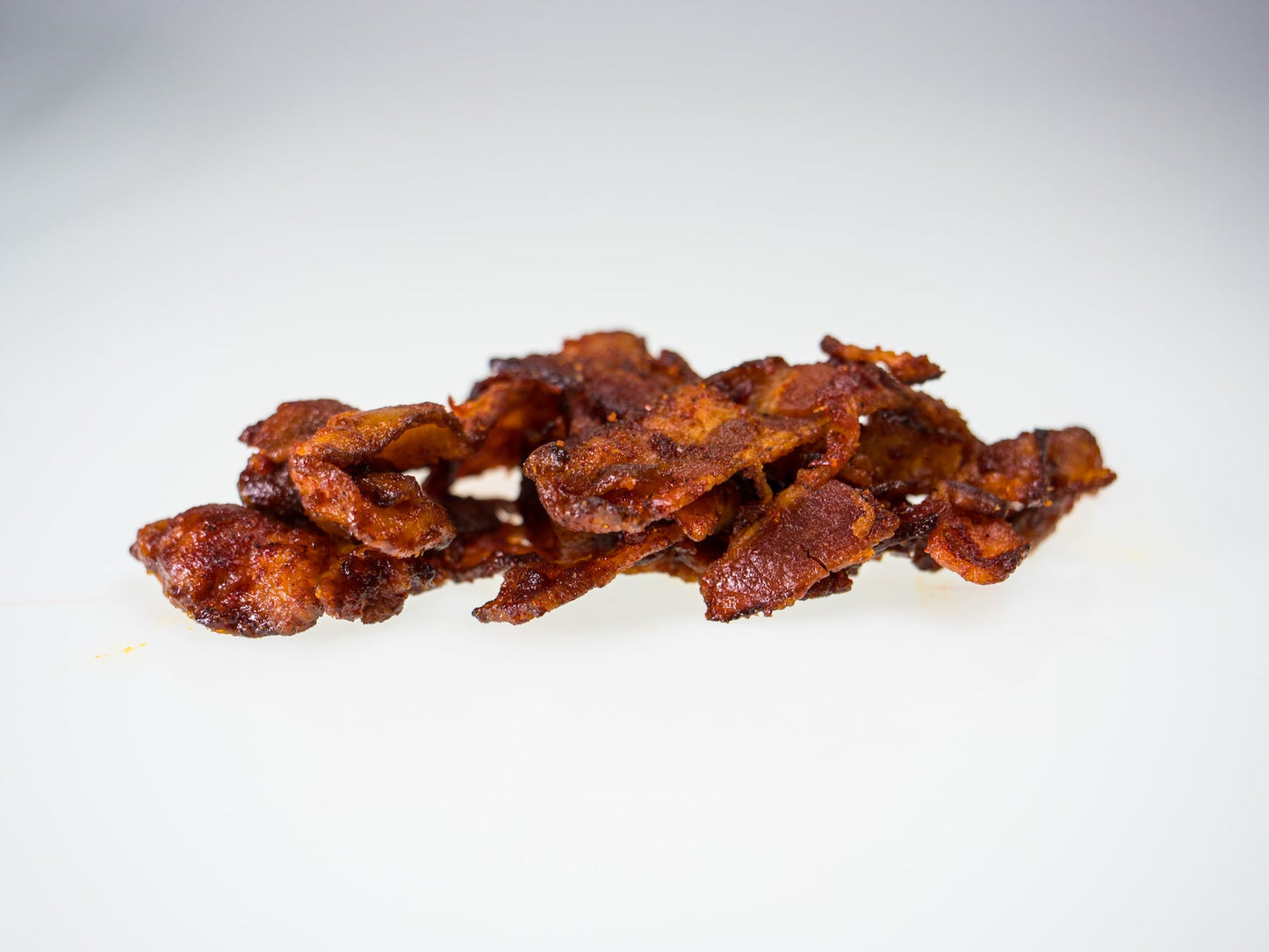 Carolina Reaper Bacon Jerky
The perfect balance
If you are one of the select group of people who can handle the heat. Out of all the Carolina reaper products this bacon jerky has the perfect balance of heat and flavor. The sweet and spicy balance gives you that burn you crave and tames itself ever so slightly with its sweet bacon flavor. I have a problem putting the bag down and when it's gone I can't find anything similar to it.
Carolina Reaper Bacon Jerky