Regular price
$ 9.99
Sale price
$ 8.99
Unit price
per
Sale
Coming Soon
Description:

Description

We're not exaggerating when we say this is one FIERY Habanero Salsa! For the true heat lover, we've cranked up the heat on classic salsa with one of the most popular peppers in the world, the Habanero. The Habanero Pepper Salsa is a solid hot salsa with a good sensational burn from Habaneros, Serranos, Poblanos, and Jalapenos. We supplied not only the desired amount of heat, but a richness of flavor so you can enjoy this on tacos, breakfast burritos, eggs, burgers, and to have as the classic chips and dip.

Made with the finest ingredients, we selected the best hot peppers and spices and roasted them to perfection for you. We carefully added the right amount of spices and vinegar, so vinegar and saltiness won't overpower their stay. This is a fantastic medium heat gourmet salsa as it has the classic salsa taste and savory, fresh hot peppers that will become a pantry favorite. Get your hands on this spicy habanero salsa!

Heat Level: Medium

Size: 12 oz

Want to try a variety of salsas? Check out our Sweet Peach Salsa, Ghost Pepper Salsa, Carolina Reaper Salsa, and Trinidad Scorpion Pepper Salsa.

Can't live without spicy food? Check out all the spicy food products we carry like beef jerky, hot sauces, spicy cheese, spicy snack sticks, and more!

Looking to grow your own Habanero peppers? Check out our Habanero pepper seeds and Habanero pepper plants.

Other Habanero Products:

Garlic Habanero Hot Sauce, Mango Habanero Beef Jerky, Red Savina Powder, XXX Habanero Hot Sauce, Tropical Habanero Hot Sauce, Mango Habanero Hot Sauce

Nutritional Information

| | |
| --- | --- |
| Amount | Value |
| Serving Size | 2 Tablespoons (30g) |
| Servings | 12 Servings Per Container |
| Calories | 15 |
| Total Fat / Total Fat % | 0g / 0% |
| Saturated Fat / % | 0g / 0% |
| Trans Fat | 0g |
| Cholesterol / Cholesterol % | 0mg / 0% |
| Sodium / Sodium % | 95mg / 4% |
| Total Carbs / Total Carbs % | 2g / 1% |
| Fiber / Fiber % | 1g / 4% |
| Total Sugars | 1g |
| Protein | 1g |
| Vitamin A | 10% |
| Calcium | 0% |
| Iron | 2% |
| Vitamin C | 25% |

Ingredients

List of Ingredients

Tomato
Onion
(Red, green, and yellow) bell pepper
Yellow hots
Vinegar
Green chili
Jalapeno
Poblano
Serrano
Habanero
Green onion
Salt
Garlic
Citric acid
Specifications:

Heat Level:
Click here for all of our tips and videos to grow your peppers!
Click here for plant care instructions
View full details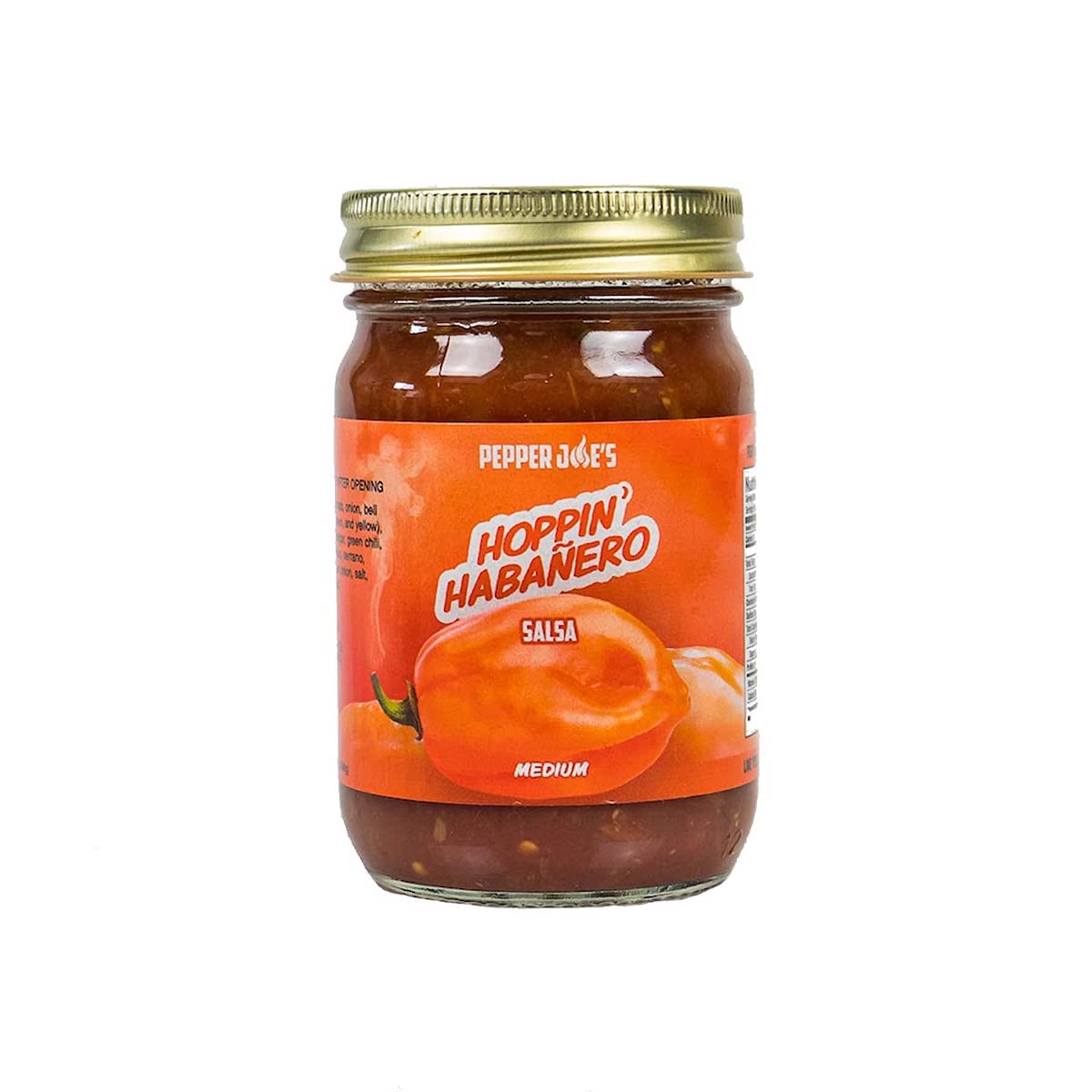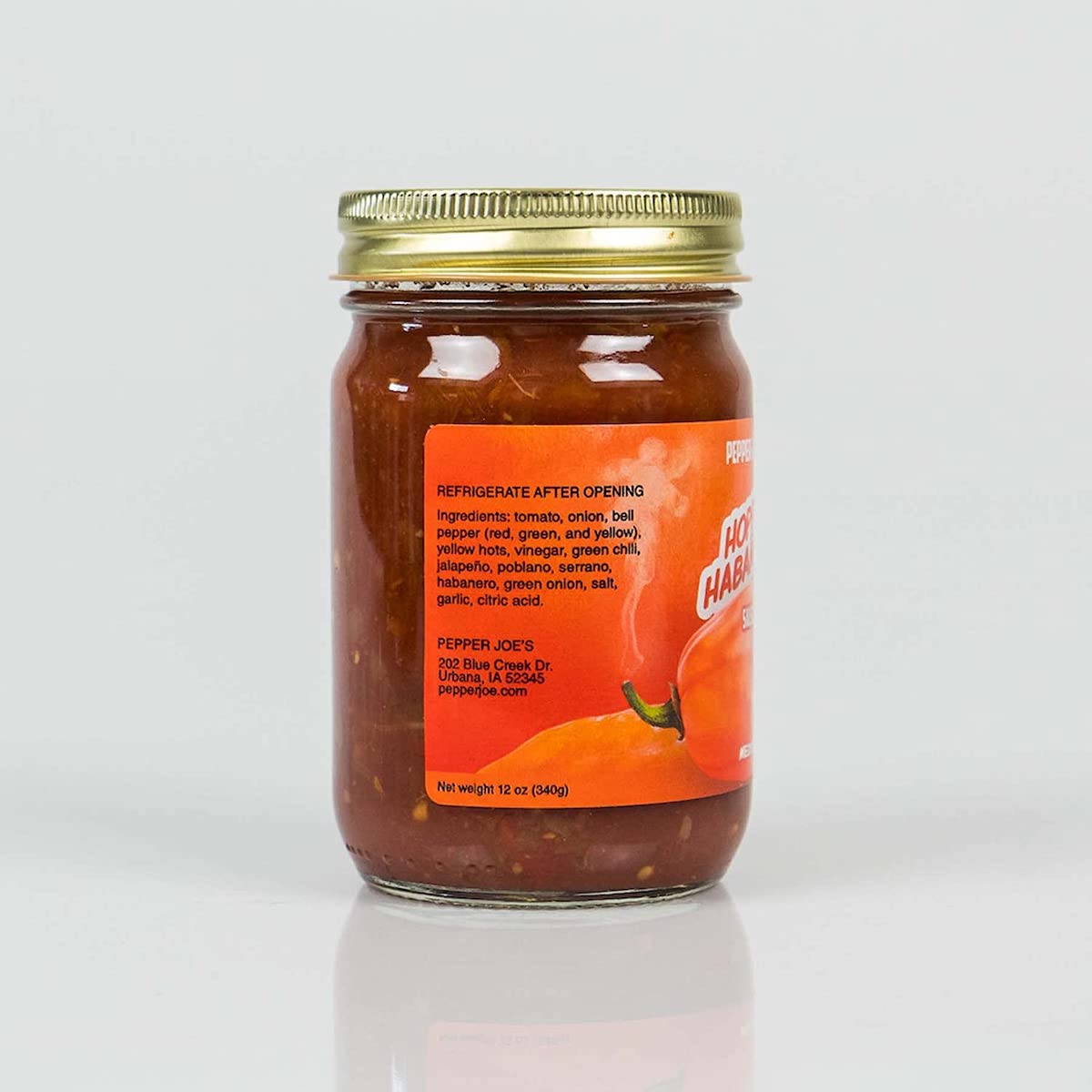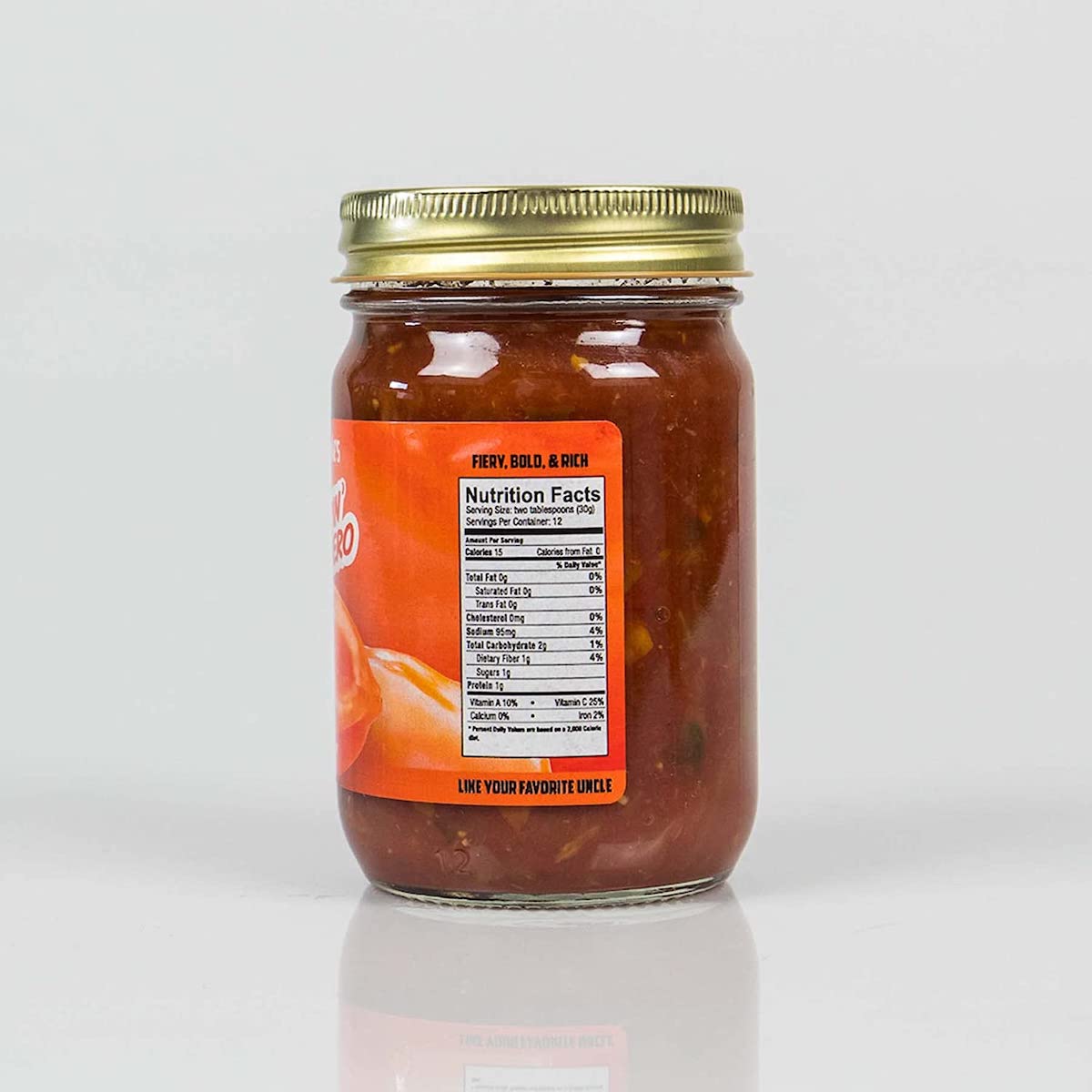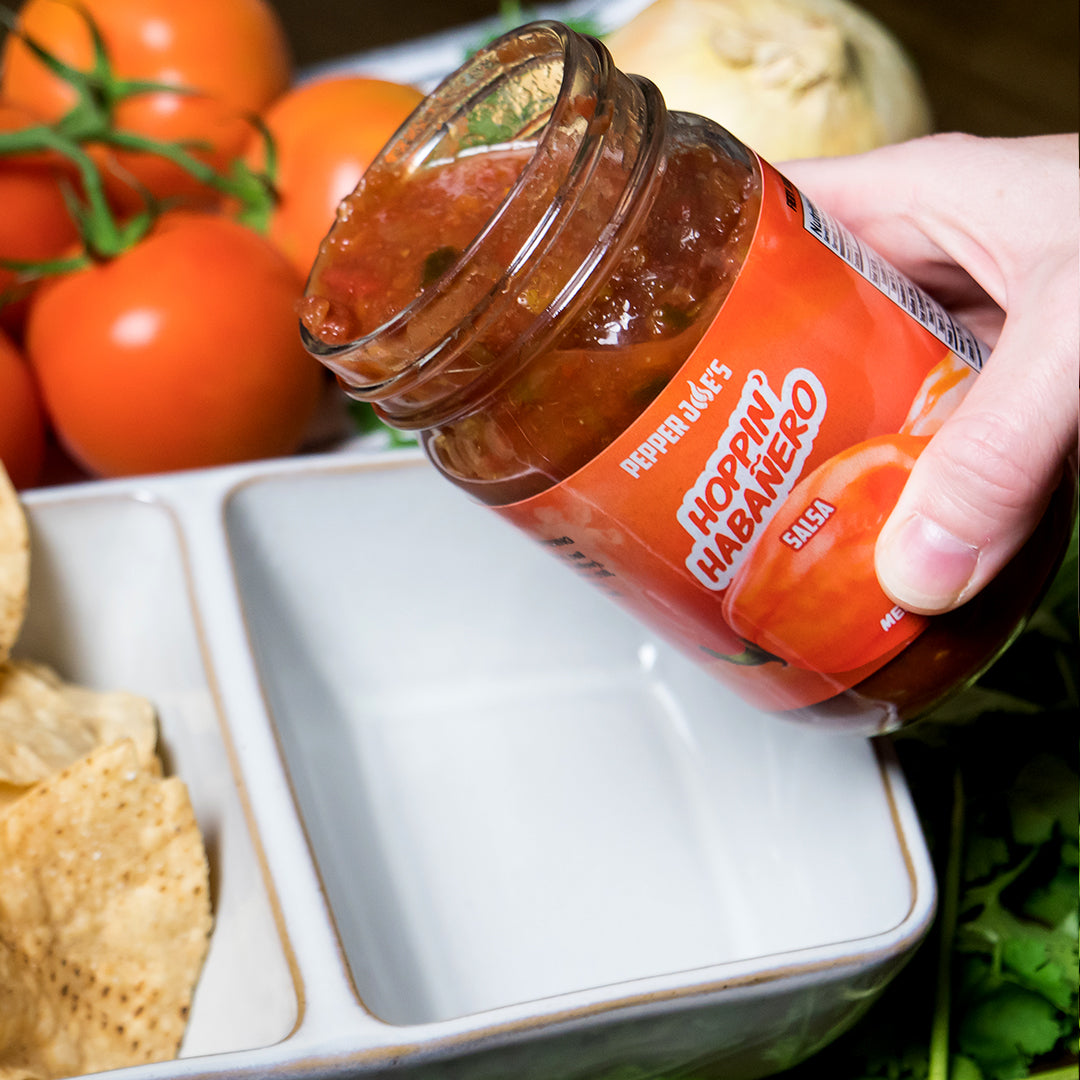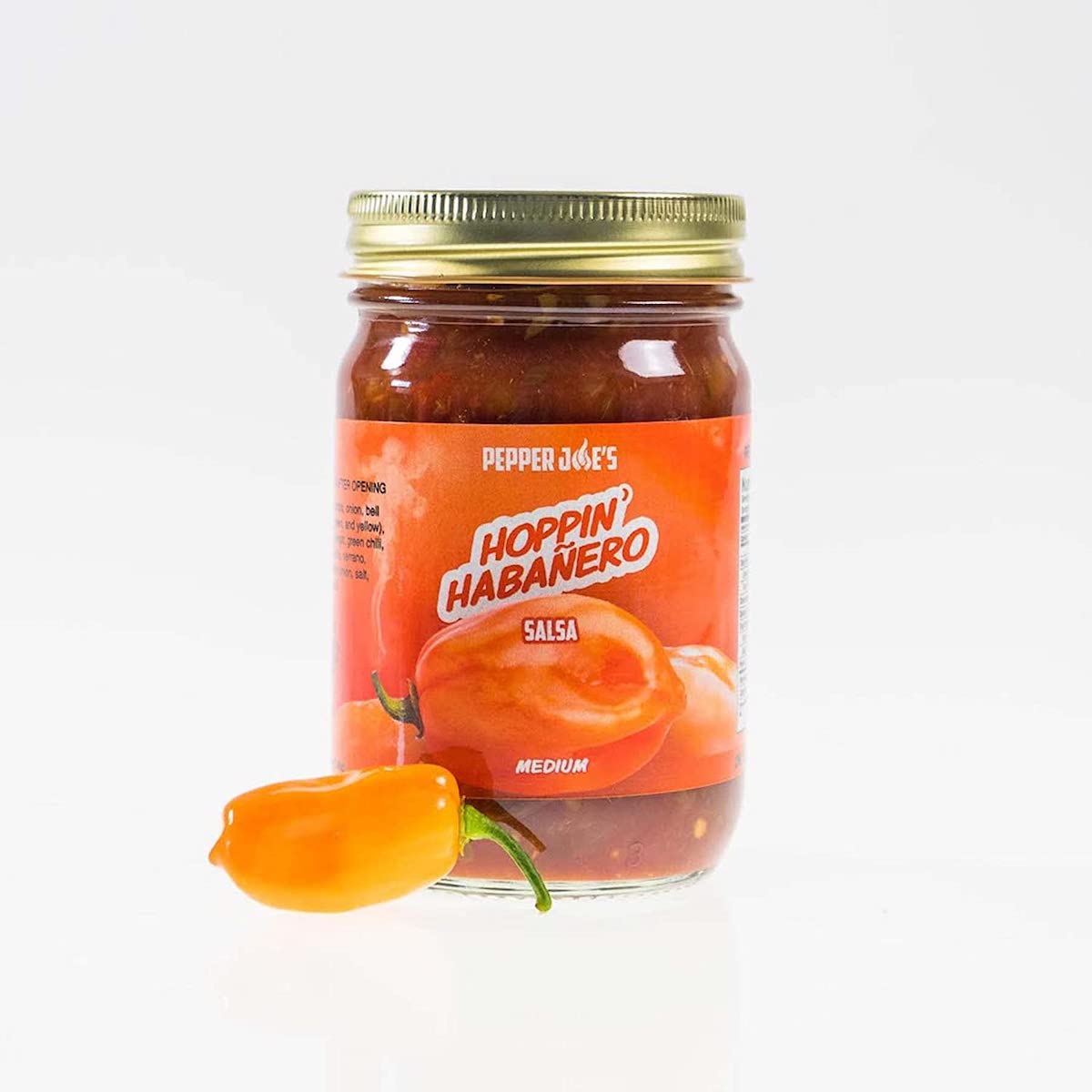 Excellent flavor; however, would have preferred a salsa with less liquid and more solid ingredients .
Good Stuff!
It's actually hot. I mean not overly hot but it actually has peppers in it unlike store bought stuff that's all pretty much tomatoe paste and hardly any pepper much less any sting. This one is just right.
Good salsa expected it to be hotter
Great , I thought it would be hotter it says mild and it is mild