An incredibly spicy salsa for heat freaks
Regular price
$ 9.99
Sale price
$ 8.99
Unit price
per
Sale
Coming Soon
Description:




You wanted blazin' heat in a salsa, and we delivered. We added a careful amount of the world's hottest pepper so you can enjoy both heat and flavor because as the saying goes, "a little goes a long way."

Just a small amount of the Carolina Reaper is sure to make your forehead feel warm to the touch from the pure Reaper flavor. When you first take a bite into the Carolina Reaper Pepper Salsa, there's a slowly creeping heat that sets your head ablaze in a rising sweltering heat and makes your ears vibrate. The fiery hot salsa has real lingering heat that builds until your head feels like it's about to boil. This may be the hottest salsa you'll ever try so if this is the heat you're looking for in a salsa, don't wait any longer! If you're itching to try more spicy salsas, check out our Ghost Pepper Salsa and Trinidad Scorpion Pepper Salsa.

Aside from the blistering heat, this super hot salsa brings the heat without sacrificing its flavors. You will notice flavors that burst with every bite such as vine-ripened Roma tomatoes, roasted green chiles, garlic, and cilantro. This will be great for tacos, chili, grilled meat, or even as a surprising appetizer to serve to friends and family. But in all honesty, good luck eating a full bag of chips with this raging heat!

Heat Level: Extreme

Size: 12 oz

Want to try a variety of salsas? Check out our Sweet Peach Salsa, Habanero Pepper Salsa, Ghost Pepper Salsa, and Trinidad Scorpion Pepper Salsa.

Can't live without spicy food? Check out all the spicy food products we carry like beef jerky, hot sauces, spicy cheese, spicy snack sticks, and more!

Looking to grow your own Carolina Reaper peppers? Check out our Reaper pepper seeds and Carolina Reaper pepper plant.

Other Reaper Products:

Raging Reaper Chocolate Bar, Carolina Reaper Beef Jerky, Carolina Reaper Bacon Jerky, Blueberry Reaper Hot Sauce, Carolina Reaper Dried Pods, Carolina Reaper Flakes, Carolina Reaper Powder, Carolina Reaper Summer Sausage, Carolina Reaper Snack Sticks, Carolina Reaper Cheddar Cheese, Carolina Reaper Bloody Mary Mix

Nutritional Information

| | |
| --- | --- |
| Amount | Value |
| Serving Size | 2 Tablespoons (30g) |
| Servings | 12 Servings Per Container |
| Calories | 5 |
| Total Fat / Total Fat % | 0g / 0% |
| Saturated Fat / % | 0g / 0% |
| Trans Fat | 0g |
| Cholesterol / Cholesterol % | 0mg / 0% |
| Sodium / Sodium % | 75mg / 3% |
| Total Carbs / Total Carbs % | 2g / 1% |
| Fiber / Fiber % | 0g / 0% |
| Total Sugars | 1g |
| Protein | 0g |
| Vitamin A | 4% |
| Calcium | 0% |
| Iron | 0% |
| Vitamin C | 10% |

 


Ingredients

List of Ingredients

Vine ripened roma tomatoes
Hatch roasted green chile
Water
Yellow onion
Vinegar
Jalapeno
Garlic
Cilantro
Carolina reaper pepper
Kosher salt
Citric acid
Spices
Specifications:

Heat Level:
Click here for all of our tips and videos to grow your peppers!
Click here for plant care instructions
View full details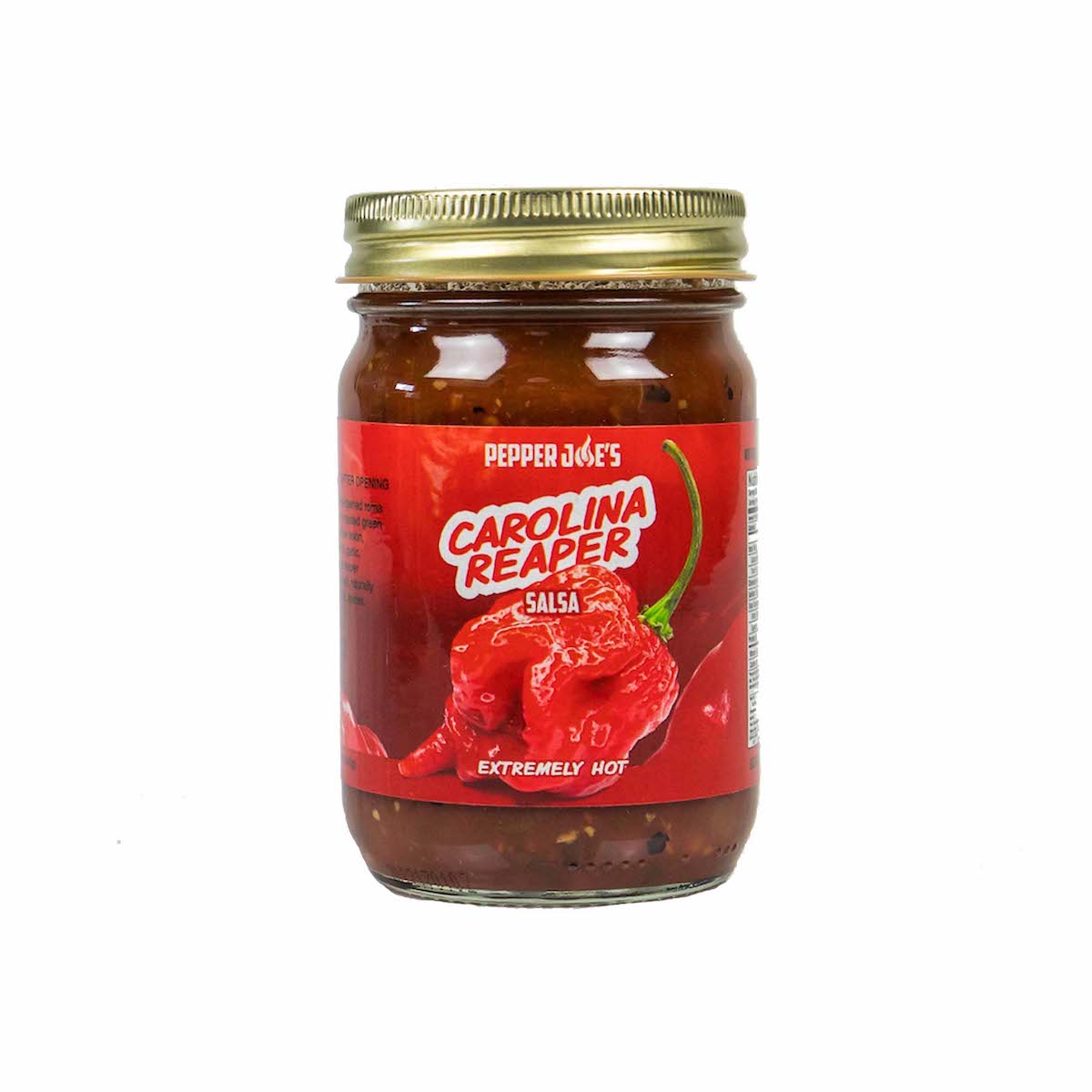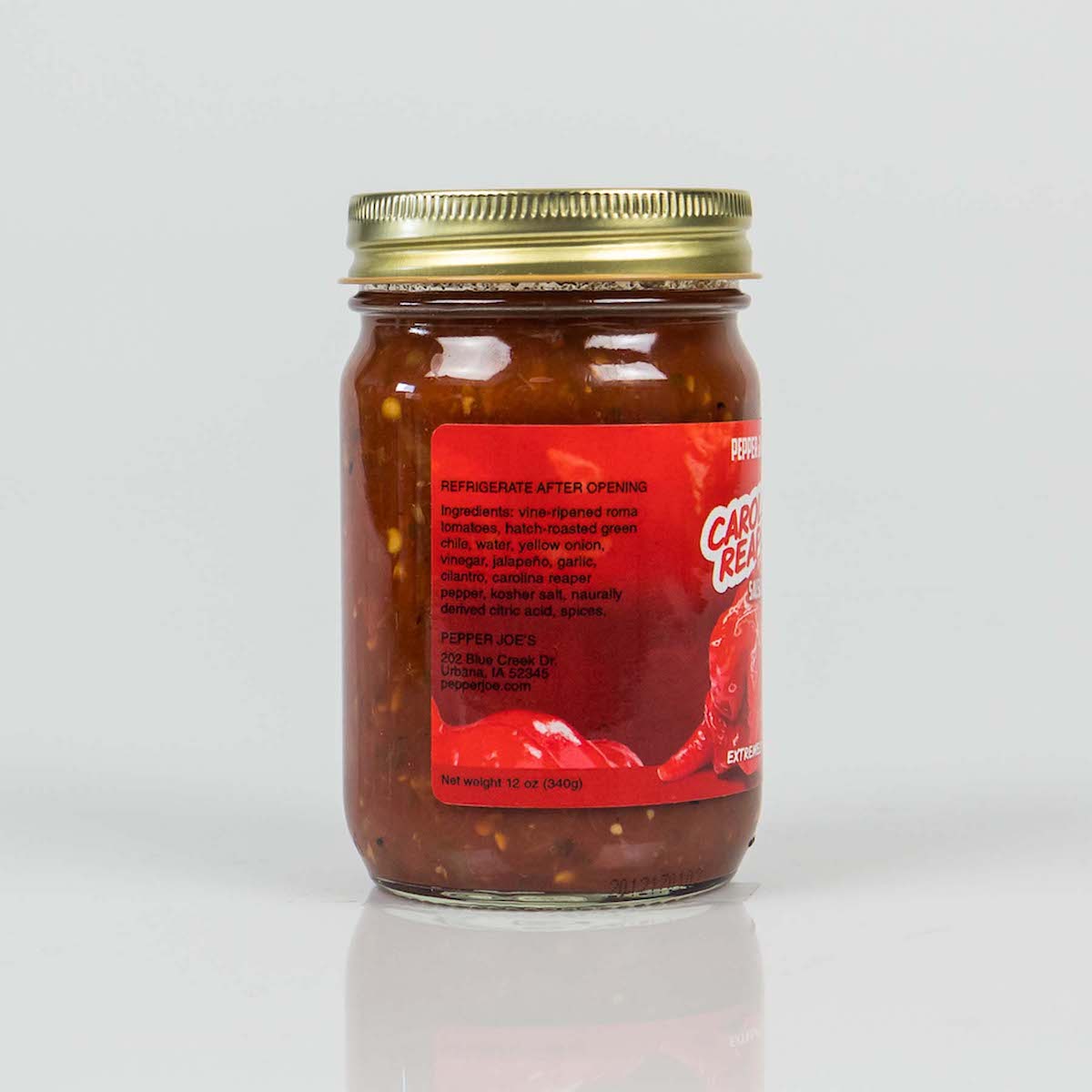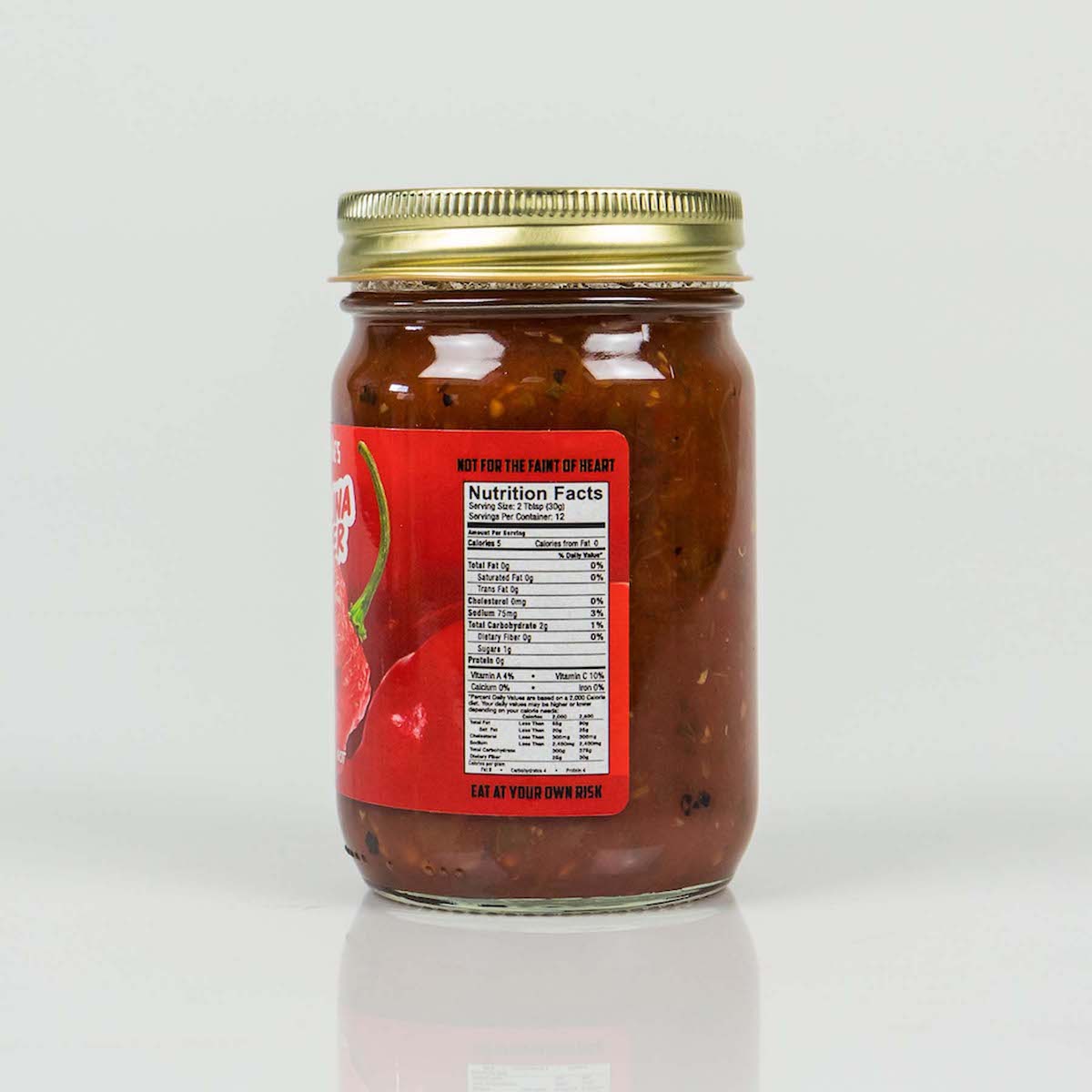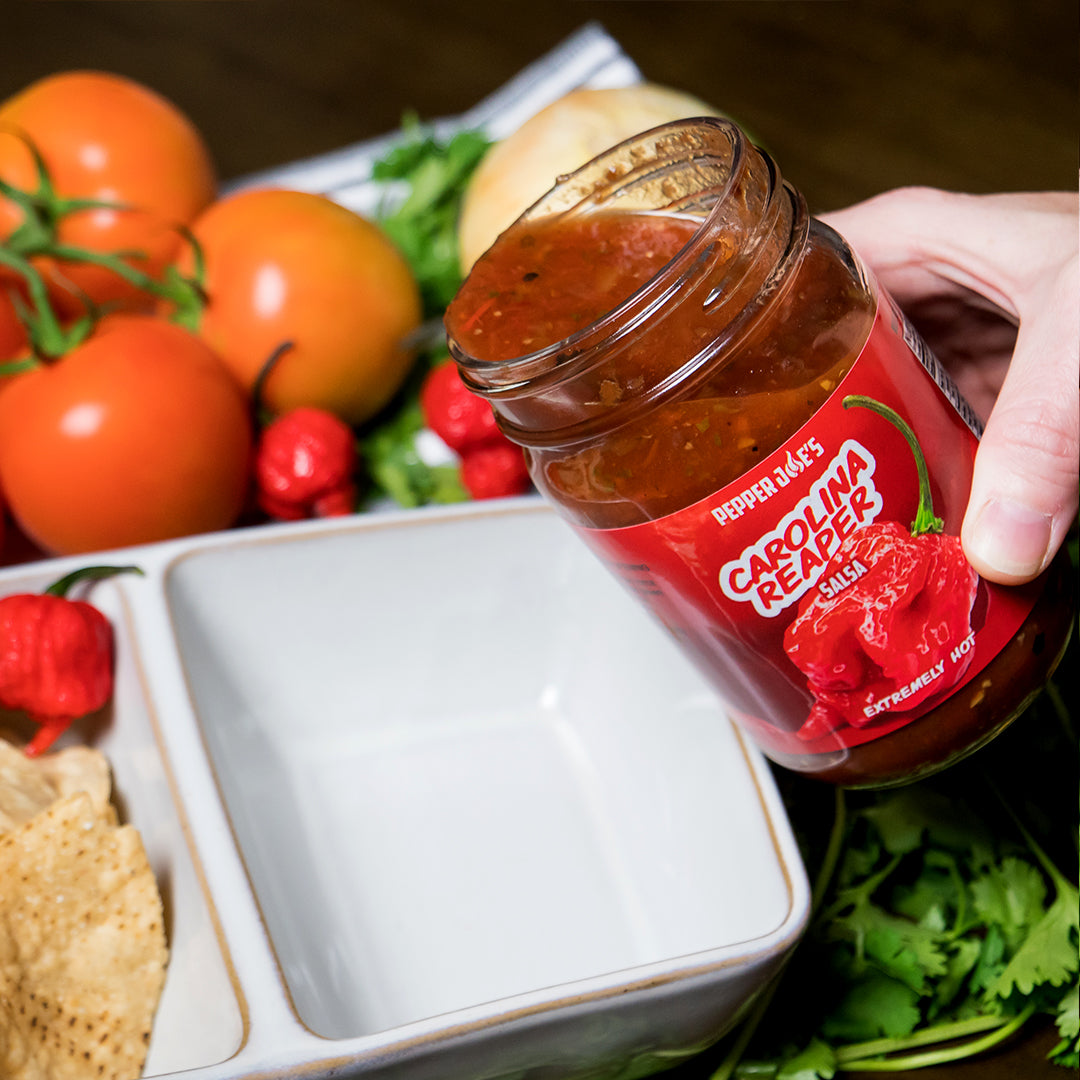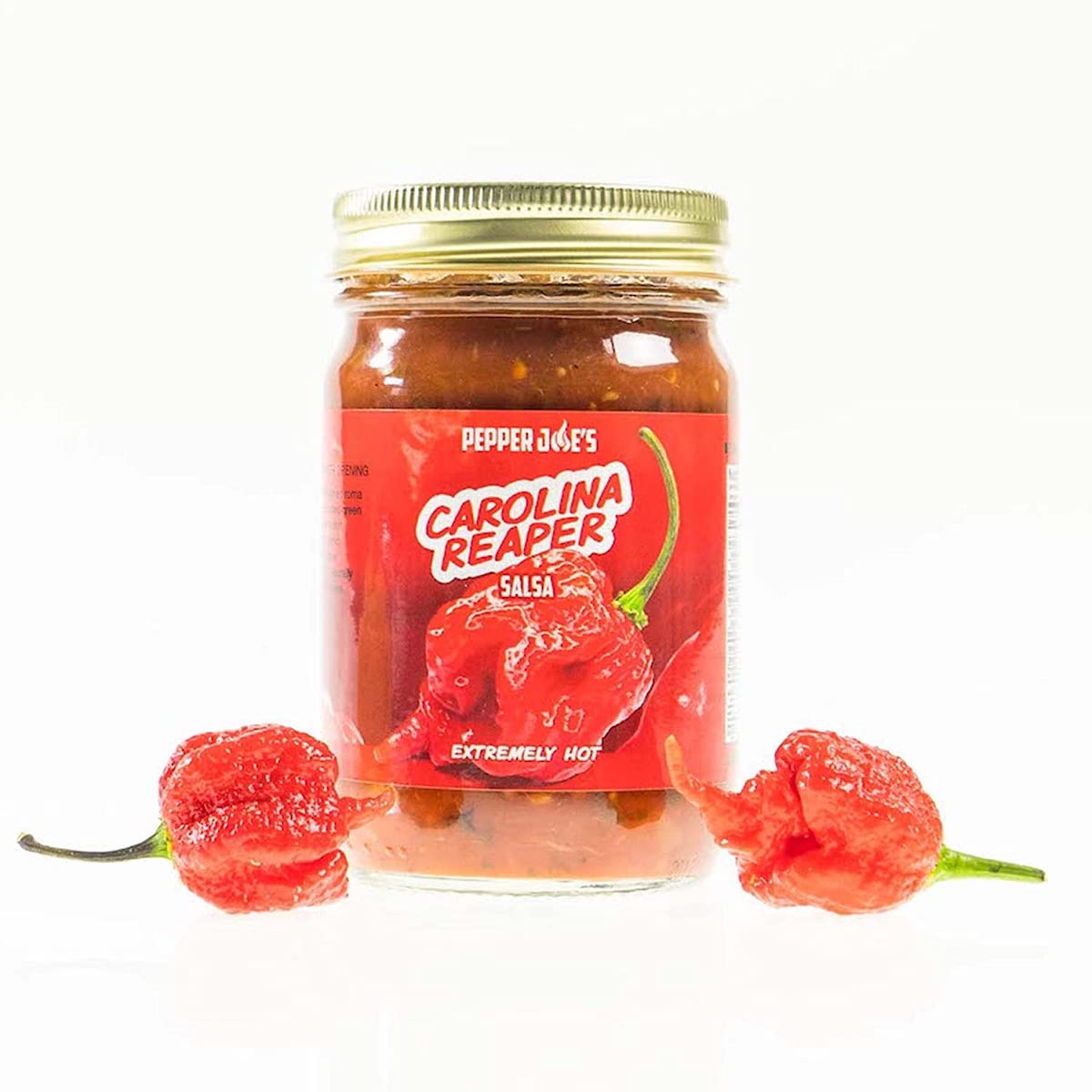 Hot but great!
This salsa is very hot! The flavor is great though! I can eat the reaper sausage, snack sticks, and beef jerky with no real problem. The others are hot but this salsa hits on a completely different level. I ate a few chips with this salsa and was running for milk/ice cream/anything to help with the heat.
I left it sitting in my fridge for a few weeks wondering what I was going to do with it and finally decided to mix it with some cheese and make a queso. This was definitely the way to go. Just a few scoops with some cheese and it was perfect! Very spicy queso but not over the top hot.
Very Good
The Pepper Joe's Carolina Reaper salsa is awesome! It it very hot, definitely the hottest that I have had!