Experience a capsaicin-powered thrill with our XXX Habanero Hot Sauce! Intense heat, explosive flavor. A little goes a long way!
Regular price
Sale price
$ 9.99
Unit price
per
Sale
Coming Soon
Description:

Description

Introducing our Fiery Capsaicin-Infused XXX Habanero Hot Sauce!

🔥 RED ALERT! TRIPLE X HOT SAUCE! XXX HOT SAUCE! 🔥

If you're in search of an adrenaline-pumping, taste-bud-tingling, capsaicin-packed hot sauce experience, look no further! Our XXX Habanero Hot Sauce is not your average spicy condiment; it's a bold and exhilarating journey for your palate.

We've taken the exceptional flavors of our favorite habanero hot sauce recipe and pushed the boundaries to create a sauce that's cranked up to 11 on the heat scale. Brace yourself for an explosion of flavor and fiery intensity that will leave you craving more.

This incendiary hot sauce has a mischievous side. At first, it may seem deceptively mild, . but then, like a capsaicin time bomb, the heat kicks in with relentless force, leaving no room for mercy. It's an experience that chili lovers and heat seekers crave.

But fear not;  Amidst the scorching inferno, you'll discover a symphony of flavors. Our XXX Habanero Hot Sauce blends the robust notes of tomato, the subtle sweetness of brown sugar, the tropical allure of pineapple, the lusciousness of peaches, the richness of molasses, and a touch of honey to provide a cooling respite from the searing heat. It's a complex dance of flavors that'll keep you coming back for more.

Remember, a little goes a long way with our XXX Habanero Hot Sauce, as a mere drop can electrify your meal. So, if you're ready to embrace the fiery embrace of capsaicin and explore a world of bold flavors, add our XXX Habanero Hot Sauce to your collection today. Prepare for an unforgettable journey into the heart of heat and flavor!

Heat Level: 11/10


Size: 5 oz

This sauce contains extract, if you're a purist who wants fiery heat without the cheat, check out our

Carolina Reaper Hot Sauce




Make sure you browse our other Habanero Hot Sauce flavors including Garlic Habanero Hot Sauce, Tropical Habanero Hot Sauce, and Mango Habanero Hot Sauce.

Check out our other hot sauce flavors on our hot sauces page.




Ingredients

Ingredients:

Diced Tomatoes (Tomato Juice, Salt, Calcium Chloride and Citric Acid)
Red Habanero Pepper
Brown Sugar
Pineapple
Peaches
Molasses
Honey
Red Wine
Vinegar
Jalapeno Peppers
Premium High-Grade Certified Oleoresin Capsicum
Onion
Garlic
Crushed Red Pepper
Water
Specifications:

Heat Level:
Click here for all of our tips and videos to grow your peppers!
Click here for plant care instructions
View full details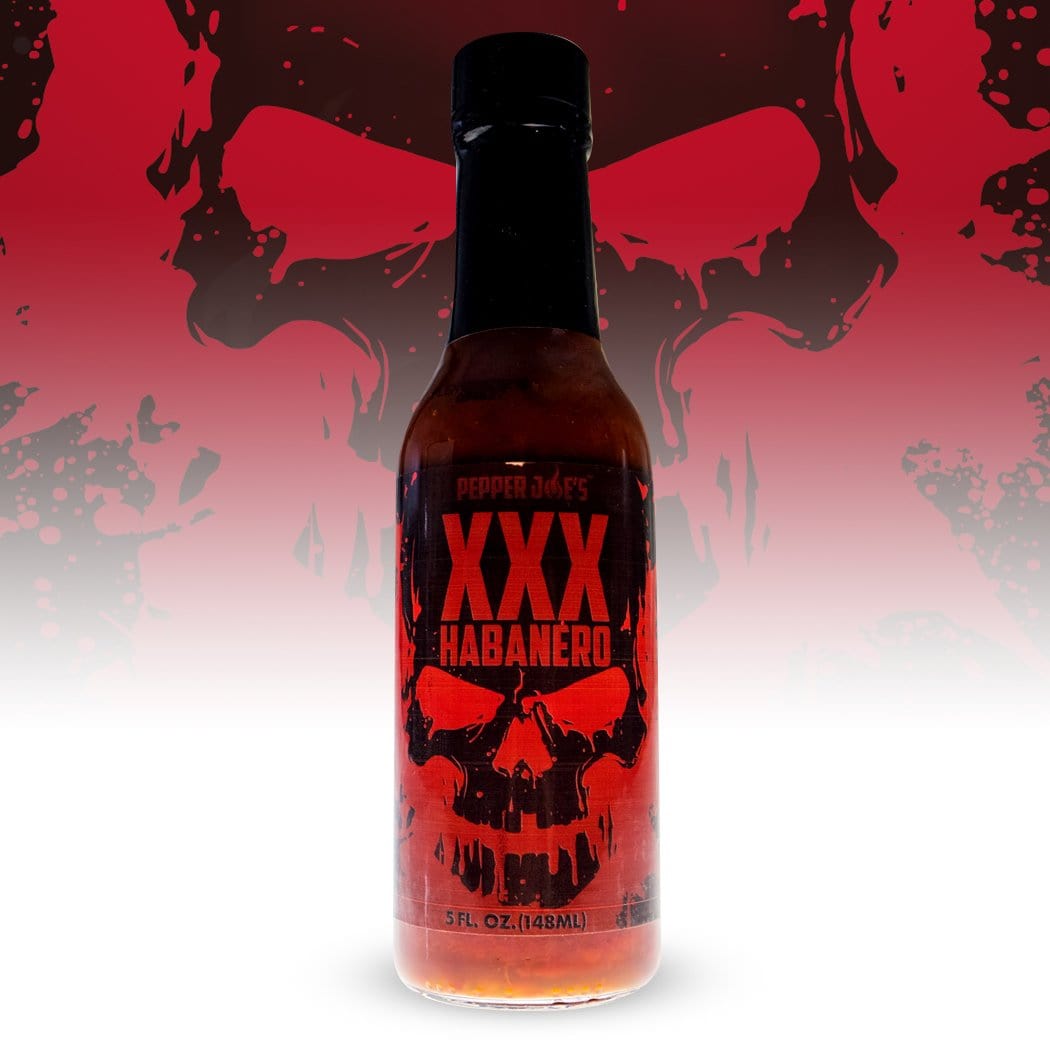 People say it was hot and good.
All the sauce I order I give away. The Habanero Hot was a hit, the ones who got it really liked it.
Very Hot, Bold and Robust
I ordered a bunch of different extreme heat level Pepper Joe's hot sauces to try out for the first time and surprisingly The XXX Habanero Hot Sauce turned out to be my favorite. This XXX Habanero Hot Sauce is way hotter than your average habanero hot sauce which I loved about it right away. This sauce has a dark color with a smoky and sweet flavor. The thickness and texture of this sauce is really great too (you can see the habanero bits plop out as you pour). I really love this sauce and i am on my 3rd bottle and I intend to keep buying as this sauce will be in my regular rotation moving forward. It's perfect on tacos and burritos. I would recommend this sauce to everyone.
XXX Habanero hot sauce
Great heat with good flavor