Regular price
Sale price
$ 6.99
Unit price
per
Sale
Coming Soon
Description:

Looking for Carolina Reaper dried pods to do some adventurous cooking, or weren't able to grow some Reaper peppers this year? We got you covered with our dried Carolina Reaper pods! We grew Carolina Reapers, harvested them at their ripest and freshest, and dehydrated them so you can sit back, relax, and Carolina-reap the benefits.

The Carolina Reaper is the hottest pepper in the world with a whopping heat level of 1,569,300 SHUs and can max out at 2,200,000 SHUs, so the world's hottest pepper will intensely LIGHT UP any meal...and you. Chile heads who crave hot peppers favor the Carolina Reaper for their intense heat and wonderfully smoky, fruity flavors. If you're feeling rebellious or looking to build your heat tolerance, this is a must-have in your pantry! This is also perfect if you were not able to grow Carolina Reapers during your current growing season. Remember to use a little because a small amount will intensify the heat that you seek.

Our pods are harvested during their freshest and ripest and are then dehydrated. They're sealed tightly into a package to remain fresh when they arrive at your door. Try your hands in our Carolina Reaper dried pods and turn any ordinary dish into an extraordinary, scary, delicious dish!

Heat: Extremely Hot

Size: 1/4 oz

DISCLAIMER: Keep out of reach of children and animals. Do not use if you have respiratory issues. A small amount will heat up any dish. Use sparingly if your tolerance for heat is low.

Can't live without spicy food? Check out all the spicy food products we carry like beef jerky, hot sauces, spicy cheese, spicy snack sticks, and more!

Want to grow your own Carolina Reaper peppers? Check out our Carolina Reaper Seeds and Carolina Reaper Pepper Plants!

Other Reaper Products:


Raging Reaper Chocolate Bar, Carolina Reaper Beef Jerky, Carolina Reaper Bacon Jerky, Carolina Reaper Dried Pods, Carolina Reaper Powder, Carolina Reaper Salsa, Carolina Reaper Summer Sausage, Carolina Reaper Snack Sticks, Carolina Reaper Cheddar Cheese, Carolina Reaper Bloody Mary Mix, Carolina Reaper Hot Sauce
Specifications:

Heat Level:
Click here for all of our tips and videos to grow your peppers!
Click here for plant care instructions
View full details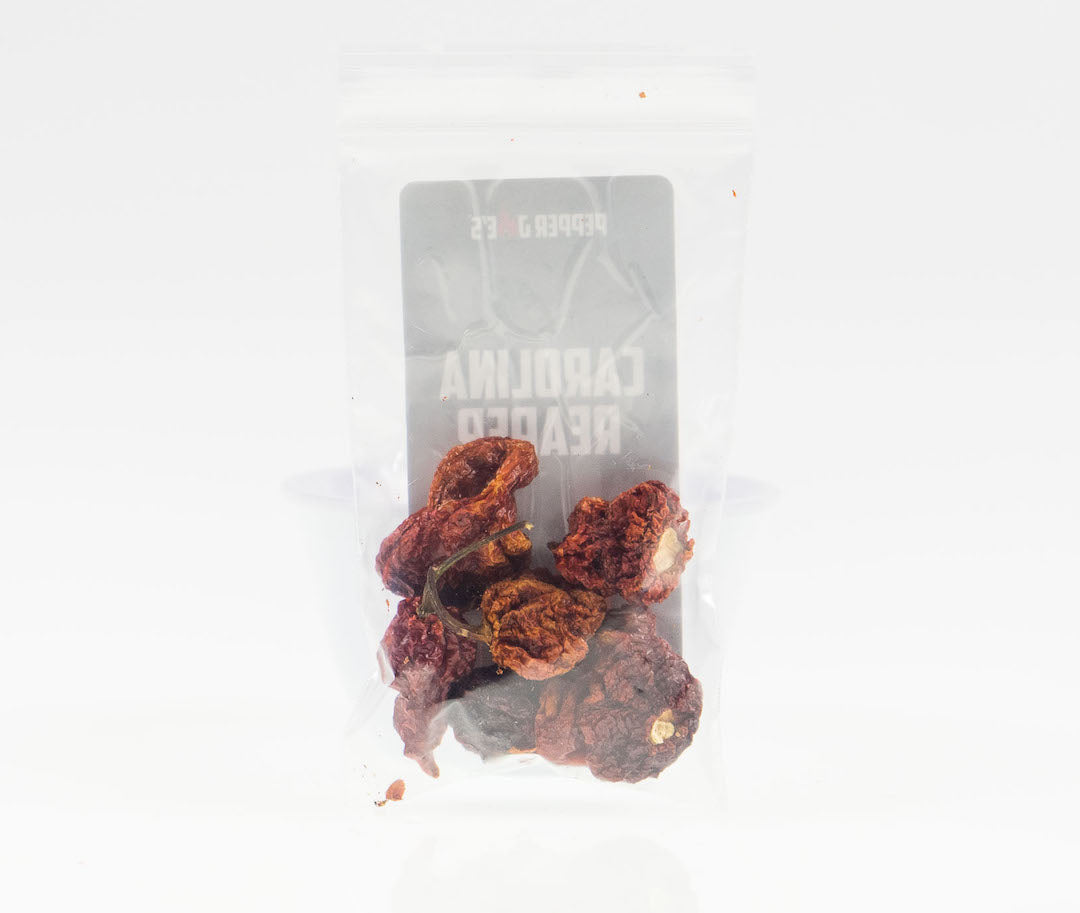 Simply the best in Super Hots!
These Carolina Reaper Pods have a great flavor, and the insane heat I crave! I pretty much have grown, and eaten Carolina Reaper products Daily since release in One form, or another.
Order arrived on time and peppers are great
I've been too scared to try the peppers as of yet. However, they were plentiful and arrived promptly.
Insane
These peppers were insanely hot by themselves. Broken up into chili, they were very good however.