Regular price
$ 19.99
Sale price
$ 11.99
Unit price
per
Sale
Sold Out For Season
Description:

Bleeding Borg 9 pepper plants grow rare, unique-looking pods that look like they're bleeding out onto the stem. That's because this super hot pepper is crossed with the Naglah (Bhut Jolokia x 7 Pot Douglah) and the 7 Pot Bubblegum, a variety that bleeds its color up the calyx and stem. These seedlings will stretch up to 4 ft. tall – even taller when planted directly into the ground – and produce over 100 peppers in a single season! The 2" peppers have amazing fruity and floral flavors along with a red-hot heat. While the name makes it sound like you'll bleed, we promise you the Bleeding Borg 9 Red pepper won't do that…but it will probably make you cry!

Seedling Size: 4-6"
Species: Capsicum Chinense
Heat Level: 1,000,000+ SHUs
Type: Super Hot
Origin: United Kingdom


These Bleeding Borg 9 pepper seedlings were carefully grown from seed in our greenhouse and are guaranteed to arrive alive and healthy. Promptly follow the instructions included in your plant box and enjoy watching these plants grow!

SHIPPING NOTE: Live plant orders will be shipped within 2 weeks after ordering, weather permitting. If you would like your plants to be shipped on a certain day, please indicate that in your order notes upon checkout.


We cannot ship live plants to Texas and New Jersey due to the Department of Agriculture forbidding invasive species to come into their state by mail.

INVENTORY NOTE: We plant in waves, so if a variety you want is out of stock, additional inventory will be available over the coming weeks . Click "notify when available" on any plant product page to be the first to know when back in stock.



Shop for our other Super Hot Pepper Plants, including our fiery and vitriolic 7 Pot Pepper Plants!

Want seeds? Pick up our Bleeding Borg 9 Red Pepper Seeds and check out our other Super Hot Pepper Seeds that we offer!

GROW TIP: Plants adjust to small, gradual changes in their environment better than sudden shifts, which is what the hardening off process is all about. Just as you get burned when you bare your untanned skin to the sun, leaves of plants started indoors will develop pale, sunburned patches if they are suddenly exposed to too much sun. The story has a happier ending when you introduce seedlings to bright light and sheltered breezes gradually, over a period of one to three weeks. Read more information on how to harden off and transplant pepper plants in 6 steps.
Specifications:

Heat Level:

Plant size: 4-6 Inches
Origin: United Kingdom
Species: Chinense
SHU: 1,000,000+
Shipping Notice

Please allow up to 2 weeks to process live plant orders before shipping. If you would like any adjustments to your ship date, please indicate your needs in order notes upon checkout.
Click here for all of our tips and videos to grow your peppers!
Click here for plant care instructions
View full details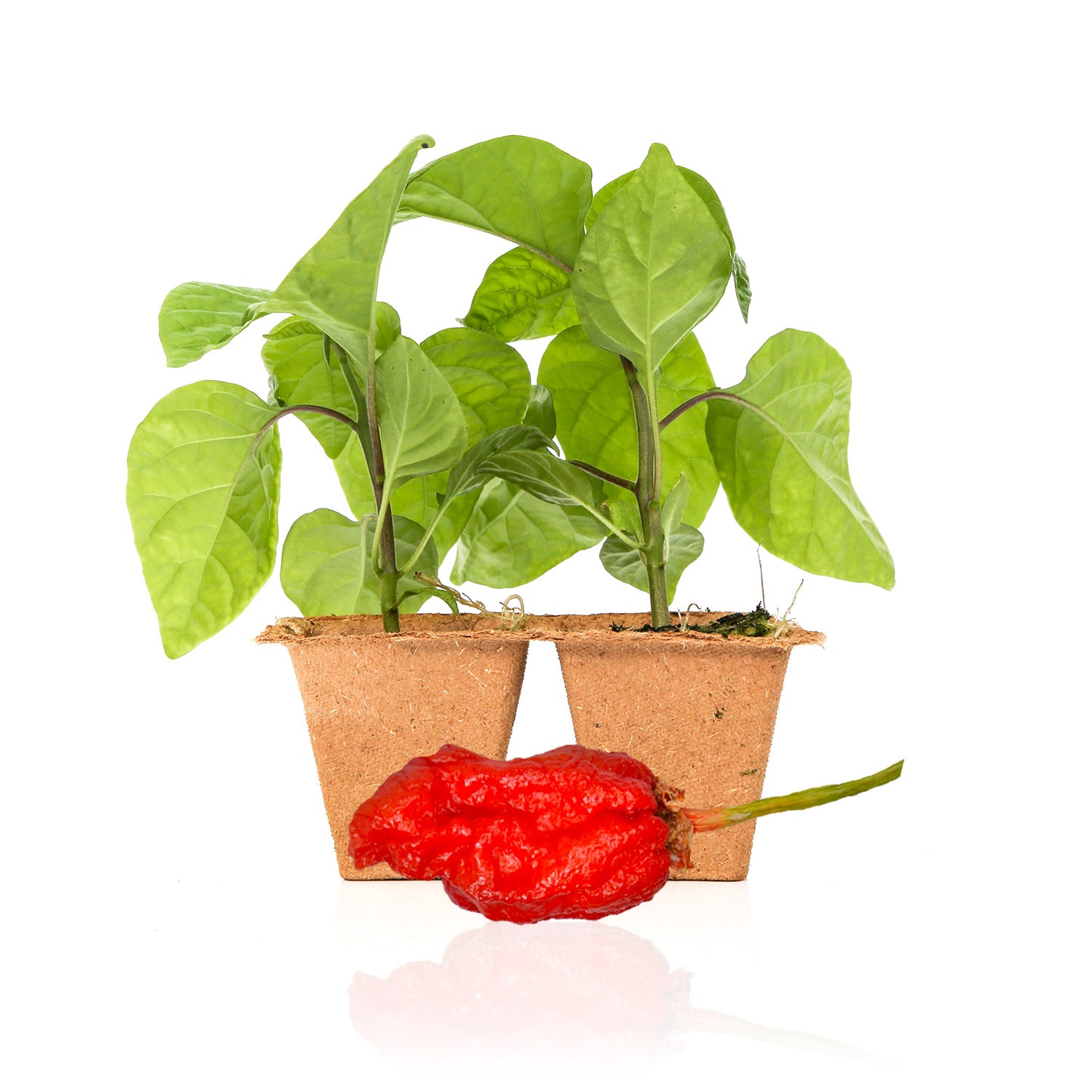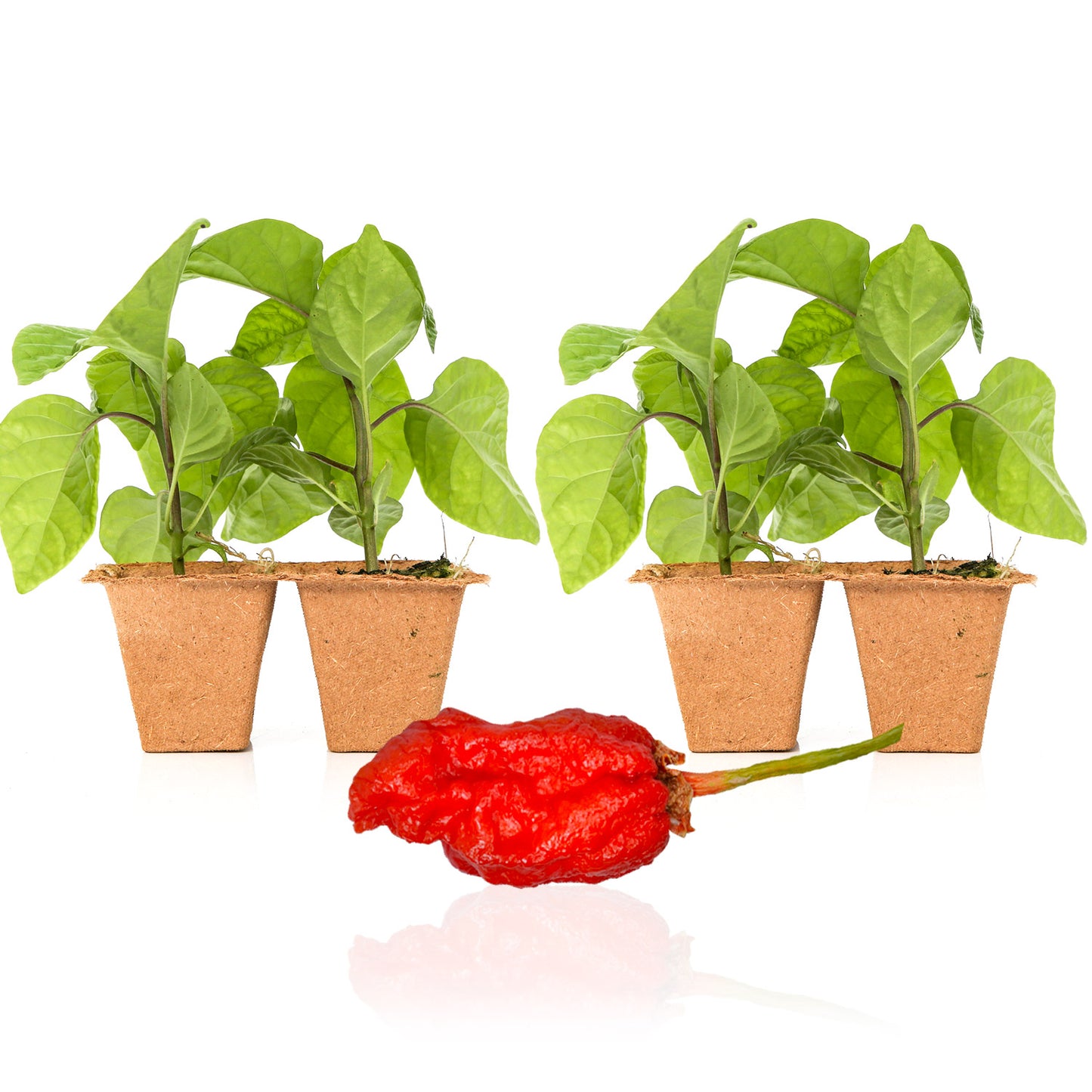 Bleeding Borg 9 Pepper Plant Seedlings