SKU: YellowReaperSeedling2Pack
Regular price
$ 0.00
Sale price
$ 19.99
Unit price
per
Sale
Sold Out For Season
Description:

Can't get enough of the Carolina Reaper? Want to add more varieties to the Carolina Reaper family? Try the Yellow Reaper pepper! The Yellow Carolina Reaper has a fruity flavor that is paired with heat you'd expect from one of the world's hottest peppers. The plant will grow around 3-4 ft. tall and the gnarly-looking peppers will grow to be beautiful yellow, wrinkled peppers with long stingers. These peppers are great for making seafood dishes, and hot sauces, and to use as a seasoning for your dishes!

Seedling Size: 4-6"
Species: Capsicum Chinense
Heat Level: 1,569,383-2,200,000 SHUs
Type: Super Hot
Origin: USA

These Yellow Reaper pepper seedlings were carefully grown from seed in our greenhouse and are guaranteed to arrive alive and healthy. Promptly follow the instructions included in your plant box and enjoy watching these plants grow!

SHIPPING NOTE: Live plant orders will be shipped within 2 weeks after ordering, weather permitting. If you would like your plants to be shipped on a certain day, please indicate that in your order notes upon checkout.


We cannot ship live plants to Texas and New Jersey due to the Department of Agriculture forbidding invasive species to come into their state by mail.

INVENTORY NOTE: We plant in waves, so if a variety you want is out of stock, additional inventory will be available over the coming weeks . Click "notify when available" on any plant product page to be the first to know when back in stock.

 


Check out our Carolina Reaper Pepper Plants and check out our other selections of Live Pepper Plants today!


Looking for seeds instead? We carry many different pepper seed varieties for you to choose from, including Yellow Reaper Pepper Seeds.
Specifications:

Heat Level:

Plant size: 4-6 Inches
Origin: USA
Species: Chinense
SHU: 1,569,383-2,200,000
Shipping Notice

Please allow up to 2 weeks to process live plant orders before shipping. If you would like any adjustments to your ship date, please indicate your needs in order notes upon checkout.
Click here for all of our tips and videos to grow your peppers!
Click here for plant care instructions
View full details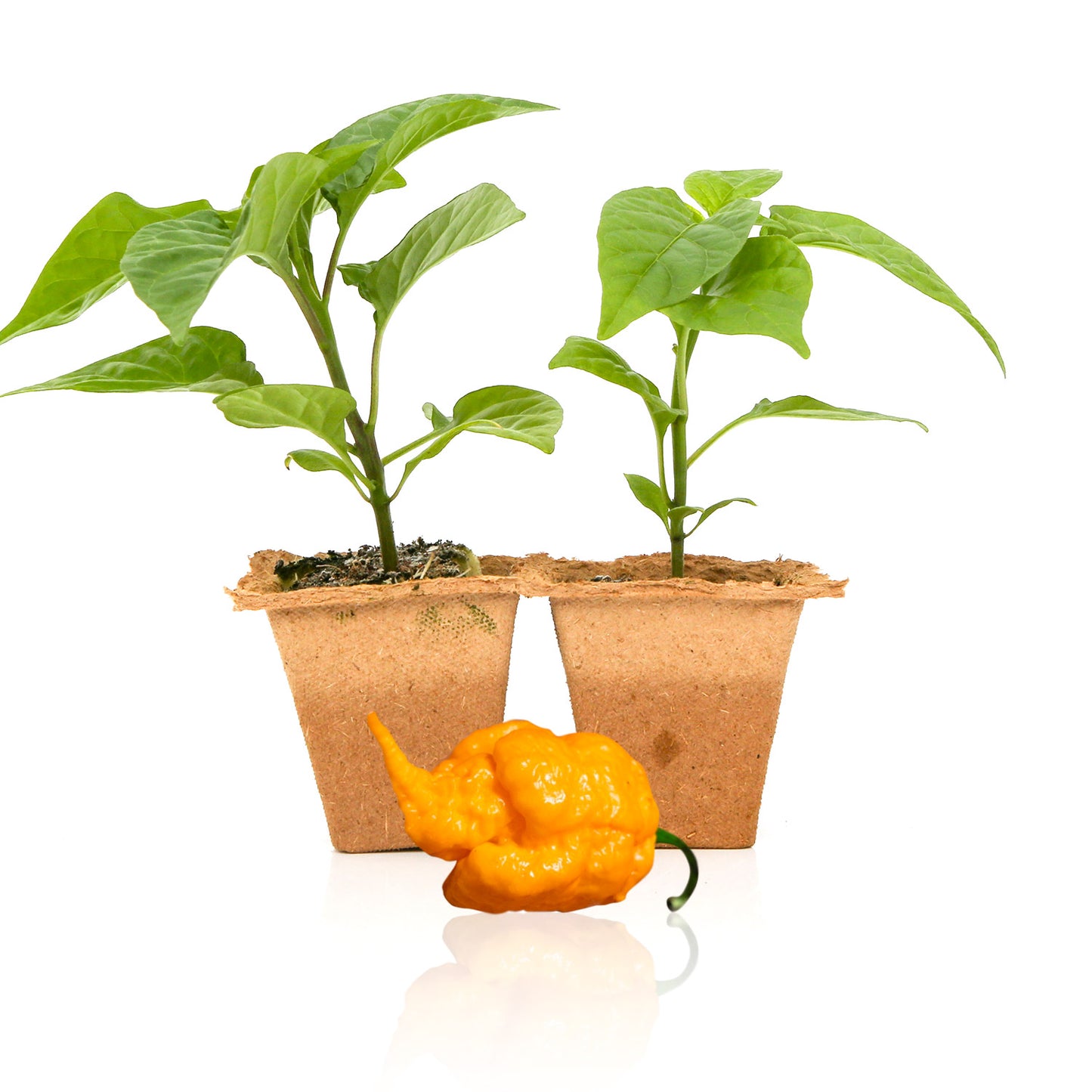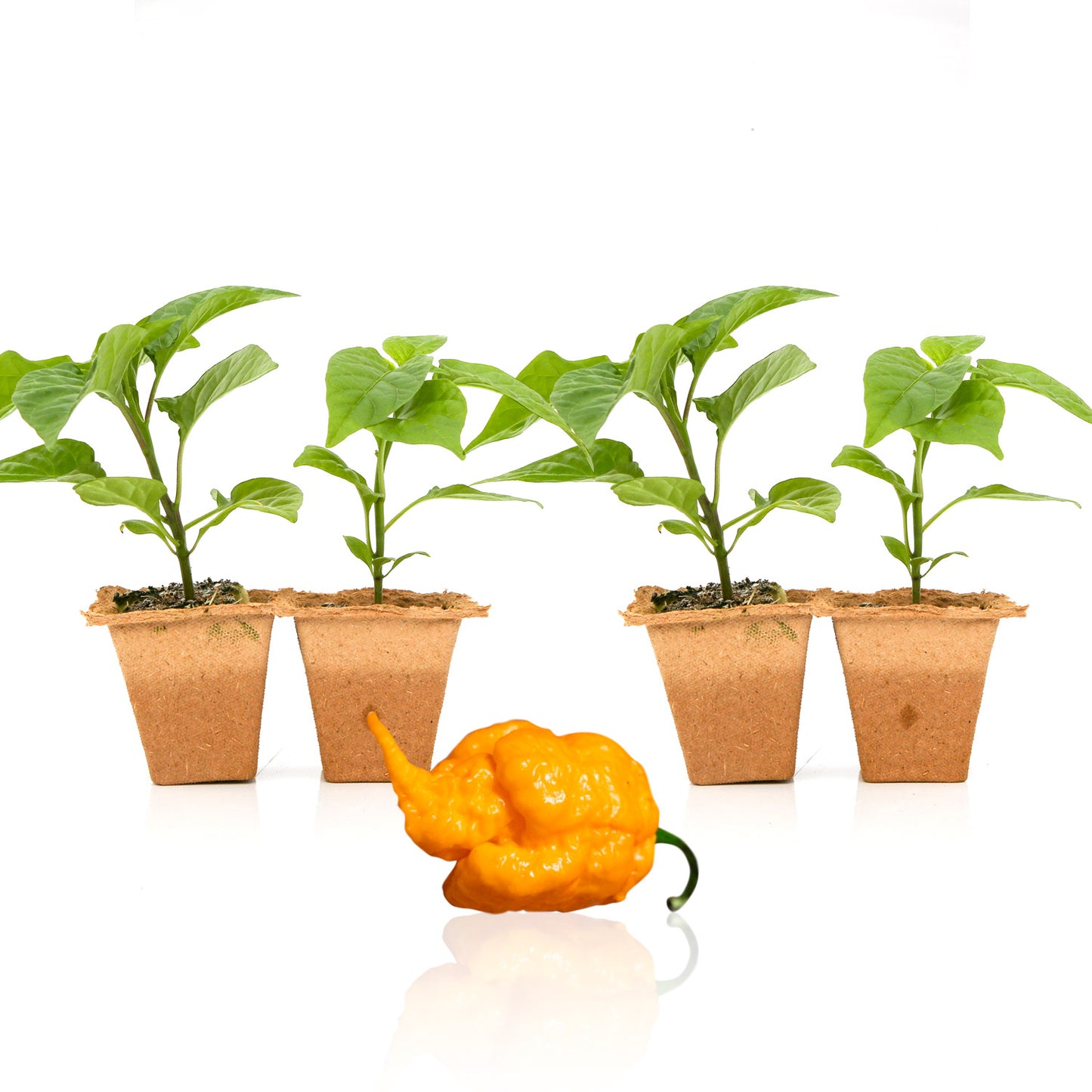 Plant growing
These plants love the dessert weather.compact plant .good one.
Yellow Reaper Pepper Plant Seedlings
Yellow Reaper Luve Plants
One of the plants started off great,but after 3 weeks it stopped growing. It isn't dying just failing to thrive. The leaves are a deep green, but many are curling and are brittle. I haven't given up on it test. The other plant was slow to grow, but is slowly coming to life. Both plants are about 5 weeks behind, maturity wise, as other luve plants I got from Pepper Joes. These plants are in the same soil and growing conditions as Dragon Breath plants I got from Pepper Joes. Since they are still alive, growing, I still have hope. Worse case, I'll try to wonterize them and try again next year. I would try these plants again because all of the nurseries around here only had cayenne, bell, or jalapeño peppers.