Regular price
$ 0.00
Sale price
$ 19.99
Unit price
per
Sale
Sold Out For Season
Description:

Grow one of the hottest peppers in the world, but in a beautiful orange color with our Orange Ghost Pepper Plants! Watch these seedlings grow up to 3 ft. tall – possibly taller when planted directly into the ground – and produce great harvests of these pendant-shaped pods that get up to 3" long. You'll be able to pick these smooth, shiny orange pods and use them to really spice things up! Ghost peppers have heat levels between 800,000 -1,100,000 SHUs with a slow and excruciating build to its peak heat once you take a bite. You'll enjoy citrusy flavors beyond the heat that make this a great variety for sauces, pepper powders, and jams, but use these Orange Ghost Peppers any way you want!

Seedling Size: 4-6"
Species: Capsicum Chinense
Heat Level: 855,000-1,041,427 SHUs
Type: Super Hot
Origin: India



These Orange Ghost pepper seedlings were carefully grown from seed in our greenhouse and are guaranteed to arrive alive and healthy. Promptly follow the instructions included in your plant box and enjoy watching these plants grow!

SHIPPING NOTE: Live plant orders will be shipped within 2 weeks after ordering, weather permitting. If you would like your plants to be shipped on a certain day, please indicate that in your order notes upon checkout.


We cannot ship live plants to Texas and New Jersey due to the Department of Agriculture forbidding invasive species to come into their state by mail.

INVENTORY NOTE: We plant in waves, so if a variety you want is out of stock, additional inventory will be available over the coming weeks . Click "notify when available" on any plant product page to be the first to know when back in stock.

Enjoy other Ghost Pepper Plants that we offer, and try out some additional Super Hot Pepper Plants to add to your garden this growing season!

Are you into growing pepper seeds instead? Grow our Orange Ghost Pepper Seeds and grab some of our Growing Supplies to give your seeds the best nutrients possible.


GROW TIP: Plants adjust to small, gradual changes in their environment better than sudden shifts, which is what the hardening off process is all about. Just as you get burned when you bare your untanned skin to the sun, leaves of plants started indoors will develop pale, sunburned patches if they are suddenly exposed to too much sun. The story has a happier ending when you introduce seedlings to bright light and sheltered breezes gradually, over a period of one to three weeks. Read more information on how to harden off and transplant pepper plants in 6 steps.
Specifications:

Heat Level:

Plant size: 4-6 Inches
Origin: India
Species: Chinense
SHU: 855,000-1,041,427
Shipping Notice

Please allow up to 2 weeks to process live plant orders before shipping. If you would like any adjustments to your ship date, please indicate your needs in order notes upon checkout.
Click here for all of our tips and videos to grow your peppers!
Click here for plant care instructions
View full details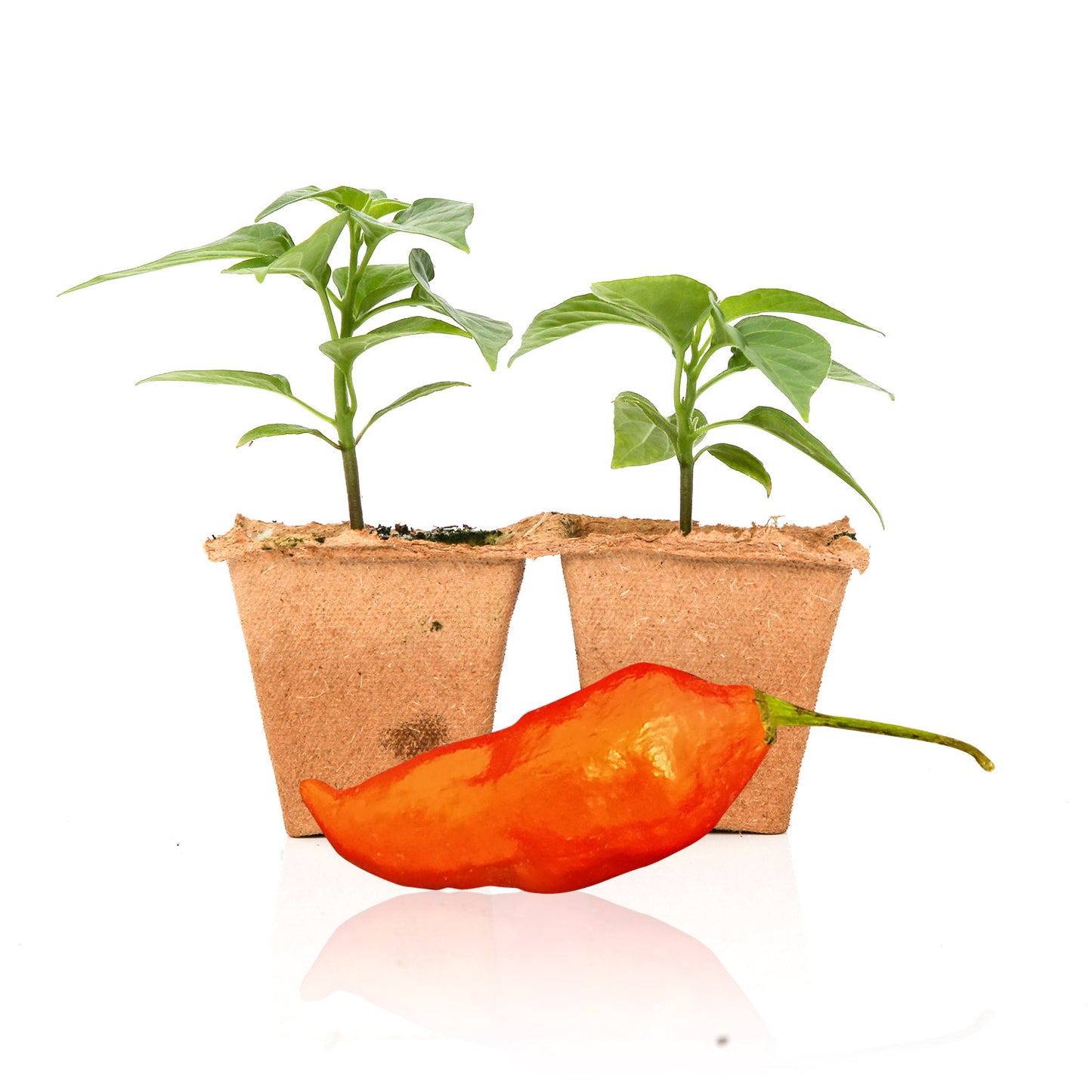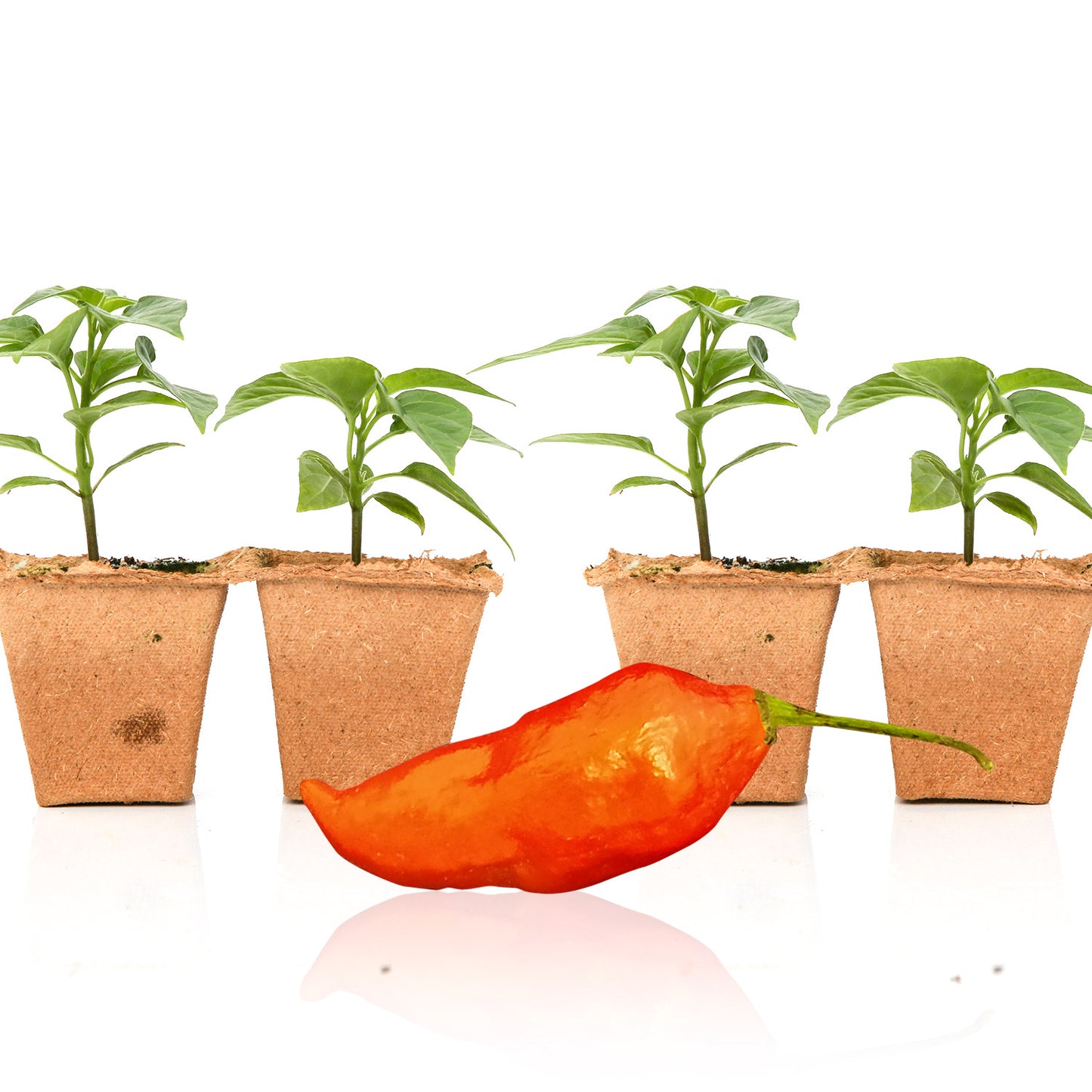 Best ever!
I am super picky about my plants and you guys deliver healthy ,vibrant plants that are perfect in my opinion!!!
Excellent
I received these and followed the instructions for transplanting into the pots. These did great and I topped them about a week later and these 2 plants have exploded! They are extremely bushy and currently have approximately 20-25 flower buds on them. I had been picking large bud off for a few weeks to let it grow a bit more and I wanted to get them into the actual raised beds before letting them start to flower. In the past week the flower buds have really had a big increase and they are the best growing plants I have in the garden. I did accidentally leave them in the pots probably a week or 2 to long and they got a little bit root bound but after 1.5 weeks in their official garden spot they are flourishing! I was hesitant on ordering live plants because I just wasn't sure how well they would handle shipping but I'm now at 8 live plants ordered and they all have arrived in excellent condition. 1 set even sat over the holiday weekend and total time from shipping to delivery was 6 days and they still looked great!
Orange Ghost Peppers
Plants are full of blooms and small peppers... just waiting for them to ripen to pick