Regular price
$ 3.99
Sale price
$ 2.99
Unit price
per
Sale
Coming Soon
Description:

Also known as guajones, coras chile bola, and rattle chile, these Cascabel chili peppers look as delicious as they taste!

Cascabel pepper plants grow around 3 ft. tall and produce high yields. These tiny peppers grow to about an inch to an inch and a half and have a unique flavor profile. Cascabel means "little bell" or "rattle" in Spanish, which means the seeds inside rattle when you shake the pod. They ripen from green to red, and when you dry them, they darken into various colors: brown, red, orange, and even metallic copper.

The Cascabel chili's flavor profile is earthy, woodsy, nutty, acidic, and slightly smoky with tobacco and nutty undertones. These peppers are commonly used for soups, tacos, stews, salsas, and marinades. Try using dried Cascabel chiles for that extra flavor, or to make Cascabel chili powder!

Species: Capsicum Annuum
Heat Level: 1,000-3,000 SHUs
Type: Mild
Flavor: Earthy, Nutty, Smoky
Origin: Mexico
Pod Size: 1.5-2.5"
Plant Height: 3 ft.
Days to Harvest: 80+ Days

Enjoy more of our Mild Pepper Seed varieties and check out more of our Rare & Exotic Seed options!
Specifications:

Heat Level:

Plant size: 3 ft.
Pod size: 1.5-2.5"
Origin: Mexico
Species: Annuum
SHU: 1,000-3,000
Click here for all of our tips and videos to grow your peppers!
Click here for plant care instructions
View full details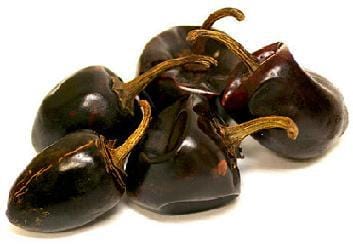 Cascabel pepper scam
Pepper Joes was quick to process order and deliver seeds ordered. The problem is that the Cascabel seeds ordered are not as advertised. They are not Cascabel peppers at all, but rather Cascabella peppers. I was so hoping I had found a source of the authentic Cascabel, but not so. Very dissatisfied customer!
Cascabel seeds
The seeds arrived in good shape. Plan on getting them started soon.
Cascabel Seeds
Bought these primarily for use next year, but I decided to try two seeds now to check for germination. Neither seed has germinated, so I am waiting the recommended 4-8 weeks before making a final determination. The two guajillo seeds I also tested germinated immediately and are now little seedlings. Hoping the Cascabel just need more time to do their thing. The shipping was prompt, and I loved the freebies I received.